Syrian Drama… Tashbih (acts of pro-Assad), looseness and Velvet societies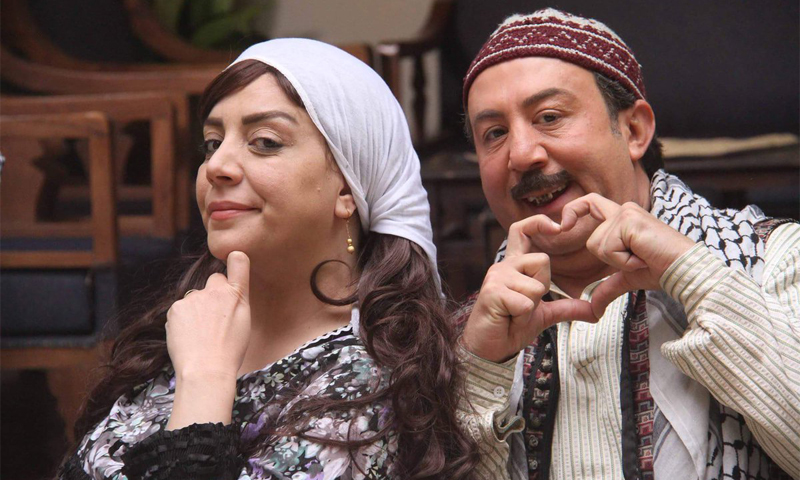 Printed Edition No.: 225
The month of Ramadan for many Syrians is associated with TV series, in the same way it is associated with licorice and tamarind, as it has become through the recent decades a landmark of its features and a ritual not to be missed, the thing that classified it, after years of increasing production pump and continued reception by viewers, to be mainly the month of TV series, with a few other religious rituals that some might participate in while others refrain.
It seems that the production is increasing "number-wise" a year after the other; with a comparison between last year's productions when there were 23 Syrian series for Ramadan, this year has a production of more than 32 series. In turn, there were 130 Arabic TV series for the year 2015, while today we are looking at 170 Arabic TV series.
Does the increase in numbers reflects an improvement in quality? What do the viewers of this year's series think of what is being broadcasted?
Drama suffers schizophrenia
Nada, a university student from Hama, says that the Syrian actor has lost the respect and the place he used to own in viewers' hearts, "how can I watch someone, who apparently acts and represents principles on TV that are contrast to what he truly believes in and which he has revealed in reality. Before the revolution, we have watched many series that reflected a strong political criticism, like; Maraya (mirrors), Boqet Dawo (spot light), Dayya Dayaa (a lost village), as well as other plays like; Kasak ya Watan (Cheers my country) and others, but when people rebelled, we found those actors who criticized the government before, are now polishing its image and declaring their loyalty to, so how can we continue to respect these actors?
One of the reasons behind Nada's giving up watching drama is the control of "Tashbih" over it, "whether it be the scenario or the actors; you would find an army officer pictured in such a humane way, it distorts the facts that happen in reality as if the viewer is dumb or blind of what is happening around him. The Syrian drama falsifies the reality today. Unfortunately, there is a real schizophrenia."
Velvet Societies only
Waleed, a school teacher from the countryside of Damascus, agrees with Nada about Tashbih in the TV series, saying "in the past, when we used to run into an actor on the streets, we would rush to greet him, take a photo with him or get his signature, we really used to like them. A while ago I ran into Abass AlNuri and Nezar Abo Hajar on one of the streets of Damascus, I did not have a desire to go closer to them. Today, we are different as night and day"
According to Waleed, Syrian Drama only represents a small group of the people, the very rich people, adding "you find a young 25 years old man riding a very luxurious car, the shooting is at houses and villas that I have never seen in my life, the actor is wearing (brands) that he changes from one scene to the next, not to mention going out and the restaurants they film that 80% of the Syrian people have forgotten about", he sarcastically proceeds "if I were to eat lunch at a restaurant as frequently, my salary would be finished by the third or fourth meal. The drama is supposed to reflect the reality and not contrast it."
According to a recent study of the Syrian Opinion Center for polls and study, the Syrians ratio under poverty line reached 87%. The Syrian family also needs six times its current income in order to be able to live.
Drama that does not resemble the Syrians
Upon asking Ms. Um Adnan, a house wife from Homs, about the Syrian drama, she felt sorry and answered with two words "moral looseness", a characteristic that prevailed today over the drama that is supposed to be directed to the family, as she put it "revealing clothes is increasing from one year to the next, the scenes between young boys and girls are exceeding moral limits and traditions, before a romantic scene would only include holding hands and some simple emotional words, today the scenes of (bedrooms) and stripping have become essential in each series."
Um Adnan refrains from watching TV series with her youngest 13-years-old son, adding "a family TV series used to be a nice ritual; we would all gather at 9:30 to watch some drama that resembles us and tells about our concerns, but we miss that today. I don't want to raise my son and have the drama spoils his morals. What is being broadcasted today does not mimic us!"
Wine instead of water
"Wine instead of water", this is how Ruba, an engineering student at the University of Damascus, describes what she sees on TV, "I like to watch TV series and entertain myself, but what is shown today is very provocative and embarrassing, I cannot watch it with any of my brothers or my family."
Ruba demonstrates with the abundances of wine drinking in most of the series "there is a group that drinks alcohol, but not as many as the drama is promoting for. I watch foreign movies and I don't see them focusing on alcohol as much as we see in our series, not to mention smoking that has become a trend. Furthermore, the TV series have being encouraging smoking and alcohol drinking as a way of looking at these people as a (high class) and intellectual ones."
Regarding the 2016 drama of Ramadan, Ruba says that it does not encourage you to watch it at all, stressing "the first episode of the series "Bila Ghamad" (Without sheath) opens in a scene in a casino with alcohol, belly dancers and songs of Saria AlSawas, not to mention the amount of unbelievable Tashbih in it; picturing the army to be of high morals and imaginary sense of humanity. The series' tendency is clear from the very first scene and is no different from any other series."
She comments "why would not they indicate that this series is +18 and broadcast it at a late time when kids are sleeping?"
Bab Al-Hara series!
Bab Al-Hara series started in 2006, i.e. 10 years ago, so, are people still enthusiastic about watching it? Um Adnan answers us saying "no and yes, no, because it has become boring, and yes, because it is the only series that I can watch with my young son that has less 'inappropriate scenes'."
While Ruba says that the repetition in the series is unbearable "Bab Al-Hara has become a real trade, the same stories are repeated. You can easily reduce the series' time to half, if you delete the words; Ibn Ami (my cousin: referring to the husband) and Tabrni (a word that indicates endearment) from the dialogues."
Waleed thinks that Bab Al-Hara has turned from being one of the rituals of Ramadan to a "flabby story", in which the writer has inserted unbearable ideas, adding "this year Bab Al-Hara tackles religious intolerance in a ridiculous way, representing the character of 'Samo' as a religiously fanatic man, in a way that is so unlike our atmosphere and the nature of the Syrian religiosity. In short, Bab Al-Hara only attracts the children today, even those are not convinced with what they watch."
He adds sarcastically "even (talteesh: hitting on girls) exists in Bab Al-Hara embodies in the character of Nemss!"
The phenomenon of Abwab Al-Hara
Nada believes that we are today looking at the phenomenon of "Abawab Al-Hara" referring to the increasing TV series that talk about the Damascene environment, like Bab Al-Hara, Bent Al-Mawaldi, Tawq Al-Banat, Eter Esh-Sham, Sader el-Baz and Khatoun, these six series for this year talk about the Damascene environment.
According to Nada, the idea behind these series goes beyond "nostalgia" all the way to "stultifying people". She adds "when we see attempts to establish extinct ideas from the society, such as the woman's complete submission to man or only blood washes blood, regionalism or districts turning against each other, you feel that there is a will to bring these ideas back into the society."
Nada wonders "after forty years of Al-Assad's stultification of Syrians, do we need more to go backwards?"
Sick Drama
In an interview with Mr. Asem Jeredat, a media researcher, preparing for a doctorate in Television and cinema, says that the Syrian drama today suffers a state of fragmentation just like the Syrian society, adding "the Syrian drama used to be a real school, there used to be a very strong diversity that proved itself on the Arab arena. However, with the beginning of the revolution, the drama received a strong blow with the split of film directors, actors and producers, and became trapped in a social state of fragmentation, just like Syria."
Jeredat believes that many recovery attempts appear now, but they don't treat the decline the drama is suffering from "if we want to describe it, it is a sick drama by all means, even in historical series we find projections over reality."
Regarding his opinion of Bab Al-Hara, Professor. Asem thinks that it was supposed to end with the second part "if not the first", asserting that "all of its parts, before and after the revolution, does not have high artistic value and underestimates the minds of people."
Asem points out that we cannot deny the fact that the series has the highest rating of viewers among other Arabic series, "but you might as well resemble it to American commercial movies that get very high views and sales by the box office, but at the end they are only commercial movies that cannot be compared to French and Italian movies that participate in festivals and get global awards and actually have great artistic value, despite the low number of viewers that may not exceed 3 thousand."
if you think the article contain wrong information or you have additional details Send Correction