Parks of Syria have become "brothels and dens of homosexuality" under the control of the "Shabiha*"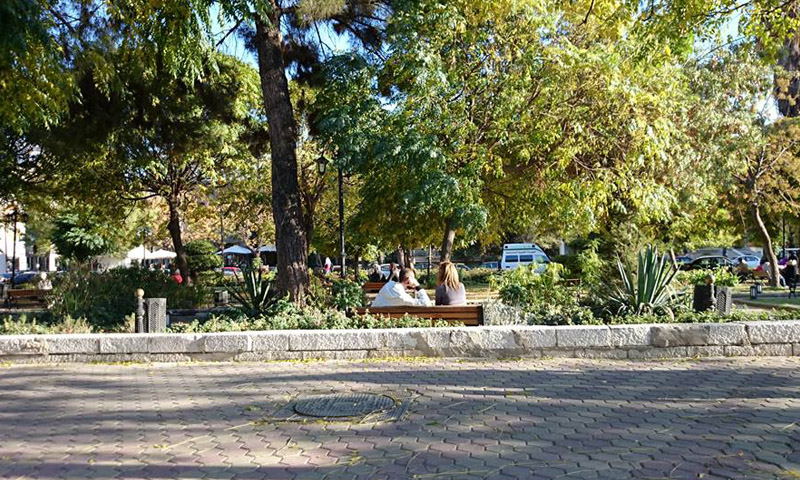 Haneen Al-Naqri – Enab Baladi
When Ibn Battuta visited Damascus, he wrote of his surprise at its beauty, greenery and lush orchards. And he couldn't have found better than Ibn Jubeir's description of the city, which he quoted in his book "A Gift to Those Who Contemplate the Wonders of Cities and the Marvels of Travelling." (Rihla) He wrote there, "As for Damascus, it is the heaven of the east, the morning light of the Levant, the last stop of the Islamic World when we wander it, the bride of the cities that we brought, adorned in flowered basils and manifested in silky boards of orchards."
But is Damascus still the light of the Levant, and the destiny of all Islamic countries? And how would Ibn Jubeir describe her gardens if he were to visit after eight centuries?
Parks are "occupied"… where do we go for picnics?
Umm Hamed from Damascus told a story of "occupation" of the public parks by the security forces and "prostitutes". This has prevented her and her family from going down to the parks as they used to. "The gardens are no longer for us and our children. How could I allow my daughter and son to play there with all those "Shabiha" and disgusting things going on?" she asked regretfully.
Umm Hamed no longer feels safe even letting her sons go into the street alone. The area where she lives, Mezza Al-Sheikh Saad, has been experiencing a significant moral vacuum recently. She told a story to prove her point: "I walked my son to the park in the morning when a young girl, less than 18 years old, came up to us looking pathetic with garish makeup on her face, skimpy clothes and unkempt hair."
Umm Hamed said the girl was apparently lost and afraid, and she stopped them to ask how to get to Mezza Sheikh Saad. "When I told her she was already in that area, she apologized confusedly and left quickly. My son started to ask me questions I was unable to answer, and we went home."
Between the Marjah Hotels and "Tishrin" garden
Each Syrian citizen is allocated 57 square centimeters of parkland, but the Shabiha have taken this share. For example, Tishrin Garden in Damascus is well known to all. Before the revolution, it was known as the Lovers' Garden. But today, the name "garden" is no longer appropriate, according to Suhail (a military defector who served in the military of Damascus; name has been changed.) "I don't know what happens to girls when they see a military man. Maybe greed when they see someone with authority and influence, maybe trying to rebel against the rules of their family with someone their parents can't control. Some of them meet with these soldiers for money – because they are poor – and so the soldiers with me at the checkpoint could prey on these girls easily, facing no resistance."
Suhail says the soldiers used to take the girls to cheap hotels in the "Marja" at the beginning, but later they started to go to the public parks. "Tishrin Garden is a frequent destination for the soldiers from surrounding checkpoints. It's big and they can have their "fun" there for free. You can see soldiers behind the trees with their girls, spending time with them having temporary fun, and then looking for others.
Suhail says the power outages in some parks, in conjunction with blackouts in their respective areas, makes the situation much easier for the soldiers. "Everything happens in the dark, so no one is being monitored."
Azbakia vs. Tishrin
Fatima, an Electrical Engineering student, recounted how she and her friends have stopped going to public parks. "You can't imagine what we see in the parks these days. Kissing has become normal, you see it on the street, but in the park, there is more isolation, which allows people to bypass moral limits even more. This is what prevents families who fear for their reputation from frequenting parks like they did before.
Fatima adds that the reputation of certain parks has become very bad. "Tishrin Garden, for example, is basically a big brothel, and as for Azbakia, under the Presidents' Bridge, people can't even walk next to it without being forced to see shameful things – girls and young men looking for someone to go with them."
According to Fatima, Azbakia Park is one place where you can find networks of young homosexuals. "I saw a gang of young men, around 16 years of age, marching around the park and spending time with older men. Azbakia is no longer just a brothel but also a place for deviants."
No place for the poor except the home
And it seems that the situation in Hama is no better than Damascus, according to Loay, an engineer who lives in the city. He says what he has been seeing on the streets is incompatible with a city committed to religious principles. "The parks are the most obvious proof that the city of Hama has changed and the character of its residents has shifted. Girls being embraced by soldiers and passers-by can't say a thing about it because the soldiers are armed and can do what they want. Um Hassan Garden behind City Hall is the most prominent example. Today, it's full of security forces and their lovers."
Loay adds that he used to take his family to the park on the banks of the Orontes every week. "But parks are no longer a good place for families. That was in the past, now I am afraid one of the Shabiha might flirt my sister, with no regards to my dignity or even me being there with her."
Loay says anyone wishing to go out, can only go to restaurants. "Most people can't even afford that, so the poor are deprived of free, public places."
18+ Gardens
Louay says that the things he's seeing are even more damaging in Ramadan. "I'm not talking about eating or smoking – I've gotten used to that. But the actions of the Shabiha are so far from morals that they compel us using the force of arms."
Loay describes an incident he witnessed on the third day of Ramadan as evidence of the situation the regime has forced upon the city. "I was walking with my friend in the afternoon in the Shari'a neighborhood, which is known for its thick greenery, when I was surprised by a soldier coming out of the bushes while pulling up his pants, accompanied by a girl who was hastily putting her clothes back on. I was shocked and walked away quickly, and I thanked God that my wife or sister weren't with me lest they see what I saw," he sighed. "This is the atmosphere of Ramadan in the city, and this is what we fear our children or families will see."
Al-Andalus Park
Also in Hama, Umm Hassan, a housewife, recounts a story that happened in her street. She lives near the Al-Andalus garden, and distressing scenes of security forces have been increasing recently. "The security forces and soldiers kept coming to the garden and bothering us a lot, but they started bringing their lady friends and doing immoral things. There are more and more of them all the time and we can't be quiet about it anymore."
And it remained like this until the men of the neighborhood attacked the garden and forced the military men out. "The people hit the soldiers and forced them and their lovers out. In the end, we are committed. We fear for our sons and daughters. How can raise them with this lack of morals?"
But revenge came the next day when raids and arrest campaigns began on the street. Umm Hassan adds, "security forces arrested a number of young men of the neighborhood as retaliation for their defense of honor against immoral acts, and as a lesson for them on submission and not to defend honor in the future."
The parks by the numbers:
● Number of parks in the city of Damascus: 177 open, 772 closed, according to estimates by Parks Department Director Bassam Abbas
● Number of parks in the city of Homs: 352, 80 in Al-Wa'r district. 65% of Homs' parks are out of service after threvolution, according to statistics published by Tishrin newspaper in April.
● An individual's share of Damascus parks is 57 square cm each, while the per capita share of Jordanian gardens is 2 square meters, and in Turkey, 16 square meters, according to the Parks Directorate of Damascus.
● The area of Tishrin Garden is 360 dunams, and it requires 60 workers and guards to service it.
● Out of the three thousand workers in the parks of Damascus, a thousand are jobless in the shadow of the war.
*(Shabiha) are those who use violence and intimidation in favor of the regime.
if you think the article contain wrong information or you have additional details Send Correction