Group publishes video depicting the killing of citizen journalists by loading their computers and cameras with explosives
ISIS Executes Five Journalists in Deir-ez-Zor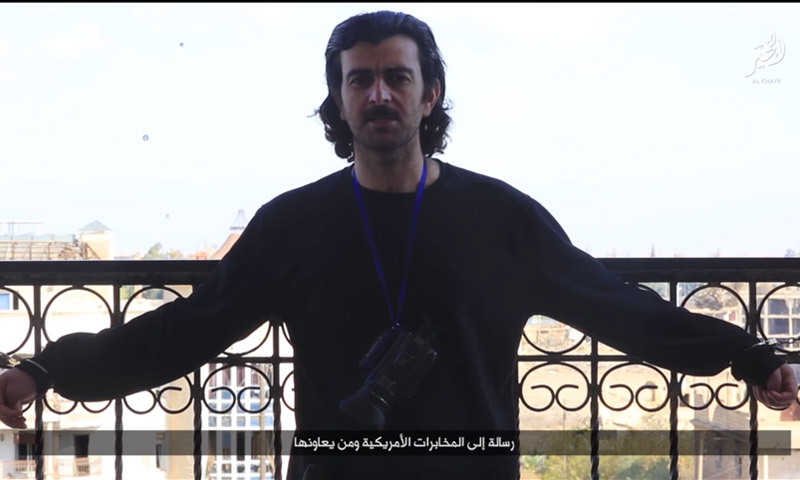 The Islamic State group killed five journalists in the city of Deir-ez-Zor, according to a video recording published on Sunday, June 26.
The journalists appear in a new release published by the organization on social media sites under the title "Inspirations of Satan," which depicts new brutal execution techniques from the group.
According to the recording, journalist Samer Mohamed Aboud (33 years old), who served as head of a network bureau in the Deir-ez-Zor region, was executed in one of the city streets by being slaughtered with a knife.
Sami Joudat Rabah (28 years old), who was working as a journalist before the group took control in Deir-ez-Zor, remained in the city and continued his work as an independent journalist unaffiliated with any group. He was restrained to a table above his laptop which was then blown up, killing him in the process.
Mahmoud Shaaban al-Hajj Kheder was working as a radio official for the channel Now in Deir-ez-Zor, and was executed by being tied to a metal door and choked with a chain.
Marwan Mahmoud al-Eissa (41 years old) was working before ISIS took control of the city at the official "Al-Nataq" network, and then worked as a correspondent for Al Jazeera Net. He was also killed in a knife attack.
Finally, Mustafa Hassa, who was working as an independent journalist, then with the organization Human Rights Watch, was arrested at his house and executed by detonating an explosive camera.
The journalists were accused of "treason" and working with the West and giving information and coordinates to hostile groups.
This article was translated and edited by The Syrian Observer. Responsibility for the information and views set out in this article lies entirely with the author
if you think the article contain wrong information or you have additional details Send Correction