Last day of April "suffocated their laughter"
A survivor of "Ain Jalut" becomes a winner of "Behance Syria"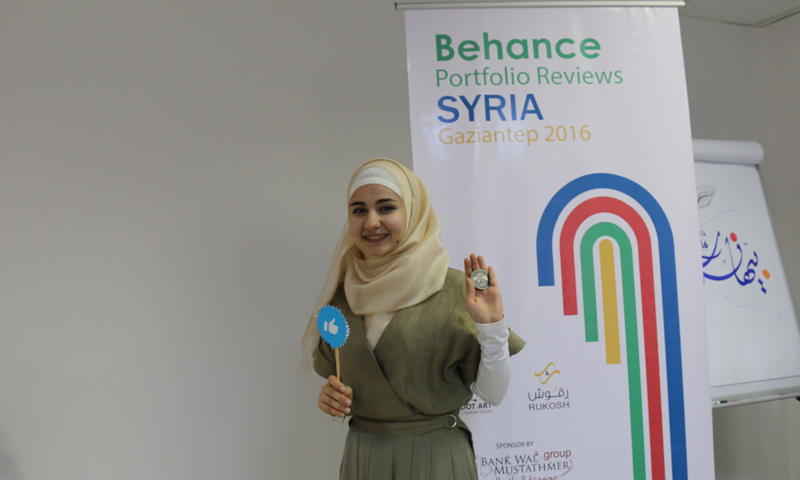 Printed Edition ‖ No.: 222
Hana Al Halabi – Enab Baladi
"I tried to get back to teaching children… I worked for 4 months, but I was very distressed; crying almost every day, so I left work once and for all," with these words Mashaal Al-Sheikh tries to describe how she tried to get back to her normal life, after surviving the massacre of "Ain Jalut" school in Aleppo.
The massacre in Al-Ensari neighborhood was carried out by the Syrian regime aircraft that shelled the school with an interstitial missile on the last day of April, 2014. The students of the school were preparing for the opening of a drawing exhibition on the same day. The shelling claimed the lives of 25 victims and dozens of injuries. 
Aleppo Media center, specialized in documenting field events in Aleppo, stated then "war aircraft targeted the school of Ain Jalut, which caused the death of more than 25 children in the school, who were no older than 12 years old."
Mashaal is an art teacher who supervised the exhibition drawings. She volunteered to train three schools in Aleppo beginning of April. She says to Enab Baladi; "the sound of the aircrafts almost pierced our eardrums. Fear possessed me… I was confused and tried not to show it in order not to scare those around me, I wanted to be the tough one when everyone was scared," those were the first 5 minutes for Mashaal in "Ain Jalut".
"Day after another, I derived my courage from the faces of the students; their voices singing revolution songs: 'we will stay here' and 'Oh Mom, I am going to become a martyr', would become louder than the sounds of aircrafts."
Mashaal began the drawing lessons and the female students in particular found in those lessons a catharsis for them, therefore, they were spending a considerable time in it, as Mashaal says, who describes her journey saying; "I and the students were so optimistic that we are leaving an imprint, which may awaken the world's conscious… The students had an increasing insistence by the day, they were even surrounded by a strange aura of calmness and solemnity that would make me forget the violence of war and destruction around us in the city of Aleppo."
Mashaal says; "days went by so quickly during which I experienced mixed feelings of fear, determination, love and happiness."
In a "false truce" on the day of the exhibition, which was the awaited date, Mashaal adds; "we were all waiting this day. We started preparing, choosing the paintings and putting them up in their suitable place and form."
"Walaa, Esraa, Ataa, Samar, Aya and other students came with no prior arrangement in order to help. They continued to prepare and arrange until sunset, and it never occurred to me that this was their last sunset in their lives… They were like the sun that is no longer rise in my life", asserting "they said goodbye with a new hope to come with the sunrise."
The morning of the massacre
"I entered the school the morning of the exhibition day and the place was smelling so good, you could also hear the voices in there as if it was Eid day (Muslims' celebration), the children and teachers were in constant movement with nervous and joyful feelings filling the air", as the school has announced that day to be a day off in order to organize for the exhibition.
Everyone at school, including the principal, were busy hanging up paintings and organizing around. Mashaal narrates: "a few minutes before the exhibition started, I went into one of the classrooms with two students and a teacher in order to hang up some paintings, and I could hear the sound of aircraft flying, I kept repeating to myself: there is a truce… a truce… they won't hit, so that I could lose the sound of aircraft and listen to the singing of the students in the next class…only a few minutes later, the voices disappeared and I no longer saw anything."
"Darkness… everything was dark, I have no idea what hit my body, we were holding hands; me, the two students and the teacher, forming a loop and hiding our heads inside it, while the smell of blood and gunpowder spread everywhere."
All that Mashaal could remember was holding the hands of the two students and leading them to the basement. Here she says; "the dark started to fade little by little and I started seeing body parts scattered all over the place, and I started seeing martyrs that I was unable to recognize."
That day changed for Mashaal from that of hope to an imprint of pain that haunts her until this moment, as she put it.
"Ain Jalut" was not the first massacre
Mashaal was a second-year University student at the Faculty of Fine Arts at the University of Aleppo. She was at the Architecture University on the day when it got shelled, on the middle of January 2013. After the massacre, she left to the Turkish city of Gaziantep to return back to Aleppo later in order to sit for the exams.
During her stay in Gaziantep, Mashaal learned that she was now wanted by the Syrian regime Security systems, she says "I was renting at a family's house in Aleppo, after my family left our house and Syria. I learned that the Security went to the family, which I used to stay with, and asked about me and my sister. Then they arrested that family's father and son (15 years) because of me. And ever since, I have not returned to regime's areas."
Mashaal could have applied and gotten acceptance at one of Gaziantep Universities, but she preferred to work with children rather than continue her study. She started working at an orphanage; "playing and working with these children help me forget my painful memories. I used to stay with these children in the same house," however, she was forced later on to quit the job and go back to the liberated areas in Aleppo in March 2014, where she began her journey with "the children of Ain Jalut and painting."
Mashaal gathers her shattered parts
After Ain Jalut massacre, Mashaal stayed in Aleppo till June and then departed to Gaziantep in order to begin a new life in there. She returned to the same orphanage in order to teach children drawing; "maybe I was haste to deal with children again, my wounds have not healed yet, the thing that affected me heavily and I used to cry on a daily basis, so I left the job four months later."
She does not know why exactly did she leave the job? "I was devastated back then. I did not give myself a chance to rest. And since then, I stopped dealing with children, but now I miss them."
The girl went back to drawing now, and she says "the only thing that brought me back to drawing was my desire to deliver a message through my drawing," which is something she is working on by drawing paintings that represent the current situation in Aleppo, in addition to joining a team that creates "cartoon movies" regarding the effect of war on children.
Winning the Award "Behance Syria" Global
The girl of 23 years old, burdened with memories from Aleppo, decided to participate in "Behance Syria" exhibition, one of the activities of Adobe Global Company in Gaziantep on the 16th of May, along with the "cartoon movies" creators' team, whom she works with. However, the team withdrew due to their lack of readiness and so she took the decision to participate alone.
"It was an abrupt decision, I did not have enough pieces, yet I was determined to participate in order to deliver a message that I believed in."
According to Mashaal; "I had 3 old pieces that I painted when I was in Aleppo and I drew 5 new ones within a week, which made me hesitate in participating, especially that all participants have presented a selection of work they have done over the years," adding "I decided to participate in order to deliver a message and no more, regardless of the artistic value."
The girl says "when the show started during the ceremony, I was surprised to see the high level of the presented pieces. I had a feeling of hesitation and, for a moment, I considered withdrawing," adding; "but my sister encouraged me and reminded me of my goal in participating; which is delivering a message."
"When they announced my name as a first winner, I was very shocked, and I was so proud because I was really able to leave an impact on people with my drawings."
Voting for the award is conducted through the audience, which gave Mashaal an increasing feeling of proudness because that meant that she was able to "touch the feelings of the attending audience", out of nearly 50 contestants.
Mashaal winning the award might be a hope impulse to break the barrier between herself and drawing, so that she could get back to her normal life at prime-age, yet that does not diminish those images of reality she, and many other thousands, have witnessed in Syria; some of whom have been able to get back to life, yet many other voices are still "strangled".
if you think the article contain wrong information or you have additional details Send Correction