"Self-Management" in Afrin grants women some rights and "invests in them"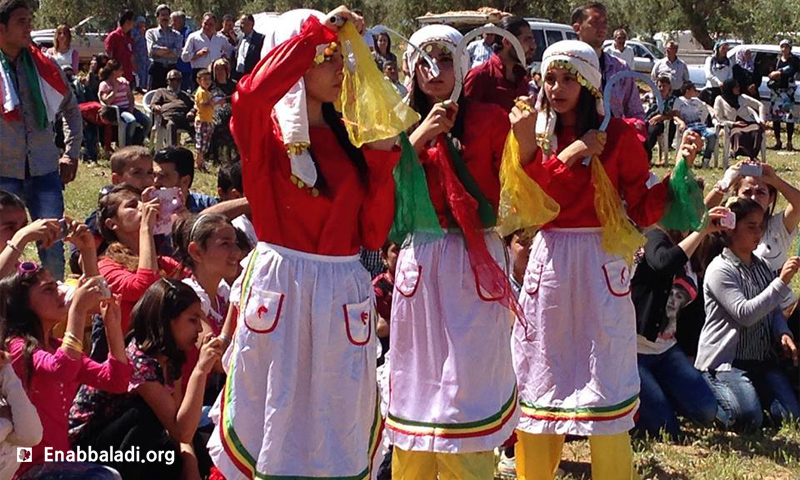 Printed Edition ‖ No.: 223
Enab Baladi – Afrin
During the past few years, the political and military changes in the town of Afrin, located in the northern countryside of Aleppo, have affected the Kurdish woman, who has been granted rights that have been squandered by concepts and traditions previously common, but, at the same time, she has been restricted by laws enacted by new legislations in the region.
The region of Afrin, with a Kurdish majority, falls under the rule of what is called "Self-Management"; a political alliance that include a number of parties and alliances, notably the "Democratic Union" Party, which is divided into two divisions; the first is military (People's Protection units) and the second is Security (Asayish).
"Z. M." (Um Hanan) suffered terribly in her society, according to her, as she was deprived from studying because (learning does not serve women), was married before she was even 16 years old. She expresses to Enab Baladi that she has suffered a lot of injustice; she is not even allowed to participate in family decisions, such as "the future of her sons and daughters".
Just like other women in Afrin, Um Hanan was deprived of the right in inheritance by virtue of customs and prevailing traditions since "inheritors are exclusively males and not females", despite the fact that Islamic Shariaa (legislation) and Syrian law say otherwise, according to her, adding; "today and after the adoption of the social contract by the Self-Management, woman was granted some of her rights. They also adopted some laws that limit divorce or polygamy, yet they ignored the right of inheritance as well."
The Kurdish woman recently joined the political life and participated alongside men in establishing many associations and institutions and formed specialized women's affair bodies. Mazkeen Mohammad, a Kurdish young woman living in Afrin, agreed with what Um Hanan shared, asserting that "woman under the Self-Management was freed of some of the customs and traditions prevailing in the society, and was also granted many rights", but she described some to be "fake".
The "Self-Management" took advantage of the Kurdish woman as a civilized façade in order to pass on many illegal practices and decisions, according to Mazkeen Mohammad, adding "recruiting minor girls is an unacceptable practice by the Self-Management", reflecting her sarcasm of the political representation of woman in some assemblies "woman does not participate in any kind of crucial decisions for the ruling authority", as she expresses.
During the past few months, Afrin witnessed the displacement and migration of both males and females out of fear of the "Self-Defence Law" or what is locally known as compulsory "conscription"; Mazkeen continues saying that "arresting young men and kidnaping minor girls forced the youth to travel outside Afrin, since they have overburdened their families with their presence", Makzeen cites an incident that her relative went through; who had a heart attack fearing her son's life, after he had to escape Afrin for fear of arrest.
Young Mazkeen concludes saying that the woman who once participated in building advanced societies, and continues to do so, used to be deprived of rights and a burden on her family in light of concepts and customs prevailing in the society before the outbreak of the revolution against the Syrian regime, and today she has become a "commodity" being used, in every way possible, by some political and military bodies in order to reach the desired goal.
if you think the article contain wrong information or you have additional details Send Correction