Security Forces Prepare to Storm Hama Central Prison After Negotiations Collapse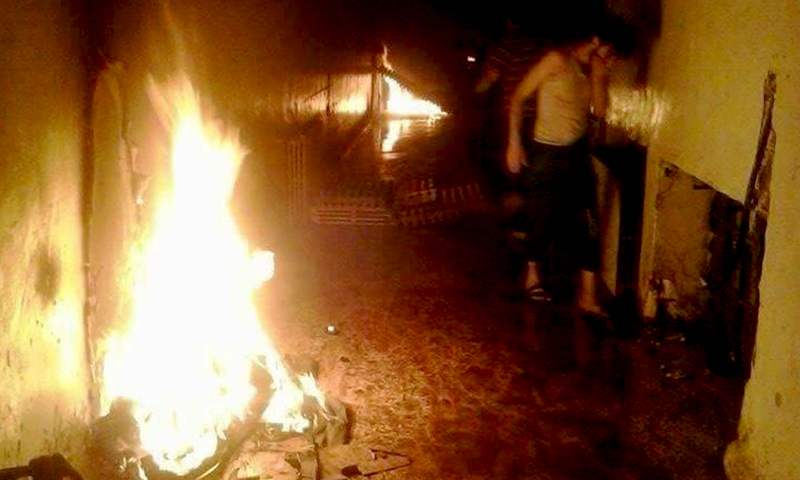 Negotiations to release a number of officers and guards being held captive by inmates at Hama Central prison have failed, the Hama News Network reported, adding that security forces prepared to storm the prison on Tuesday, May 3.
Mohamed al-Tullab, a member of the agency's administration, said that the regime returned and cut off communications, water, and electricity to the prison, pointing out in his comments to Enab Baladi that forces in the prison area were preparing to storm the facility.
Activists in the city confirmed the return of security forces to the roof of the prison and its perimeter, along with the entry of four-wheel drive vehicles, threatening to storm it after the collapse of the negotiations.
Moeed al-Hamawi, a member of the Hama Revolutionaries Federation, quoted one of the prisoners as saying that officers and security forces were still being held inside the prison, noting in comments that two prisoners had been wounded by asphyxiation after the prison was hit by tear gas canisters accompanied by an attempt to storm it.
The prison witnessed a second day of revolt after the administration attempted to transfer some of the prisoners to the notorious Saidnaya military prison after their families paid between 1 million and 3 million Syrian pounds in exchange for transferring them to Hama Central, a source inside the central prison previously told Enab Baladi.
This article was translated and edited by The Syrian Observer. Responsibility for the information and views set out in this article lies entirely with the author.
if you think the article contain wrong information or you have additional details Send Correction