How do the people of Deir Ezzour justify staying in regime-held areas?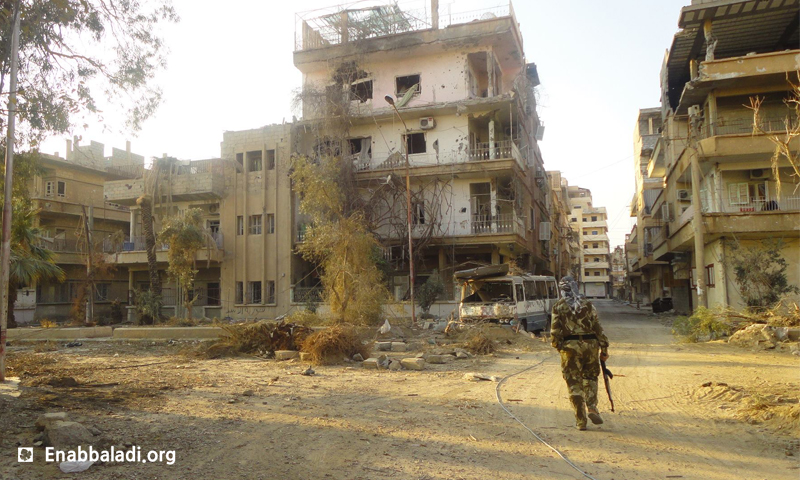 Printed Edition ‖ No.: 220
Enab Baladi – Deir Ezzour
The city of Deir Ezzour is facing a complicated situation as its residents continue to die at the hands of the Islamic State on some areas, and others fall to regime forces elsewhere in the city. This situation raises open questions: what has caused the residents of the city to remain in areas controlled by the regime, and what is happening within the besieged areas?
The people of Deir Ezzour surveyed by Enab Baladi say that many of them don't know how those who have remained in the city, and those who have been obliged by their circumstances to remain there, manage to live. Some have taken up arms to fight in militias, motivated by various reasons, and "far from loyalty to the regime."
Who is fighting with the regime?
Different reasons have pushed hundreds of young men to stay in the city and take up arms with the regime, according to those interviewed. Among them are some who had once fought against it, such as young men from the "Shaetat" clan (in Deir Ezzour), who resorted to joining the regime after bloody battles with ISIS. They make up what has become known as "the army of the clans," in addition to young men of the "Bosarayah" clan, who fled from their regions in the countryside after violent displacement to the Al-Joura and Qusour neighborhoods.
And the youth of Deir Ezzour are fighting alongside hundreds of former prisoners, whom the regime released and compelled to take up arms at the fronts, in addition to employees of the state and those under annual or monthly contracts. The people of Deir Ezzour consider these people to be different from the regime; as they hate the regime, and as many clashes against him continue to take place in the area, and many die on both sides, as they describe.
Need pushed some people to arm themselves
Enab Baladi surveyed the people of Deir Ezzour regarding their reasons for staying in besieged areas, and for taking up weapons and fighting alongside the regime. Adib, 40 years old, who works as an armed guard at a government building, was surprised by our questions, saying, "it is strange that anyone cares about us, because we are the forgotten ones, and when people do mention us, it's with curses and insults."
Adib, who supports three families, says he can't understand what is happening around him, and all he wants to do is survive and provide for his family. He asked repeatedly that no one be informed about his interview with us, "for fear of the danger they might be exposed to."
"Each side uses us according to their needs"
The besieged areas are still crowded with people: more than 185,000 people live there although tens of thousands have fled, while daily requests accumulate on the mayor's desk from families asking for permission to leave. Only a few families actually get out, and only after paying up to 600,000 Syrian pounds per person to regime brokers and navigating via helicopter to Qamishli.
This exodus does not include young men, who are persecuted by the army and militias in order to force them to volunteer or to bring them into military service, as the city's neighborhoods face frequent raiding campaigns.
Hanan (name has been changed) lives in Al-Qsour in an area close to a regime military checkpoint. She told Enab Baladi that she was forced to cook for the soldiers and clean their clothes "to prevent evil." Despite this, she found her picture a short while later on social media "accompanied by a stream of insults and accusations that did not spare my honor or reputation."
Hanan suffered from serious pressure and no one attempted to find out what was happening to her. She said these people are "a piece of the weapon, nothing more. Every side uses them according to their needs, then casts us away to die. This is a result of the unresolved situation." She attributes the reasons to the fact that the situation "maybe more like the law of the jungle, in which we have been forcibly placed and we have become one of the parties despite ourselves."
Unheeded justifications
"What do we do and where do we go? All the roads are closed in front of us, and we know what happened to those who left," says Ramiz in response to our question, after constant, useless attempts to get out.
Ramiz used to work with a human rights organization on the side, before he was forced by the regime to fight for them under threat of losing his job. His multiple attempts to leave the city failed. "I presented my request to move to the province of Al-Hasaka several times but it was rejected," he said.
Although the young man has justified his stay in the city, yet many people aren't convinced by his or by the city-dwellers' reasons for staying there. Abdallah, one resident of the Hamidiya neighborhood, is one of those skeptics, who accused those of staying in the besieged regions of "servitude," adding; "they sold themselves and their homelands and sacrificed the blood of its people when they agreed to deal with the criminal regime."
Abdallah said the regime uses local people who know the region well, putting them on the checkpoints in each neighborhood "in order to check the identities of the people entering, as if they are spies."
The people of the besieged areas today live on beans and bread, which frequently run out due to a lack of flour and fuel. In addition, most of the people interviewed by Enab Baladi are afraid of having to resort to "eating dirt" if they leave the city and move to camps like displaced people.
Hanan concludes, "we have seen what happened to those who left, whether to the countryside, where ISIS rules, or to other cities in Syria, where each step requires money." However, those who have escaped the regime-controlled areas do not believe these excuses, and they respond, "no one dies from hunger, and no one should accept the idea of staying with a regime that has killed more than half a million people."
if you think the article contain wrong information or you have additional details Send Correction