Lying to their children in order to be patient...
An "Imminent disaster" in Daraya and patients are looking for medicine that might give a "satiety feeling"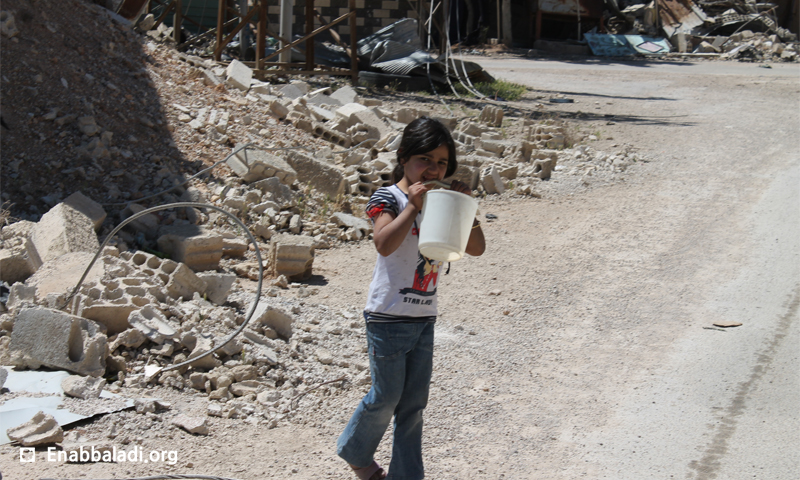 Printed Edition ‖ No.: 220
Enab Baladi – Daraya
"Our life is far away from humanity, and our prices are more expensive than the prices of Europe", with these words Thaer Abu Mohammed (35 years), describes the living conditions in the town of Darya.
Thaer, a free army fighter whom is besieged in the city with his family says, "I can't eat at home until my kids feel satiety, we ran completely out of food weeks ago, so I collect whatever I can collect of beans to feed them, and have for myself only the soup that we are distributed at the front."
"I lie to my family in order to give them patience," said Thaer, echoing the phrases "it's only a few days and by Allah's willing the aids will enter soon," but these words are no longer enough to ease their suffering, according to the man, who explains, "we waited for the United Nations delegation to enter for so long, hoping for the aids to enter, but it's been three weeks since the delegation's visit and we only received promises."
United Nations delegation came to the city, on the 16th of April, to inspect the human reality without carrying any aid with them, which brought a wide criticism among the sieged.
Thaer described the UN organizations and the countries that "claim" to be supportive to the Syrian People, as he says "they lost their humanity and they are the regime's number one associates in killing us, since if they took their responsibilities as they were supposed to, we should have seen more serious movements in alleviating the suffering," stressing that. "Everyone is waiting for the catastrophe to happen with a mere concerned feeling, a word that all the Syrian people are sick of hearing."
In turn, Ammar Abu Mamoun is working in agriculture to feed his two sisters, he says, "Half of my family were stuck in the neighboring Moadamieh and I stayed in the city with two sisters, we do not have any stock of food, and I found myself compelled to complete the work of my father in agriculture to feed my sisters."
Ammar adds, "I sell a portion of the production to cover the cost of farming, keep a portion to eat, and donate some to the new comers who have no money."
Due to hunger and high prices, some people resorted to stealing some crops to feed themselves, according to Ammar, prompting farmers to protect their land and sleeping in it, pointing out that preventing thefts is not to prevent people from the crop, but because people were entering the fields in a random way that caused damage to the crop.
The farmer estimates the cost of one meal of some kinds of beans for two people, which is the only kind currently available, for about four thousand Syrian pounds, not to mention the cooking materials, if available, adding that "these are costs that no one can afford."

Ammar attributes the enormous price rise to the high cost of agriculture and the price rise of each of the seed, fuel and pesticides, noting that many farmers will be forced to stop farming because of the inability to afford it.
Dr. Diaa Abu Mohammed, a doctor at a field hospital, warns of an "imminent humanitarian catastrophe," since the hospital daily receives many cases of inflammation of the bowel, indigestion poisoning, caused by eating grass and plant leaves, which became the food of many families even without cooking them.
According to the doctor, and due to the deterioration of food conditions, many patients ask the hospital doctors "Is there any medication that can keep the feeling of fullness for as long as possible?"
Children are the first to be affected by hunger, whose effects have become clearly visible on their bodies, according to Dr. Diaa, as the majority of children who come to the hospital are underweight and Abdominal distress, especially infants, as their parents have to feed them food that is not suitable with their  age, due to the lack of milk.
Civil institutions Directed frequent letters to international institutions concerned with human reality in Syria and UN organizations, but campaigns and appeals to break the continuous siege of more than three years, have failed up till this moment.
if you think the article contain wrong information or you have additional details Send Correction