Exams are back in Daraya after a long time… students are getting ready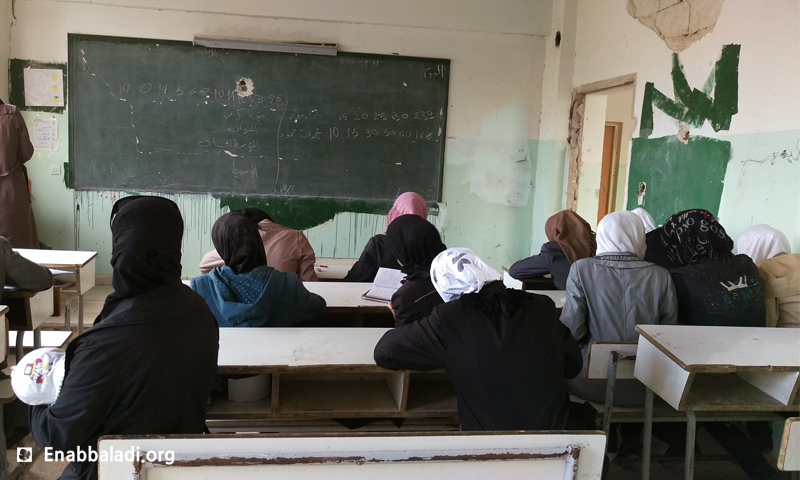 Printed Edition ‖ No.: 223
Enab Baladi – Daraya
"Read and Ascend" School announced finishing the registration of students sitting for the exams of Basic Education and General Secondary certificate, in accordance with starting intensive courses for the students of the city of Daraya, in the western countryside of Damascus, that included curriculum of both certificates, in a way to enable students to take their exams after a long period of time during which education witnessed a poor condition in the city.
This procedure was met with high turnout by the students of Daraya in order to apply for the exams, despite the controversy over the accreditation of the Certificate issued through the interim government, which commissioned the staff of "Read and Ascend" to open an exam center inside the city, through its Directorate of education.
"Recognized Certificate"
Enab Baladi met school principal of "Read and Ascend", Hussein Abu Khalil, who asserted that the certificate is recognized by all of the universities of the liberated areas, in addition to Turkey and France, considering that this procedure "positively influenced the students and educational staff."
Abu Khalil noticed that students are showing determination to take the exams and get the certificate, despite the late announcement for the registration opening and the short period of time left before the exams' date on the 13th of next July. He attributes the late announcement to "the absence of any kind of cooperation or communication with the Education Directorate lately."
Students arriving successively for registration
The school principal pointed out that "students have many goals and future dreams that they wish to fulfill, yet their hopes diminished with the prolonged revolution, and students began to slacken, some of them even cut off school altogether," adding that "once they learned that they will get a certificate in case they continued their education, their hopes were renewed."
According to "Abu Khalil", a number of dropout students registered to take the exams. He also said that the school will participate in the educational events inside the town by organizing courses to support students in all subjects, adding "work will be conducted through the efforts of the events agreed to provide assistance to students and providing all materials needed including curriculum printouts, classroom settings and a good teaching staff to supervise courses and exams."
Saeed Abu Kasem, one of the teachers helping in the supporting courses, says that "throughout the siege time, since the beginning of the campaign till this moment, Daraya never let go of Shariaa or cosmic knowledge and teaching, nor did they allow ignorance among their children", pointing out that "all people of the city constantly seek developing themselves and make efforts in order to raise their city's scientific and intellectual level."
Abu Kasem explained in his interview with Enab Baladi that approximately 40 male and female students registered to take the exams, amid some "huge" optimism, as he puts it, in order to get a certificate.
Fear of canceling the exams
However, the teacher fears an escalation or further bad security situation that might lead to the cancellation of the courses and studying, and which in turn affect the date of the exams, attributing the reason to the "continuous attempts by Assad forces to assault the city."
Malek (18 years old), is a dropout student for three years now, who showed interest to take the exams, considering that "it is an opportunity not to be missed and a challenge at the same time", and he said to Enab Baladi "I used to be a hard working student, but I could not sit for the Basic education Certificate due to the military campaign, which forced me to stay in the city."
Malek concluded saying "war won't end our lives, and I will also get General Secondary Certificate in order for me to finish my university study in the Virtual University, just in case the city besiege continues, but if a shell ends my life, then I had nothing to lose."
if you think the article contain wrong information or you have additional details Send Correction