"Most of us did not have the chance to see their families or stay with them"
Displacement Leaves the Residents and Fighters of "Al-Waer" with Pains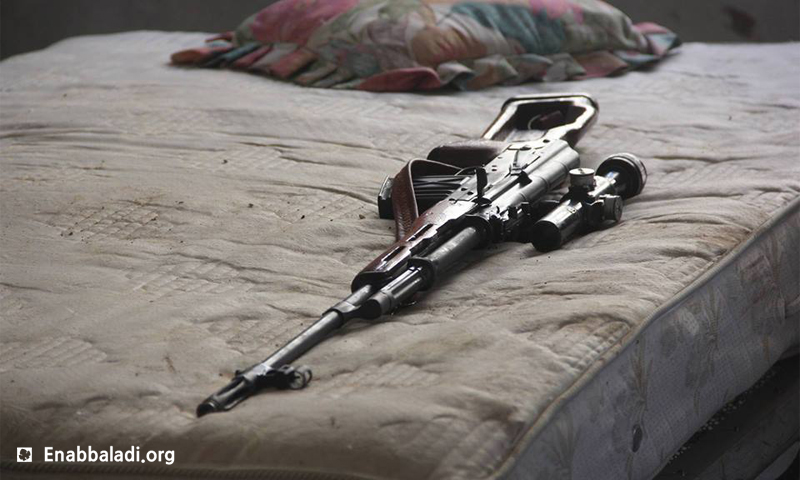 Printed Edition ‖ No.: 220
Enab Baladi – Homs
Mrs. "S. D." was not able to farewell her son, who was killed during the clashes in Al-Waer neighborhood in the city of Homs, due to the siege over the neighborhood. Ahmad Abu Khaled was also deprived of seeing his family, which is only a few kilometers away from him, for three years. His mother only knew about the wound, which he got over one of the fronts, many months after it happened, Ahmad preferred not telling his mother, despite the pain, in order to spare her tears, which he describes as "very precious".
The displacement that affected the neighborhood of Homs, just like its predecessor neighborhoods, is the main reason behind the sufferings of these people, who represent thousands of stories in the neighborhood.
According to media activist, Radwan Al-Hindi, who is currently staying in Al-Waer neighborhood after he fled from his hometown, Al-Khaldiehe neighborhood, in the city's downtown, one of the most important reasons behind the displacement movement, which affected all opposing areas in the province of Homs, was the violent military escalation.
Al-Hindi says that "Al-Waer neighborhood was the largest human shelter in Homs. After Karem Ez-Zeitoun massacre, carried out by Assad's forces in March 2012, Al-Waer neighborhood accommodated around half a million people, but after surrounding it with the regime's forces and undergoing violent siege and escalation, it only contains a 100 thousand people today."
According to Al-Hindi, this displacement movement had a huge negative impact on the lives of both civilians and fighters of the neighborhood; they were not able to get used to it, despite the repeated movement. He continues telling Enab Baladi; "the displacement scene inflicted pain in the hearts of the neighborhood's residents, whether it be civilians or military, none was able to imagine that their families became only a form of fiction, or that they might get killed due to starvation, shelling or battles, without having the chance of seeing their parents."
A large number of fighters in the neighborhood have been away from their families for 3 – 5 years, due to presence of fighters in Al-Waer from the city of Homs and its countryside, in addition to the presence of a number of fighters who are dissidents of the regime's army, and those have not seen their families since the moment of their dissidence, as Al-Hindi says.
Tragedies afflict fighters
Ahmad Abu Khaled, an opposition fighter in the neighborhood, says; the situation of the fighters in the besieged neighborhood was not good in light of not seeing their families, especially after they were forced to continue their daily lives along with their military acts on fronts.
In his interview with Enab Baladi, Abu Khaled says "most of us did not have the chance of seeing his family or staying with them because of the violent siege over the neighborhood, which forced us to get familiar with all daily life chores, such as; cooking, washing and cleaning, which is something we find difficult to match between all of these chores and our responsibilities on fronts. Yet we were able to master house chores…as the saying goes; "only because you are forced, not because you are a hero."
The fighters' smile and wit accompanying them most of their times did not negate the feeling of loneliness they had every now and then, the fact that they are not able to see their families would always make them feel distressed. Abu Khaled adds; "I feel pain every time I talk to my mom, who is in fact only a few kilometers away from me, and I remember that more than once I have cried like babies; one time was when I congratulated my only sister for her marriage and another when she had a baby that I have never seen, and she says that he looks a lot like me."
The fact that the fighters are spatially away from their families did not allow them to express their afflictions or the problems they face, out of fear for their feelings. The fighter continues saying; "we cannot tell our families that we are hurt no matter how bad the situation is, whether it be starvation, sickness or distress. When I was injured last year with a barrel-missile explosion on one of the fronts, I succeeded in hiding the incident from my mom, despite her frequent questions about my health and her insistence to phone call her rather than sending her text messages… I did not tell her about my injury fearing to break her heart and having her tears shed; my mom's tears are so precious and invaluable for me."
Ahmad Abu Khaled has a great hope of meeting his family, even though he believes that this wish won't come true quickly, he adds; "I live and fight in the hope of seeing them soon, despite the fact that the world has betrayed our revolution and is publicly and clearly indifferent of what we are going through, yet that does not stop me from fighting and praying for meeting them in my Salat (Islamic acts of prayers), Allah is Able to do all things."
Farewell behind/through screens
Families of the scattered fighters inside and outside the city were in no better position than Mrs. "S. D.", who is still living in a huge heartbreak, as she describes, especially after the siege imposed on Al-Waer, which prevented her from bidding farewell to her son, who was killed in one of the raging clashes on the outskirts of the city.
She says; "I left Al-Waer neighborhood two years ago, thinking that I will be back soon, but the displacement scene that affected us in Bab El-Sebaa neighborhood was repeated again, and I was never back to Al-Waer neighborhood. As for my son, we parted and I left him in the neighborhood because he joined one of the opposition factions in the city and was unable to leave since he was wanted by the Syrian regime, but he asked me to leave due to the violent military escalation that affected the neighborhood."
When "S. D." received news of her son's death, her shock was great. She tells Enab Baladi about the strange way of bidding him farewell "I was very worried that day for some reason I could not recognize back then, and I realized that something bad is about to happen. After many attempts to reach him on the phone, with no answer that would relieve my heart, my relatives started dropping by and calling me with the claim of checking on me, then they started hinting that one should accept Allah's destiny…I felt panicked and rushed to my computer to look for news that would either extinguish or fuel the fire of my heart, only then, I saw pictures of my son enshrouded in his grave-clothes all over the social network. I started kissing the computer in an attempt to smell my son's scent, which I have missed, and congratulated myself for giving birth to a baby who became a hero and a groom by achieving the heavens of Al Rahman.
Al-Waer neighborhood is the last strongholds of the opposition in the city of Homs, and in the meantime it is subject to a suffocating siege, after suspending the truce with the Syrian regime which was concluded early December of last year.
if you think the article contain wrong information or you have additional details Send Correction