With attempts to detach it from the reality in Syria
Challenges facing the "Revolution Public Information"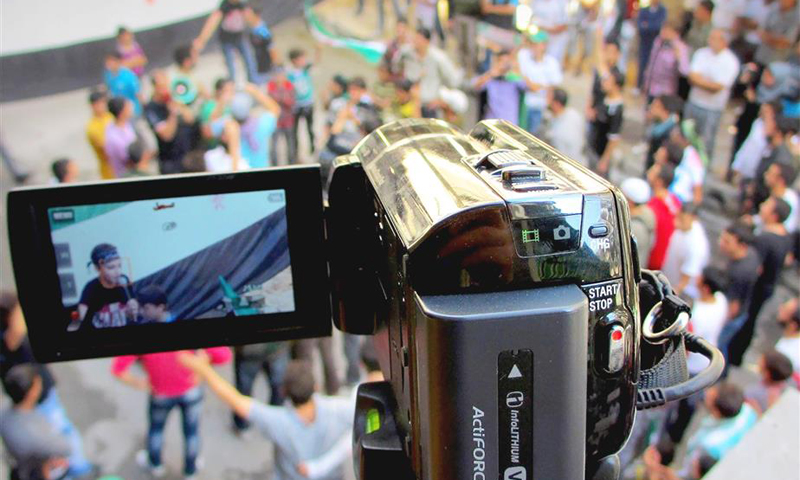 Printed Edition ‖ No.: 222
Haneen Al-Nakri – Enab Baladi
The word 'newspaper' did not mean anything for us, as Syrians, other than three words: "Al-Thawra, Baath, Tishreen"; one voice, soul and vision of what ideas and news the regime wants to publish, which is totally different from today's media scene, as the revolution enters its sixth year, we see dozens of Syrian publications diversified in terms of orientation, targeted-audience, thought and the way they present topics, not to mention electronic newspapers and web sites.
However, does this diversity mean that "revolutionary media" is healthy and totally liberated? And what are the challenges Syrian journalists face today? These were questions we asked to a number of journalists inside and outside Syria.
From the unknown to schizophrenia
Kareem (a fictitious name of a journalist from the city of Hama), says that his permanent obsession as a journalist and a revolutionary activist is the anonymity of his revolutionary identity "the first challenge was security; how to write and publish using a false name, security instructions and connecting through proxy, deleting any data from your phone and laptop that would condemn you and caution in communicating with people you do not know, the fact that this obsession keeps haunting me with my continued journalist work in areas under the regime's control; something that the regime will never tolerate, if, by any chance, I fall into the regime's grip, Allah forbid."
However, with the prolonged revolution, the anonymity task began turning into another challenge, according to Kareem, as the simplest acts of interacting with his readers, sharing a revision written about one of his articles are not possible for him, adding "sometimes I feel that I have schizophrenia since I have two completely separate characters; one is a good government employer who goes to work on a daily basis, and the other is a revolutionary activist who reports what is happening here and there, I always wonder when would I behave according to my true self and unite the two halves of my self.
What is the source of your income?
Kareem works at a revolutionary newspaper that pay him enough to provide a living for his small family, but he must join another job in order to conceal the source of his income to his surrounding, adding "the question by people around me about the source of my income, forced me to get a governmental job that would cover up my essential job in journalism and editing. I don't want to compromise the anonymity, which I was able to keep for five years, and have it collapse for such a loophole," with a sigh Kareem continues "despite all of that, I long for people to know that Kareem is actually me and that it is me who writes those thoughts and convey those stories."
Neutrality is missing!
Kareem writes for one of the newspapers that follows an Islamic Movement, the thing that limits him according to the mindset of those responsible in the newspaper, as well as a list of forbidden topics according to them, and he explains "although newspapers appends what is published as expressing the writer's opinion rather than the publisher, yet this is not really accurate; newspapers do not publish a writer's opinion that contradicts its editorial policy or its general ideology. One time I worked on an analytical article for a very important book, but they kept sending the article back, to find out later that the reason is the fact that the author of the book is a (secularist), and I had many other materials with the same situation.
Kareem has special fears that he expresses "I sometimes fear that we resemble the regime's media and avoid mentioning the negatives of the revolution in our media. I hope this will never happen."
Deprived from journalistic training
Maha, a media activist from the countryside of Damascus, sees that journalists inside the country suffer from different problems than those who are outside Syria, such as, the lack of training and improving the standard of work to reach professional levels, which is attributed to the fact that most of those working in the media field are non-professionals or non-tutored, not to mention  the difficulty of obtaining training opportunities for those inside Syria "I am a student at the University of Engineering, but during the revolution, I worked in reporting images and news to coordinations and fellow journalists abroad, and despite the fact that I have been working in journalism for a number of years and I have read hundreds of articles, yet that does not obviate from journalistic writing rules and its academic fundamentals, which is something we lack as media personnel inside."
Maha tries to substitute her need for training with reading about journalistic styles and paying attention to the structure of the articles she reads, adding "I was offered to attend training seminars in Lebanon and Turkey, but it would be impossible in my case to attend and go back later to Syria for security concerns."
Maha points out to other obstacles for working from the inside, such as the lack of equipment and the necessary infrastructure needed like electricity and internet.
"Remote" journalism
Tareef Ateek, a blogger and journalist at a number of "revolutionary" newspapers, believes that despite the arrest and killing that the regime commits against Syrian journalists, yet it is a common problem shared between them and all Syrians with no exceptions "even if those working in the media field have the more violent share of it, in addition to harassment and arrest practices against many journalists in the liberated areas conducted by the fighting battalions, until we reached a point where we can say that the majority of media and press Syrian staff are working in Syria's neighboring countries."
Ateek adds the fact that most journalists are seeking refuge in the neighboring countries, produced other difficulties since "working as a journalist is based on communicating with the society, as well as previewing and experiencing its problems. I am today, as a journalist, facing difficulties in communicating with those involved inside Syria, and in verifying incidents and the circumstances of certain cases, not to mention the absence of communication with the man on the street, who is the journalist's first and last resource."
In Tarif's opinion, this whole situation corners the Syrian press in a place he calls "the abroad opposition and its media", clarifying "in the sense of detaching the media from reality, and reality from media. Disregarding these challenges will suddenly place us, as abroad journalists, far from contact with reality as it is."
Finding a profitable model?
One of the challenges Ateek referred to was the problem of funding and support, explaining that "many Syrian newspapers ceased publishing after a remarkable work career; out of almost 300 printed publication, we only see a dozen publications continuing, which is mostly attributed to depending on funding from outside Syria, which in turn suffers from permanent discontinuity and decline, at which case the continuity of the newspaper depend on the status of funding and the satisfaction of financer."
Tarif believes that media institutions nowadays need to learn "how to catch fish", adding "what I mean is the ability to find profitable models in order to fund the media projects and ensure their sustainability."
"Paralysis" Disease
Yara, a fictitious name of a Syrian journalist, is the only journalist we met who is a graduate of the Faculty of Information, a Master's Degree holder and actually practiced journalism before the revolution, yet, despite that, she was not able to engage into work with revolutionary newspapers until lately due to what she called "Paralysis Disease" that infected many media institutions.
She explains her point of view saying "working in journalism often depends on acquaintances, your kinship, intermediary and favoritism, instead of judging according to qualifications and educational attainment, therefore, those who do not have methods to reach the newspapers' editors or do not come recommended by anyone, are the less fortunate to publish and get into the world of journalism."
Yara Tarif agrees on the role of funding in affecting the independence of press and believes that the development or decline of work depends on the institution "and its eagerness of professional work liberated from constraints imposed by funding."
#World_Press_Freedom_Day:
Preparing for this report coincided with World Press Freedom Day on the 3rd of May, so we asked journalists about the status of "revolutionary press" and its freedom today; according to Kareem, he sees that ultimate freedom is a fantasy, "there is no ultimate freedom under any kind of rule or place for the journalist to write and publish what he wants, which is something that I try to trick by publishing through my own blog."
Maha agrees with Kareem's opinion and adds "the United Nations allocated this year the right to have access to information, which is something we significantly lack as journalists, it might even be the most prominent challenge we all face."
Tarif expresses his optimism in this regards saying "the revolution abolished   many red lines, as the media scene today is unique in its variety in the contemporary history of Syria, and the restrictions over the opposing press are not worth mentioning, despite the fact that some fighting battalions impose unfair scrutiny on a number of newspapers, however that did not deter any of them from continuing publishing following the same approach."
The site "Syrian Publications Archive" listed 294 printed publications issued since March 2011.
The active publications today are 54 between newspaper and magazine, while 239 of them have stopped publishing.
if you think the article contain wrong information or you have additional details Send Correction