Airspace Monitor Confirms Russian Air Force Carried Out Attacks on Idleb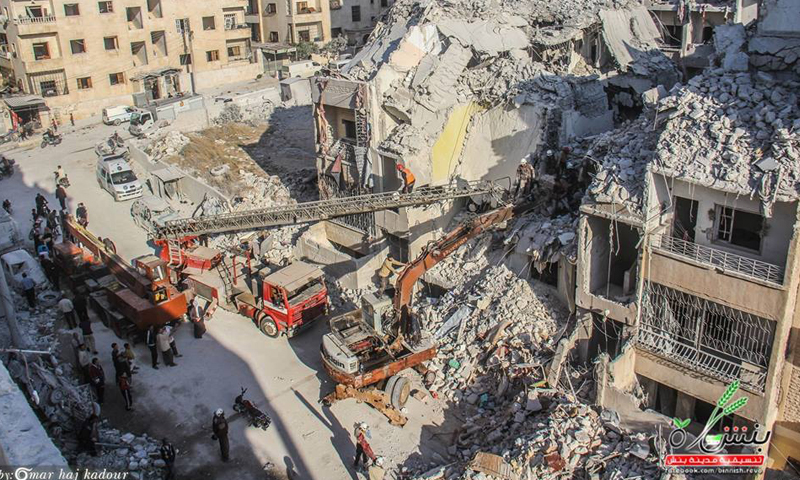 Sources from Idleb province have confirmed that Russian air forces were responsible for targeting Idleb Monday, May 30, killing and injuring scores while causing destruction to vital infrastructure.
Enab Baladi's reporter in the city said that over 40 civilians including children and women were killed in seven raids launched by the Russian warplanes against the city at 10 pm Monday night. The raids also destroyed the National and Ibn Sina hospitals.
Mohammed al-Hasan, who works in an observatory for monitoring airspace, told Enab Baladi that the center confirmed the Russian squadron took off from Hemeimeem airbase in Lattakia and committed the massacre in Idleb. Hemeimeem airbase is considered the most strategic Russian military base in Syria.
Akram al-Hamwi, a displaced person who came to Idleb from Hama, said that scale of the destruction confirms that the Russian warplanes were the ones that carried out the attacks. He said that Syrian air forces do not have the capacity to leave such destruction, adding that the National Hospital was well fortified so that Syrian warplanes could not easily destroy it.
Meanwhile, Moscow denied reports that its warplanes targeted Idleb last night. According to RT website, Russian Defense Ministry spokesperson Igor Konashenkov said: "No combat missions, let alone delivering airstrikes, have been performed by the Russian Air Force in Idleb province."
The Army of Conquest rebel group that controls much of Idleb responded to the attacks by bombing the towns of Kefraya and Foua. Rebel commander Mohammed Shoukri said, "The troops stationed on the outside of the two towns are bombing them with hell cannons and missiles."
Shoukri explained that the targeting of these towns resulted from two things: the regime's violation of the truce in Kefraya, Fua and Zabadani; and the regime's massacre of civilians.
This article was translated and edited by The Syrian Observer. Responsibility for the information and views set out in this article lies entirely with the author.
if you think the article contain wrong information or you have additional details Send Correction