50 Pro-Regime Militants Killed in Aleppo Building Blast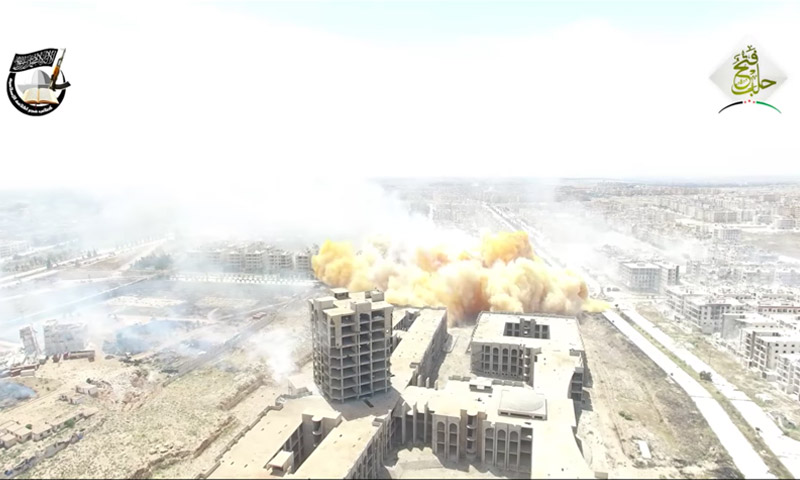 About 50 corpses of fighters from the pro-regime Liwa al-Quds militia remain stuck under the rubble of a building blown up by the Fajr al-Khilafa Brigades in the Al-Zahraa district of northern Aleppo.
The building was blown up in coordination with the "Aleppo Conquest" operations room on Tuesday, May 3. Liwa al-Quds has not been able to remove the corpses of its fighters because the area is monitored by the opposition and within firing range.
Tarek Aour, leader of Fajr al-Khilafa, said he had obtained information from sources inside the Syrian regime that "52 fighters from Assad's militias were killed just by the blast."
Aour told Enab Baladi that, "The battle is continuing between Assad's forces and us in the Jameeat al-Zaharaa district as they try to remove the bodies from the site of the explosion … We managed to kill a number of fighters today while they tried to advance toward the site of the blast."
On its official Facebook page, Liwa al-Quds mourned the fighters who died in the blast, but did not give a final death toll.
The Aleppo Conquest room carried out, in coordination with the Fajr al-Khilafa brigade, the explosion targeting the bases of the Palestinian Liwa al-Quds and the Syrian Social Nationalist Party, which are loyal to Assad, in the Dowar al-Maliya area.
The opposition blew up the building using tunnels they had worked on for two months, according to a video recording published by the brigade. A fighter in the video said that the explosion was a response to the "massacres carried out by the regime in recent days against civilians and children in Aleppo."
Liwa al-Quds militants fight alongside Assad's forces and allied foreign militias in Aleppo city and its countryside. The militia appeared in the military arena in 2014, and is composed of Palestinians from Aleppo, who raise slogans like, "Liberate al-Aqsa" and "Death to Israel."
This article was translated and edited by The Syrian Observer. Responsibility for the information and views set out in this article lies entirely with the author.
if you think the article contain wrong information or you have additional details Send Correction