YPG Trucks Roam Afrin Packed With Bodies of Opposition Fighters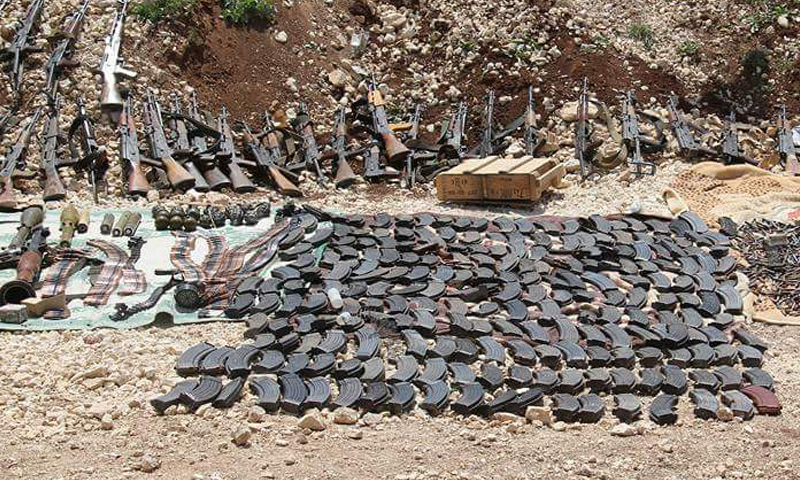 Social media accounts close to the People's Protection Units (YPG) published on Thursday, April 28, pictures and videos showing trucks belonging to the Kurdish faction carrying bodies of fighters and roaming the streets of the city of Afrin in the northern Aleppo countryside.
The accounts said that 60 fighters belonging to opposition factions were placed on the large trucks after hours-long confrontations between the opposition and the Kurdish-led Syrian Democratic Forces.
Sources told Enab Baladi that the opposition carried out an attack on the town of Ayn Daqnah — east of the town of Menagh and on the outskirts of the city of Tel Rifaat in the northern Aleppo countryside — and failed to achieve any progress in the area, amid heavy losses. It said the most prominent factions to participate in the attack were: Faylaq al-Sham, Liwa al-Sultan Murad, Jaish al-Sunna, and others.
A member of the YPG military council in Afrin, Mazloum Akeed, said that 83 fighters from "the groups belonging to the so-called alliance which includes the remains of the Kurdish National Council" were killed in the clashes, saying that 66 corpses were in the hands of the YPG, according to the Kurdish ANHA agency.
Akeed said that the YPG fighters seized weapons during the confrontations, noting that clashes were continuing sporadically in "the town of Arfad (Tel Rifaat), the Baraad point between Arfad and Ayn Daqnah, and the village of Ayn Daqnah", according to the agency.
Syrian Democratic Forces had carried out a major attack in the northern Aleppo countryside in February, during which they took control of a number of villages and towns, most prominently Menagh and its military airbase, and the city of Tel Rifaat.
This article was translated and edited by The Syrian Observer. Responsibility for the information and views set out in this article lies entirely with the author.
if you think the article contain wrong information or you have additional details Send Correction