Tobacco… smokers one and only friend throughout the Syrian crisis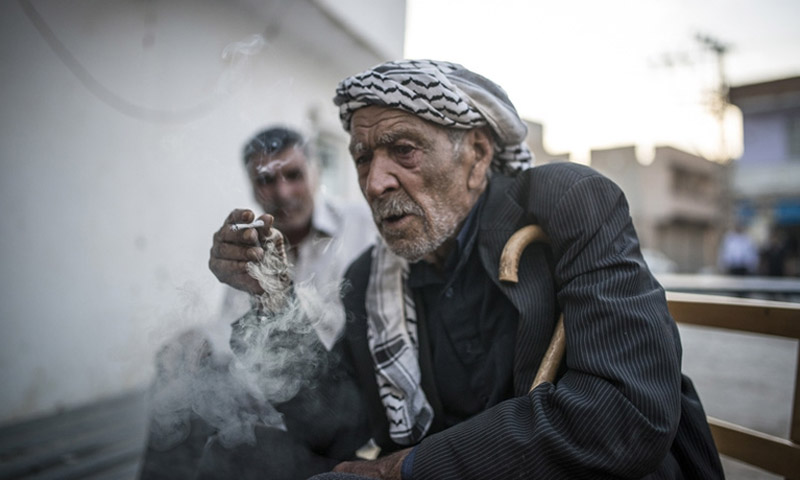 Prices have risen nine-fold and demand continues
"Even if the price of cigarettes reaches a thousand Syrian Pounds (SP) per pack, we will not quit smoking ", is a phrase often repeated on the tongues of Syrian smokers, especially as smokers currently find themselves in an on-going debate about the price of cigarettes; prices which have risen recently in Syria as a result of the decline of the Syrian pound, which has now reached an all-time low against the US dollar.
Five years of war and the deterioration of the Syrian pound has made tobacco prices jump nearly nine times what it was before the crisis began. Where it was once only 90 SP for a box of the most expensive imported brand of cigarettes- Marlboro, it is now a privilege for the rich and high-class only, after the price of the cigarettes reached 900 SP per pack.
The varieties of national brands most popular among Syrians smokers, such as Alhamraa long cigarettes, rose up in price by four-fold; now sold at 130 SP per pack, after initially being sold for only 35 SP in 2011. Likewise, Alhamraa short cigarettes were sold in Syria in 2011 for about 25 SP, but now, little more than five years later, are selling for prices upwards of 100 SP.
The imported varieties also rose ten-fold; such as Gitanes long and short (imported from France), which are selling now for between 450-500 SP, marked up from only 50 SP. Another popular imported brand, Kent cigarettes, once sold for a mere 75 pounds, but are now marked up to 400 pounds.
Gauloises (red) cigarettes, one of the most popular types of cigarette in Syria, was selling in 2011 for about 30 SP per pack, and had recently seen a peak in prices at around 450 pounds per pack. The brand, however, recently became banned from sale due to a large tariff's issue, according to what was recently told to Enab Baladi by an anonymous distributor who operates in Damascus.
Rising prices of existing tobacco types has led to the emergence of new brands of cigarettes; cigarettes which are largely unknown in origin, but which are now increasing in popularity because of their relatively low prices. These cigarettes come at costs which are closer to the price of the cigarettes once smoked by Syrians, such as the brand- "Oscar ", which is currently sold at 150 pounds, or the cigarette brand "Elegance ", now sold at prices which range between 165-200 SP.
In spite of the high prices and the devaluation of the Syrian pound to its lowest level, the sales-rate for tobacco products smoke percentage of sales has not declined significantly. At least, according to tobacco vendors and dealers, who are all in agreement in the matter, and say that this is because of the fact that "smoking is the only friend that Syrians have in this crisis."
According to a report published by the World Health Organization (WHO) on May 5, 2015, statistics show that Syria was ranked first among Arab countries in relation to male smokers, who were 62 % of the general population, while 21% of women in the country also admittedly partook in the use of tobacco. As of 2014, the daily consumption of tobacco products throughout Syria was about 50 tons, and the number of smokers ranges between 4.5 – 5 million individuals, according to the latest statistics of the General Organization of Tobacco (GOT).
if you think the article contain wrong information or you have additional details Send Correction