A Syrian organization in Holland to decrease "religious concerns" and develop political culture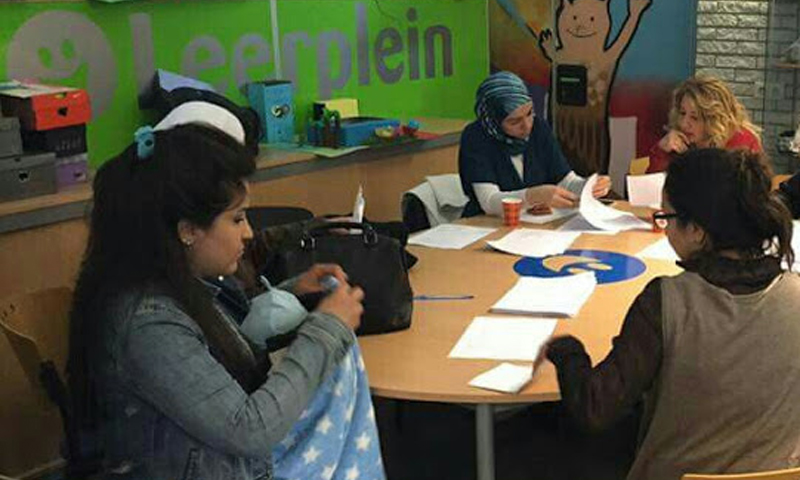 Printed Edition ‖ No.: 216
"The West thinks that Syrian woman is secluded and distant in her own house, therefore, I wanted them to see the other side of her personality" said Ara' Jermani, a Syrian refugee in Holland. This idea urged her to establish a private organization for Syrian woman that aims at reflecting her true nature and help her integrate in the new society."
Jermani, who holds a Master's Degree in Arabic Language from the University of Damascus, says "I set the organization's structure in order to achieve 4 goals, the most important one being introducing the Dutch to the culture of the Syrian woman through practicing her activities while adhering to the attributes of our conservative society."
"A Syrian-Dutch female gatherings during which Syrian women played different musical instruments, recited poems and narrated short stories" were the core of the services of the organization holding the name "Syrian Women in Holland". These activities were also translated to the Dutch language, as Jermani adds.
Eliminating "Religious Concerns"
The organization gave great importance to the religious side, as both parties had misconceptions in regards to each other's religion, as Jermani believes. She says; "the Syrian society has a belief that all European countries have an obsession to convert Syrians into Christianity", explaining "I do not deny the existence of missionary side of Christianity, but I would like to clarify for Syrians that it is not an obsession held by the entire society", "neither is the Syrians' goal to convert all Europeans into embracing the Islamic religion". Accordingly, Ara' tries to convey an idea that "European countries are democratic ones that ensure religious freedom, so that both parties respect each other's religion, creeds and religions as a social state."
Developing the political culture of the Syrian woman
Syria never had civil organizations and so the Syrian woman did not learn how to exercise a political life, which was exclusive to Al Baath Party and limited to the Women's union.
Jermani wanted to teach the Syrian females that they could establish social organizations that aim at the empowerment of women. They are also capable of establishing new parties and be part of the parliament after obtaining the citizenship.
In this regard she says; "I sought to teach the Syrian woman how to exercise the political democracy, the concept of free expression within a responsible system and how to deal with the parties and organizations", pointing to some Dutch parties and organizations that contributed in reinforcing these concepts through attending the organization's meetings and educating Syrian women about these concepts."
Syrian women have the right to plan for business projects that would enable them to support their families. The organization aimed at helping these women think of projects that achieve their goals and ambitions, as well as helping in planning and studying the feasibility of these projects in reality.
The obsession for these European countries that welcome Syrian refugees rest in the capability of integrating them in their societies in order to achieve a real co-existence within the new structure of the society, especially with regards to women who walked out of war to start a new life out of nothing.
if you think the article contain wrong information or you have additional details Send Correction