Price rise infection gets to doctors' "fees" in Syria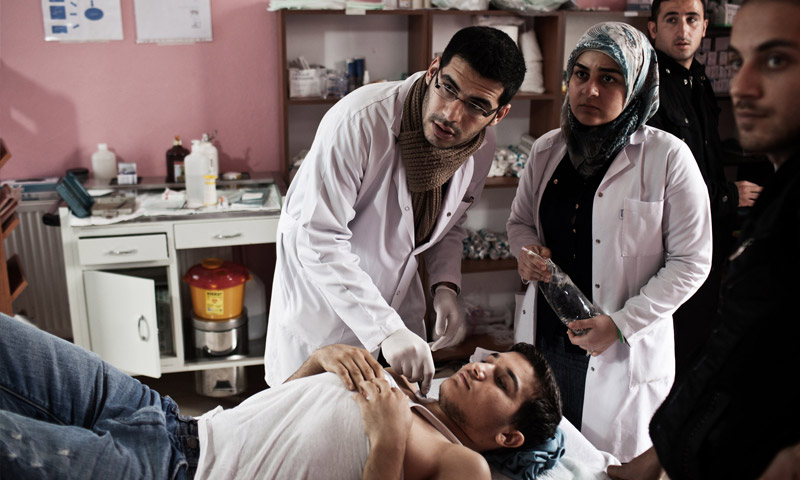 Printed Edition ‖ No.: 216
The five years' crisis in Syria that has been going on since 2011 has changed everything, especially the rise in prices affected by the drop of the Syrian pound to its lowest rate.
The price rise exceeded the food supplies and citizen's basic needs to go beyond that and have a 100% rise in doctors' fees within the last five years.
Abdul Kadir Hasan, the Chief of Doctors Union in Syria, said in a statement on April 6th, to Al Watan newspaper- which is considered close to the regime- that the union intend to raise the doctor's fees in Syria within the upcoming days.
According to Hasan, the specialists who have at least 10 years of experience will be paid a 1500 instead of 700 Syrian pounds. Doctors with less than 10-years-experience will be paid a 1000 Syrian pounds instead of the 500 they used to get in 2011.
Hasan justified the reason behind the fees' rise to control those who violate the pricing claiming that the fees are too low and is worth nothing in these circumstances, especially that lately a number of doctors are not abiding to the specified price by the union, as he described it.
According to a study conducted by the Union, the doctor's fees' rise will not have a great impact on the citizens, as it is a fair one to both citizen and doctor, considering that doctors also get affected by the difficult living conditions that most citizens are experiencing.
The doctors' fees' rise coincide with a statistic of the number of doctors who left the country as a result of the events. According to the Chief of doctors, 7 thousands out of 33 thousands union-registered doctors left the country with a 20% rate. He pointed out that a 1000 Syrian doctors have recently returned.
As the circumstances in the country continue with no glimpse of hope for an end, the danger of the immigration of minds and graduate degree holders increase, which is known as the most dangerous kind of immigration. These people seek a better life where they are provided with high potentials and high living standards away from war's catastrophes and Al Assad regime.
if you think the article contain wrong information or you have additional details Send Correction