Maysoun Berkdar reaches out and touches the Untouchables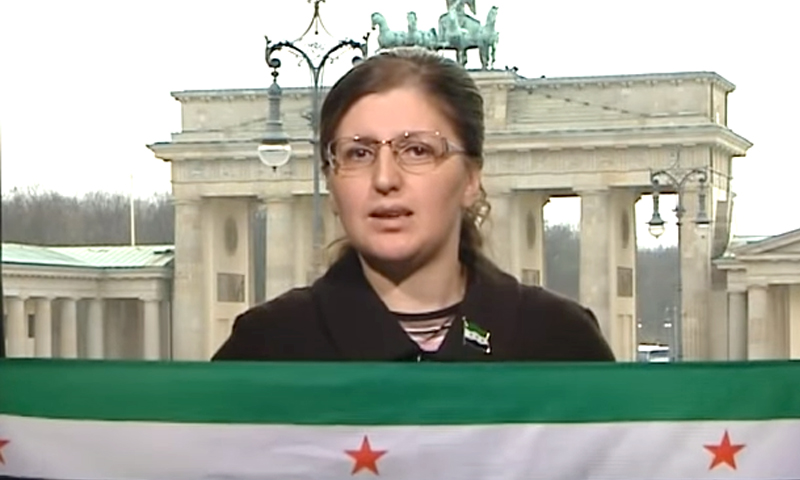 Interviewed by Yasser Ashkar
Maysoun Berkdar is a Syrian woman from Damascus with a mission, and her implied message to all Syrians who support Assad is the same… Do not get too comfortable, for we know who you are, and we will not forget what you have done.
Using the name Wessam, Maysoun has become a target for Assad thugs due to recordings she shares widely of the many confrontational phone calls she has made to regime supporters from all walks of life.
In August of 2013 she made a call to General Bahjat Suleiman, the Syrian Ambassador to Jordan, whose career has been marked by infamous nasty and dirty operations. As one of the most powerful Alawite officers and former head of internal security in Syria, Suleiman is part of the Assad regime's inner circle. Using a strategy that has become her trademark, Maysoun began the call by praising Suleiman and pretending to be an Assad supporter. Suleiman hung up on her after she confronted him and revealed the true intent of her call.
Included in a long list of government officials, diplomats, media journalists and celebrities who have received scathing phone calls from Maysoun are Sharif Shehadeh, a pro-Assad parliamentary member and Bashar Ja'afari, Syrian Ambassador to the United Nations, as well as multiple calls to Assad's media spokesperson, Bouthaina Shaaban.
In a telephone interview from her home in Germany, Maysoun shared some of the pros and cons of being a famous prank caller with a noble purpose.
Question: What motivated you to start making calls to Assad supporters?
Answer: My dream of having the freedom to confront wrongdoers in Syria began seven years prior to the revolution in a PalTalk chat room called Freedom and Justice with other Syrians who expressed their thoughts freely.
My calls are not made for fun, and I always have an objective and a purpose in mind before I make them.
Q: What do you hope to accomplish by making the calls?
A: My hope is to reveal the bad things about the Assad regime that have been kept hidden. For years we were made to believe that the regime was untouchable — and their defenses impenetrable. With my calls I have proven to them and to others that they are not. I have broken through the invisible barrier that separated "us" from "them".
Q: You have received many threats from the regime and Hezbollah. Have they affected your life there in Germany?
A: No, not at all. My husband is here with me and he is my biggest supporter and always by my side. I am not afraid.
At the same time, the Assad regime has spies everywhere, even here. A woman I thought was a longtime friend, who is also here in Germany, was the one who exposed my real identity to one of Assad's thugs.
My father alternates between fearing for my safety, and encouraging me to press on. He served in the Syrian military and was an eyewitness to the regime's duplicity in the so-called battle for Golan Heights. Even though they were treated as heroes when they returned to Damascus, my father knew the truth that they had been ordered by the regime to withdraw allowing Israel to take full control of the area.
My brother was also killed by the regime on September 28, 2014 — and yet there are still members of my extended family who continue to support Assad — and that makes me sad.
Q: How many calls have you made so far?
A: Many. More than 1500 since the revolution began.
Q: Have you ever confronted anyone in person?
A: Only a few. There are also some recordings that I have not shared with the public in order to protect some innocent people.
I try to lead a quiet life here in Germany and do not entertain many people in my home for safety reasons.
Q: What was your most satisfying call?
A: There were many. The most fruitful calls were ones that I made pretending to be Alawite in order to gain information after several explosions in different regime controlled areas of Syria, especially in Qardaha and Homs. The regime always tries to cover up its own casualties for propaganda purposes and I was able to gain inside information through making the calls.
As the interview drew to a close, Maysoun, who has participated in countless protests and revolution activities in the past five plus years, said; "The continuation of the revolution is a revolution in itself."
if you think the article contain wrong information or you have additional details Send Correction