Drug Addiction spread in Al Hasaka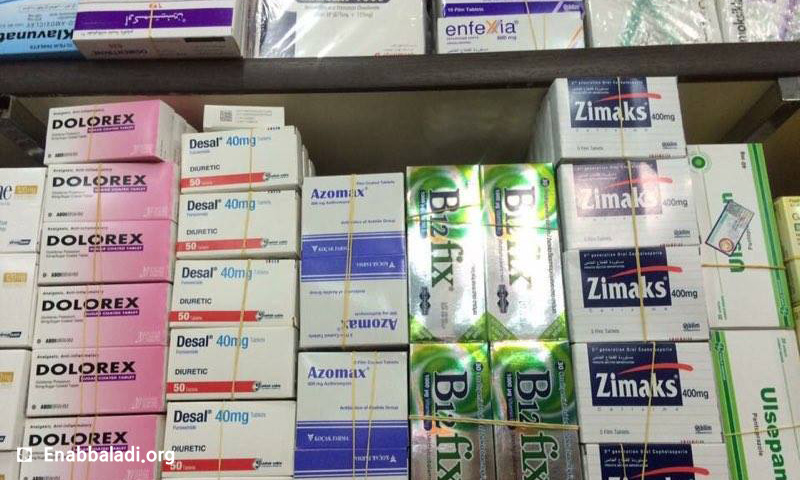 Printed Edition ‖ No.: 217
Enab Baladi – Al Hasaka
"I try sometimes to avoid them, but I feel sluggish with a headache and a loss of appetite", says the young man Serawan Mahmoud living in the city of Qamishli, who is one of those who got addicted to "Diclon" drug in the province of Al Hasaka, to the northeast side of Syria.
Many cases of drug addiction have been recently documented among the men and women in Al Hasaka including some pharmaceutical drugs and painkillers of nervous origin, despite the Regime's Health Directorate decision to deny medicines' selling without a prescription. 
"Diclon" (anti-inflammatory non-steroidal drug that treats infections and is used as a pain relief and antipyretic) comes first at the top of the drugs, in addition to "Tegretol" (used as an antidote to nerve convulsions and epileptic seizures) and "Lexotan" (a sedative and anti-insomnia).
Addiction on "Diclon"
In his interview to Enab Baladi, Mahmoud says that he takes an overdose of "Dilcon", as he has a dose every two days with no prescription and even without feeling any pains.
Motee' Al Shehabi from the city of Al Qamishli constantly buys a bottle of 100 Diclon tablets and explains to Enab Baladi; "I finish a bottle every 12 hours and I take them because I cannot find someone to give me the injection", adding "a group of my friends take the same drug."
Rooney Medhat, the 30 years old young man from the countryside of Al Hasaka, tells Enab Baladi that he got the migraine (a chronic neurological disorder that causes severe pain in the head) six months ago, pointing out that he went to a neurologist who prescribed "Domicon 7.5 ml" tablets.
Medhat stopped the drug once he was healed, yet he went back to taking it after he went through a depression and Unprecedented pressure, as he describes, adding; "I am recently taking the same drug on a daily basis, and since I can't give it up now, I take one tablet every morning."
Addiction was not bound to young men only, Najwa Hamed, the 30-year-old young woman, takes "Lexotan" without a medical prescription. She tells Enab Baladi that the drug "helps with anger, fear and anxiety seizures", referring that she suffers from a shivering condition in her body, a lack of concentration and sometimes she might faint if she does not take the drug.
Regime's Health Directorate registers cases of addiction
Enab Baladi interviewed Hiam Ramadan, employee at patients' reception office in the National Hospital of Qamishli, who explained that the Health Directorate of Al Hasaka registered 891 cases of "Diclon" addiction during the past two months. They have also spotted another 564 cases of addiction on other drugs, pointing out that 123 cases are female addicts.
According to Ramadan, the Directorate based their registration depending on reports by doctors and pharmacists in Al Hasaka. She asserts that "there are four cases at the National Hospital who are currently receiving treatment as a result of excessive use of "Diclon", one of them recently had surgery in his stomach."
The Health Directorate attempts to reduce these cases
The Health Directorate in Al Hasaka circulated a resolution earlier this year to prohibit by which selling medical drugs without a prescription stamped by a doctor, under legal liability.
Maher Abdullah, in charge of medical drug control in the Directorate, explains to Enab Baladi that "the Health Chief, Mohamed Rashad Khalaf, circulated the resolution in an attempt to prevent the complications of the excessive use of painkillers."
The pharmacist Maya Yagoub says that 90% of the pharmacies in Al Hasaka and its countryside are not committing to selling medical drugs with a prescription, "they rather sell the drug to citizens as a supplying commodity", pointing out that "the lack of commitment to the profession's honor led to the patients' addiction to medical painkillers."
Many citizens daily visit Yagoub's pharmacy, who says "they ask for medical drugs which I know that the excessive use of these drugs would harm the health, so I refuse to sell it to them without a prescription, unlike the rest of my colleagues who abandoned the honor of medicine and Hippocrates oath."
The pharmacist asserts that the regime's reports are "incorrect", pointing out that she is following the situation and understands it seriousness, "the continuity of the current situation portends a great danger and might lead to hundreds of death every year."
Side effects of medical drugs
Doctor Kufan Ahmad, digestive disease specialist, says in his interview with Enab Baladi "the Health Directorate's resolution is insignificant due to the absence of scrutiny for pharmacies and the fact that Al Hasaka is subject to the authorities of multi military parties."
Ahmad explains that the excessive use of Diclon leads to abdominal bleeding and a rise in kreatin, in addition to its effect over the liver and the increase in enzymes, pointing "most addicts cannot overcome their problem because the drug's effect accompanies man all his life."
The residents of Al Hasaka believe that beside the fact that their province is considered a remote province in Syria, it is no longer covered with health service after the revolution. The thing that caused a remarkable worsening and a widespread of epidemic diseases, which affected in turn the health and medication scrutiny and further the immigration of medical staff outside the country make things even worse.
if you think the article contain wrong information or you have additional details Send Correction