Daraya residents develop alternatives for the manufacture and repair of electronics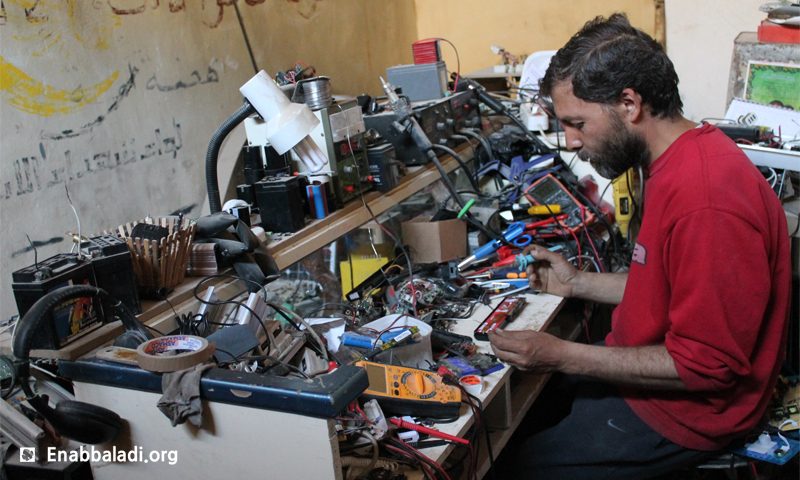 Printed Edition ‖ No.: 218
Enab Baladi – Daraya
The absence of talented maintenance technicians in the field of electronics' maintenance forced the people to learn and develop their expertise to meet the needs of the city, to repair what can be repaired of their electronic devices, relying on the principle "necessity is the mother of invention."
The city faces frequent crashes in electrical tools and electric generators, due to the absence of electricity provided by the regime and because the generators they are using are relying on "plastic mix" as a substitute for diesel fuel, which made the electricity provided by these generators intermittent.
Mohammed Abu Ammar, a Fine Arts College graduate, which is currently working on repairing electrical appliances and gadgets in his humble workshop says, "my work might not be practically new invention, but in these circumstances we are living amid a lack of everything, I was able to fix glitches in some electronic devices which were classified permanently damaged."
The young man studied Fine Arts, and worked in advertisement before the Syrian revolution, and has never worked in the maintenance of electronics before, but it was just a hobby, he says, "at the beginning I followed the crashes of electrical appliances at homes, and started trying to find solutions to them, reaching to friends specialized in this area to learn how to examine the circuits to find breakdowns, as well as searching for information throughout the internet."
After many experiments which took a significant time and effort, Mohammad was able to gather a lot of information about how to examine and fix damaged electronics, mostly transformers and batteries chargers, which became an essential service in the city due to the lack of electricity and the absence of the ability to substitute a provision due to the siege.
Quality crashes and inventions from thin air
Sieging Daraya, and preventing goods and equipment from entering into it, increased the demand for electrical products and the maintenance of the simplest tools became an urgent need, as the damaged ones are irreplaceable. Abu Ammar draws the attention, that after all this time, it became impossible to get a battery that is valid or worthy of use within the city, and most of the existing ones are with limited or low power, even hardwares like chargers, PCs and network devices that provide internet service are having too much malfunctions due to the lack of regular electricity.

Most of these failures that Abu Ammar is facing has never occurred before, and when reaching out to specialized technicians and Maintenance agencies, they say that no such malfunctions have occurred before. The young man adds "there wasn't much for me to do but to make many tests, I was able to fix network boosters' devices, satellite internet, routers and even mobile phones chargers that run on both Ac or Dc power, and through some electronic parts I managed to make Phone Chargers that might not be highly efficient, but it fills the city's need."
Low wages with a large passion
Abu Ammar did not receive any support or assistance for his work, it was an individual effort as he says. He adds saying; "it was through my passion in this filed that I have been able to serve my city, with a small wage which enables me to continue in this work."
The young man now is the destination of all the people trapped inside the city for fixing their malfunctioning devices, and is described as "the person who doesn't find difficulty at anything", according to Ahmed Abu Yasser, a young twenty-years-old man, who says "the siege in which we live made the simplest things or devices that we use on a daily basis of a very high value; to breakdown means losing them for good because it's impossible to get a replacement, and there comes the role of some people who bore the responsibility to overcome this obstacle and face the siege with creativity in their work. "
Firas Abu Kinan, a 25 years old Free Army fighter, holding a certificate of secondary education in the literary field, has also learned how to fix some electronics and to make some circuits based on information from the internet and from experimenting a lot. He says; "I am able to make battery chargers and mobile phones in addition to voltage transformer after having many experiments and through research on the internet."
The young man adds, "the electronics were never my specialty, it was just a hobby, but during this siege I was able to develop and prove my ability to work it out."

Success in the development and maintenance of electronics is not the first and only success in the besieged city for more than three years; we find other examples, such as converting to farming in order to overcome the prevention of food, refining diesel fuel from plastic, manufacturing signal antennas due to the absence of internet and mobile phones in the city.
if you think the article contain wrong information or you have additional details Send Correction