Aleppo Hospitals on Strike After Aid Worker Brutally Murdered by Rebel Fighters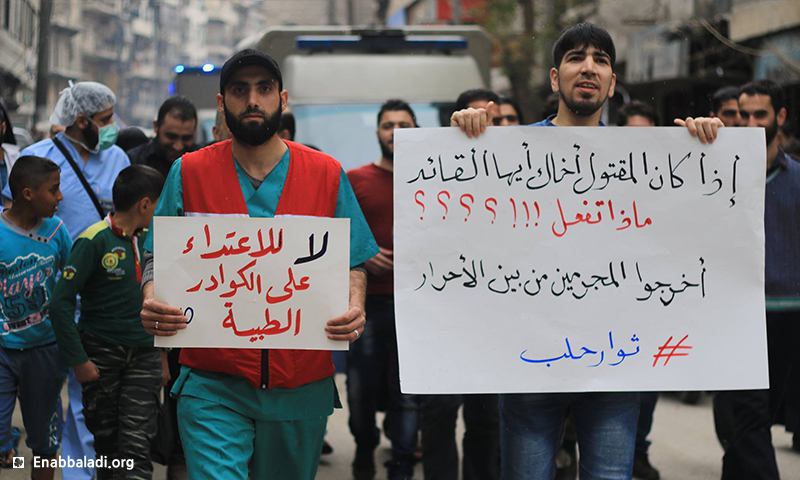 A number of hospitals in Aleppo announced they were stopping all work, except in emergency cases, until the killers of an aid worker in Al-Daqaq are held to account.
The worker was tortured to death after being kidnapped on Tuesday, April 12, by fighters the hospital said belonged to the rebel "Turkmen Front" group.
In a statement, the Al-Daqaq hospital accused fighters from the front of kidnapping its worker Khalid Iskef from the children's hospital in the al-Shaer district. He died after seven hours as a result of continuous torture with electrical shocks, severe beating and asphyxiation, according to the statement.
A number of hospitals joined Al-Daqaq, including the Al-Saida al-Zahra hospital for surgery and obstetrics, and the specialized children's hospital, saying that they were stopping work except in emergency cases "until retribution (is enacted) against the perpetrators."
Iskef was taken to the Al-Quds hospital in a critical condition and his heart stopped, according to the statement, which added, "We tried to revive him and get his heart working, and we decided to transport him to Turkey, and he died on the route … then we took him back to the Al-Daqaq hospital." It added: "Currently 99 percent of the Aleppo hospitals will stop work until the killer is killed."
The Turkmen Front, a Free Syrian Army faction in the province, had not issued any response to the accusations at the time of writing.
Iskef's brutal murder has incited anger and broad reactions among Aleppo activists, with a large number of comments about the need to confront behavior by security agencies toward the general population and medical staff, saying that, "This behavior precisely resembles the behavior of the Syrian regime, and this is one of the main reasons victory has been delayed."
The Sharia court in Aleppo issued a statement in which it said that, "A painful incident took the life of one of the medical staff in the Al-Daqaq hospital as a result of the brutal torture he was subjected to by one of the armed groups," adding that it would "try to carry out the appropriate punishment for those proven to have been involved in this crime."
According to Enab Baladi's correspondent, Aleppo activists began a sit-in in the Al-Shaer district at 12:30 p.m. demanding "retribution for the killing", while medical employees in Aleppo organized a stoppage that would continue "until the arrest of the aggressors against our colleague Khalid Iskef."
This article was translated and edited by The Syrian Observer. Responsibility for the information and views set out in this article lies entirely with the author.
if you think the article contain wrong information or you have additional details Send Correction