A Country of 'National Looting': Masyaf Fires Ignite Loyalist Outrage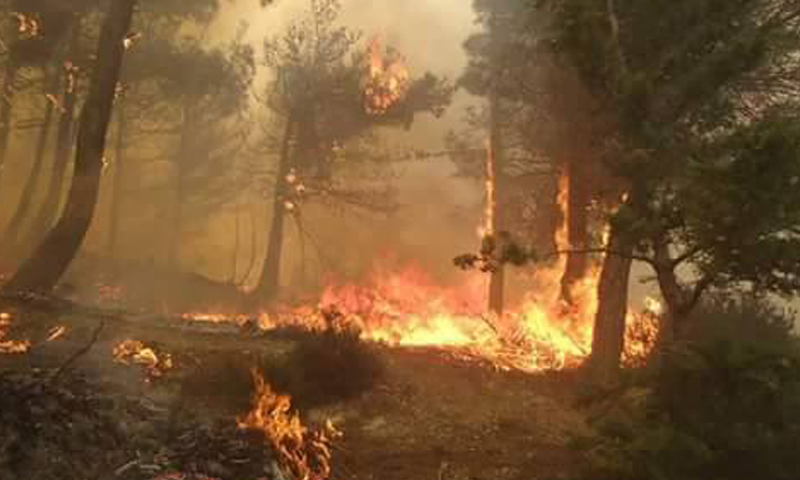 The forests and woods of the city of Masyaf in the western Hama countryside have witnessed seven fires this week, most recently in the thickets of al-Findara on the evening of Monday, April 25.
The city of Masyaf is one of the most prominent tourist sights in Syria as it contains vast swathes of natural forest adorned with pine tries, alongside springs which characterize the mountain region.
This week, large fires broke out in the forests, one of them covering up "the face of the sun," according to an eyewitness who spoke to Enab Baladi.
While activists have alluded to the possibility that the fires may be "premeditated," the witness dismissed the suggestions, saying that the reason was probably because of the neglect by locals during their springtime trips and picnics.
However, the witness did blame the security authorities and "state" agencies for what he called "disregard for human beings and stones alike."
The loyalist Masyaf News Network on Facebook, the most widely circulated page in the region, criticized the Syrian regime for how it has dealt with the recent incidents and fires in Masyaf.
In a recent report, the page wrote: "In a country of nylon bags, unsightly streets, and occupied sidewalks, in a country of roving fires, roving massacres, national looting and lawful murder… in a country like this, a tree has no value, obviously, as long as a human being has no value. Therefore, save the cries for help and for officials to mobilize to preserve what remains of the greenery of the Masyaf mountains."
This article was translated and edited by The Syrian Observer. Responsibility for the information and views set out in this article lies entirely with the author.
if you think the article contain wrong information or you have additional details Send Correction