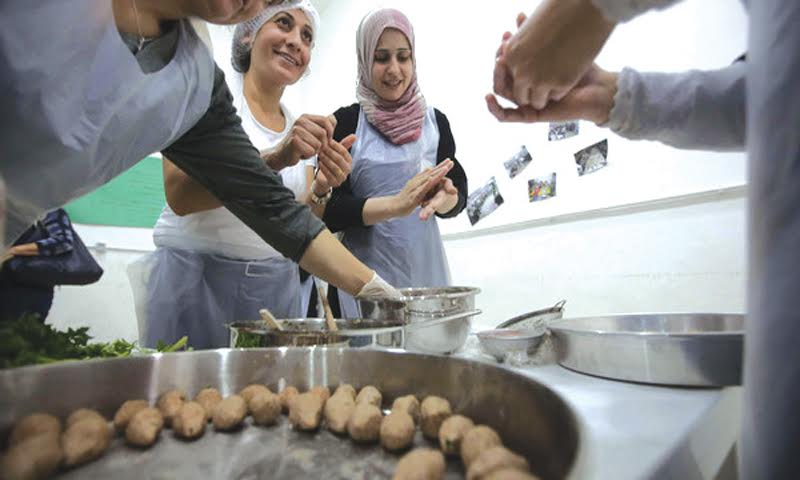 "What I want is to live in mercy." This is how Maya, age 23, responded to a question about her two young children, whom she has taken care of ever since her husband left for Europe in search of a better life and more stable future for their family.
Despite the harsh challenges her husband faced during his journey to Germany, Maya does not think he cares as much about their family as she does, she said, because he has not experienced the difficult situation she has suffered in Lebanon. She lives in an undesirable place, she described, and now cares for her mother and father as well.
Maya, and many others like her, are among the Syrian women in Lebanon who have been forced to find work in order to maintain their families' livelihood. The majority of them take on the primary responsibility for their household, although it is considered shameful for them to leave the house without their husbands, after their displacement.
Some of these women view the situation in a positive light. Maya, for instance, said that "my self-confidence has been strengthened" and that "nobody can trick me or mock me anymore."
Others also feel like they have gained more life experience and developed personally, through facing hard times and feeling the pain of homesickness as well as the absence of their husbands. The high walls that had restricted these women's movements were also restricting their abilities and skills, limiting their work to household tasks only. They were shutting them out of a world where women have the power to talk, to create, to work, and to learn.
Julie (not her real name), age 25, believes that women have just as much potential as men, but recognizes that the societal position of women remains far below that of their male counterparts. Julie works in a civil society organization and finds it difficult to find a suitable male partner, now that she has experienced independence in her life and decisionmaking.
Despite her beliefs that a man is the only person who can give her love or help in a crisis, and that this type of care is something no one else can give her, Julie also believes that the societal pressure to get married is a restriction of her rights.
Yara, age 27, a university student, does not agree with Julie and Maya. She thinks that the presence of men in the lives of women is necessary and important, and not a restriction of women's abilities within their society.
Yara believes that "getting a man" is not the goal but, rather, a means to a greater end: the need for love and compassion, realized through the Qur'anic verse, "and He has put love and mercy between your [hearts]" (30:21).
Yara is responsible for her family while her husband is away but, in her opinion, this responsibility does not impede a woman's physical independence. She possesses internal strength, and said that it is nice to know someone is there to help her and be supportive. She said that it is vital to have moral support from a man through positive words and faith in her abilities: "This type of relationship has value and comes from a divine message. His presence is a source of safety and happiness."
At the same time, the situation is not easy. Traditions and customs shape the character of Eastern society and, as such, there are many families that have pushed their daughters into marriage and made decisions about their independence. "They do this so our neighbors don't talk about us," said Ala'a, age 28, a secretary in a Beirut-based Syrian organization.
According to Ala'a, another negative effect of the absence of men on the lives of women is the feeling of inferiority. Being a woman, she always thought she needed a man by her side. But the silver lining to her situation is that, without her husband, she has found more internal strength than she ever had before. She has been able to "stand up to my husband with strength in order to get what I want."
Regarding society's view of women that live without a man or in a family without a man, Ala'a said: "Society will always see a woman as weak, just a "rib" from a man. They will see her in a negative light even if she succeeds in her life and remains modest."
"Society won't change, unless women change the ignorance of society," Ala'a said. She emphasized that this will only come "through awareness and understanding of the realities life imposes on you."
if you think the article contain wrong information or you have additional details Send Correction