Syrians and Facebook: revolutionary impetus or collective addiction?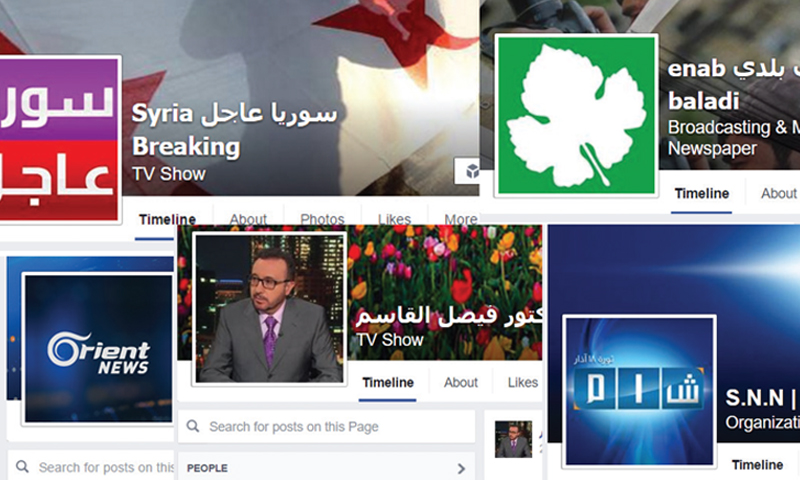 We often hear the term "Facebook revolution," used in describing some of the revolutions which occurred during the Arab Spring, and the subsequent campaigns on social media which have played a large part in creating those revolutions. Today, following five long years of revolution, things have changed; many Syrians still have Facebook accounts (and to a lesser extent, Twitter too), but is the revolutionary momentum on social media the same? And was Facebook really the most appropriate tool for popular revolt?

Syrian usage of Facebook, by the numbers
A report about social networks, published by the Dubai School of Government in mid-2013, points to a large increase in the number of Facebook users in Syria- whose users grew by 22.8% in just the first four months of that same year; an increase of about a million and a half users from the year before.
The School's 2012 report contains internet usage benchmarks for Syria: for example, February 8, 2011, the day the government decided to stop blocking Facebook and Youtube. It also shows the date of the beginning of the Syrian revolution and chronicles an increase in usage of social media websites around that time; about a 40.3% increase in the number of Facebook accounts.

Changes in the nature of Facebook users
Rouwaida, 25, from Hama, is a graduate of Idlib College. She says that her social media activity now, differs from her usage during the first two years of the revolution. "I didn't have a Facebook account before the revolution, and I signed up for it when the revolution began. I remember that there wasn't a single revolutionary Facebook page I didn't participate in, and I received news firsthand from these pages. I focused my account on following the news. Like most Syrians, I had two accounts: one clean, with my real name, but fake information; one with a fake name that expressed my real personality."
Rouwaida said the difference between her activities then and now, is that she stopped participating in most of the news pages, adding, "Most of the pages stopped updating, and others began to show bias, and with the ones that remain, I began to feel like I wasn't getting any benefits from following them, except danger in getting past the barriers to the page on my phone."
According to Rouwaida, Facebook today is just a social media site, nothing more. She participates in pages and groups that coincide with her interests, like cooking and translating. "I follow the Syrian news, but on other sites outside of Facebook, and without the obsession of checking my newsfeed every half hour. The situation won't be fixed overnight, as we imagined before."

Between blogs and Facebook
Mohammad, 27, from Homs, didn't cancel his news subscriptions on Facebook because he was bored by the length of the revolution, or out of fear of the state apparatus; rather, he saw that Facebook just wasn't designed for the purposes of the revolutionaries. "Facebook, at its heart, is a site made for communication between people. Despite our efforts to begin a revolution by giving it different roles and expanding its scope to include protests and documentation, I think it made more sense to focus on more appropriate tools for doing that."
Mohammad says the blogging movement was gaining momentum in Syria before the revolution, but reliance on Facebook as an essential tool of the revolution "corroded and disintegrated" the blogging movement before it reached its peak. He says that "there was an increasing number of Syrian bloggers, which was really promising actually, but when I visit their sites today most of these bloggers have closed or canceled their publications years ago. Facebook's absorbing of these movements is not to our advantage; many diaries of the revolution are lost in the blue of its pages, and many bloggers lost their ability to write long-form pieces, contributing to the illusion of "likes" and number of friends."

Facebook's "Swallowing"
Another thing Mohammad has noticed on Facebook is the absence of "unique youth voices," which he believes were "swallowed" by Facebook's emphasis on discussions in the comments section. He adds, "these voices were extending the revolution from the individual, civil side, and contributed to consolidating the values of the revolution into sharper and longer-term ethics, but thousands of these ideas were lost in the comments. Facebook encourages collective thinking, while blogging allows an individual to think, which can add the dimensions and different visions we need today."

Alternatives to embracing popular movements
Among the alternatives that Mohammad thinks are appropriate for social movements is the website "Avaaz." He explains: "Avaaz introduces itself on the official website as a worldwide internet movement seeking to give political agency to young people to make decisions around the world."
"Isn't that what the revolutions were really about? We've seen recently a number of campaigns about the Syrian revolution on the site, including the loosening of the siege on Madaya, or the campaign to allow Khaldun Sinjab (a programmer with special needs) to have British citizenship," Mohammad says. He adds that Avaaz "doesn't have the ability to overthrow the regime, but it can help realize smaller goals that Syrian youth are working towards, in a more effective way than Facebook can."
Mohammad also points out that anyone who logs on to Facebook also logs onto other sites like YouTube. "Today, we are threatened with the deletion of thousands of videos documenting crimes of the regime which are posted on YouTube. I work with a group of activists to download these videos and then file them by date and place, to preserve them as much as possible from loss to copyright policies or violation of content laws."

"Facebook was a space for our protests."
Shadi, 30, from Damascus, doesn't fully agree with Mohammad. He thinks Facebook was, in the beginning of the revolution, a necessary space that was no less important than the physical squares and streets where people protested Assad's regime. He explains; "there weren't huge protests or squares with great demonstrations in the Syrian revolution; and the regime was able to clamp down hard in the 'real world', which caused Facebook to be the place where all the peaceful protesters gathered. It was a free area to exchange our ideas, our opinions and beliefs, from one city to another. We were expressing our protests and demonstrations and calling for strikes. There were many secret groups we organized amongst ourselves."
But the popular movement that Shadi mentions is different now, he says. The group of Facebook users that connected with his group of friends in Damascus to exchange news of the protests no longer exists; some have been arrested, some have traveled out of the country. Shadi continues, "in addition, we managed a page for a martyred friend, but followers of the page have decreased a lot. Facebook's numbers can be deceptive in reality: a publication can reach only 400 people out of a list of 5,000 followers, and among those it could get just 10 likes, to the extent that I stopped posting anything to my page out of fear of losing my livelihood."

Um Nadir and Facebook
Facebook cannot represent the "source" of the Syrian revolution at the level of government, this much is certain. But it can express, to the best of its ability, a different kind of revolution that spanned a generation that never imagined they would be browsing the internet daily. A member of that generation is Um Nadil, 65, from East Ghouta. She told Enab Baladi, "I didn't know how to go on the internet, and I don't use a computer, but my need to communicate with my sons in Ghouta caused me to use a cell phone to talk to them over Facebook. In the beginning I found it really difficult, but it became fun and it helps me to read all sorts of different things."
Um Nadir adds that she participated in many of the pages of the revolution, to read news about her country and stay aware about what was happening in her sons' lives. She also reads pages on governance, prayers, and handicrafts. "Facebook is a new and wide world, and navigating it to communicate with my friends and neighbors has become part of my daily activities."
On the question of Facebook as a tool for the revolution, many opinions have been presented to us. We have discussed social addiction and the absence of individual voices within the collective. Other people have called for emerging from our "shell" into a more comprehensive space full of diverse ideas. The voices and people in the wider world are the true, first voices of the revolutions of the Arab Spring.
That these opinions differ does not mean they oppose each other. Perhaps what worked for the revolution in its first few months, when events were happening very quickly, does not fit today, as the years go slowly and the only change is more and more loss.
if you think the article contain wrong information or you have additional details Send Correction