Sexual Violence in Syria: a New Burden on the Economy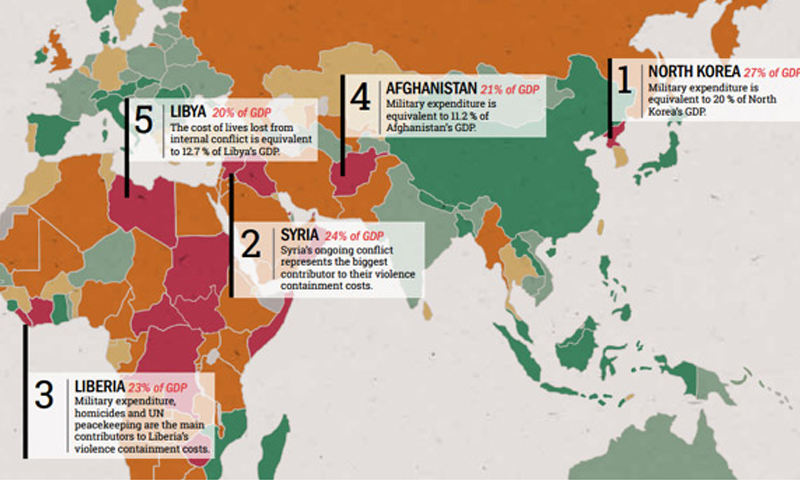 Sexual violence against women in Syria has increased since 2011, when popular protests began, causing new strain on the Syrian economy. Women have been exposed to a variety of sexual violations, from rape to harassment to exploitation and honor killings, to trade in women and girls, according to a report by the United Nations Syrian Network for Human Rights.
The number of women who are victims of sexual violence in Syria has reached 7,761, according to studies carried out by the Syrian Network for Human Rights from 2011 until October 2015. The study says Syria will need around 1.5 million American dollars to begin to solve the problem of women whose rights have been violated by violent sexual crimes.
However, it can be difficult to estimate the overall or individual cost of resolving the issue of sexual violence survivors in a country like Syria, compared to an advanced country like the United States, which provides its citizens with human rights and higher living standards. "Large numbers of people are excluded or cannot be counted when reporting cases of sexual violence, and this becomes an economic burden which will affect the economic future of the Syrian nation; women should be able to come forward to tell their experiences and ask for help in order to gain access to the rights they deserve," said Majid Sharbaji, Director of Programs at the Women Now Center in Lebanon.
This problem was emphasized in a report from several NGOs addressed to the U.N. in response to the second periodic report from the Syrian regime in July 2014. The NGO's report stated that "it is considered shameful to disclose sexual abuse against women within the family, so there is great difficulty in knowing the true scale of the problem."
The workplace will also feel the effects of these crimes, as women's work decreases in large proportion with the increase of violent sexual situations against women, and rape victims or victims of other types of sexual violence are exposed to psychological damage. "Women play an extremely important role in the marketplace because of the current security situation which hinders men's ability to move freely to their workplaces," according to Ali Jaber, a member of the center for women's studies in Musawa.
Yasser, a therapist from Damascus who did not want to give his last name for security reasons, said that rape victims "suffer from a loss of confidence in themselves and because society lacks the ability to give them support and protection. In addition, they experience fear, distraction, physiological syndromes and depression, which can lead to a decrease in her ability to work productively, and can cause her to take frequent time off, causing accidents at work or the loss of her job."
Social researcher Nisreen Mohammad said the surrounding community plays a big role in restoring confidence and productivity to rape victims, adding that "customs and culture in many areas of Syria currently impose isolation on rape victims and victims of sexual violence, and marginalize them or attempt to cover up the offense. This treatment, over time, can lead to more violence and economic discrimination on a societal level."
From a legal standpoint, human rights lawyer Ibrahim Berhan says he has not found clear regulations for the fees that lawyers have charged for litigation issues related to sexual violence, and "the issue is left up to the lawyer, according to his estimation of the situation and the litigation involved." If the physical condition of the defendant is very bad, "the court will address the Bar Association and request that the case be litigated free of charge." This type of case is also known as judicial aid. The bulk of costs to litigate a case regarding sexual abuse are concentrated on medical examinations and specific exams that must be done in this type of situation.
The number of trials related to this issue, and their budget, cannot be accurately estimated in Syria, according to Ibrahim. "There are no accurate statistics or studies on the subject, and I think the budgets granted are not available as required in Syria."
Apart from the different authorities who have been charged in the issue of violence in Syria caused by the war, Syria has racked up the second highest global tally, after North Korea, concerning the economic costs of containing violence in all its forms, reaching about 23.8% of GDP, or a quarter of the national economy. This is according to a report by the Institute for Economics and Peace regarding the economic cost of containing violence in Syria in 2014.
Sexual violence is a "strategic and tactical weapon of war," according to the Secretary General of the UN's report on women, peace and security published in 2002. The report considers violence against women to be a problem that permeates every corner of society and has large-scale economic impact and costs, which can be divided into seven categories. These categories were created by experts at the U.N. in 2005 during an in-depth study, and they are: the cost of justice, health, social services, education, work costs, personal and household costs, and intangible costs.
According to the National Coalition to End Sexual Violence in the United States, every survivor of sexual violence needs about 159 dollars to cover societal damages incurred by their attack.
if you think the article contain wrong information or you have additional details Send Correction