Residents of Dameer Demonstrate Against Lawless Fighting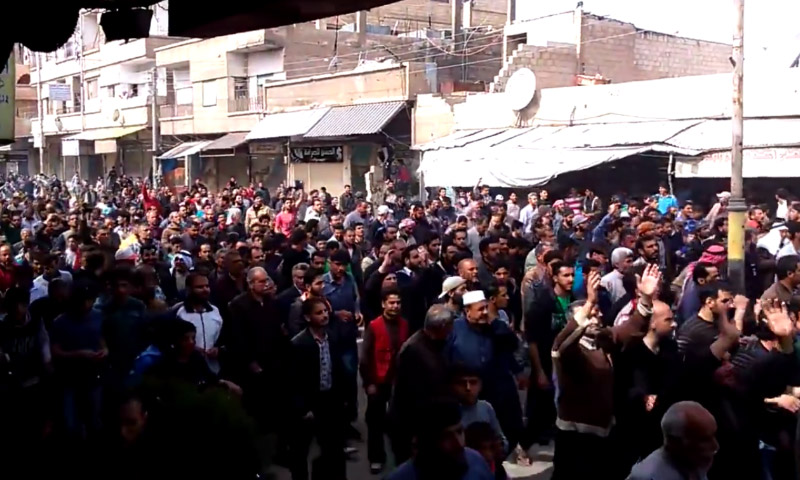 Hundreds of residents from the suburb of Dameer in the Damascus countryside on Wednesday demonstrated against the ongoing clashes between military factions in the area.
According to the city's coordination committee, the city's residents demanded an end to the fighting, which it described as "excruciating," between the Islamic State group and factions of the Free Syrian Army, in addition to an end to indiscriminate sniper fire which has killed a large number of unarmed civilians.
The city has witnessed ongoing clashes and skirmishes since the start of the year between opposition factions including the Army of Islam against Tahrir al-Sham (Sham Liberation Division), which it has accused of pledging loyalty to the Islamic State group.
Tahrir al-Sham was formed in 2014 and is led by defected captain Firas al-Bittar. It said in its declaration that it was loyal to the Free Syrian Army and that its aim was to fight the Syrian regime, but signs of conflict between the group and the remaining opposition factions soon emerged against a backdrop of accusations it had pledged loyalty to ISIS.
The local coordination committee tallied at least five dead civilians two days ago, saying they were killed over the last week by the "Saddiq" faction (previously associated with Tahrir al-Sham), as well as the "Omar" and "Hasn al-Islam" factions, loyal to the Jund al-Mulaham group. All three factions are accused of pledging loyalty to ISIS.
This article was translated and edited by The Syrian Observer. Responsibility for the information and views set out in this article lies entirely with the author.
if you think the article contain wrong information or you have additional details Send Correction