Raqqa Women Fighting ISIS Laws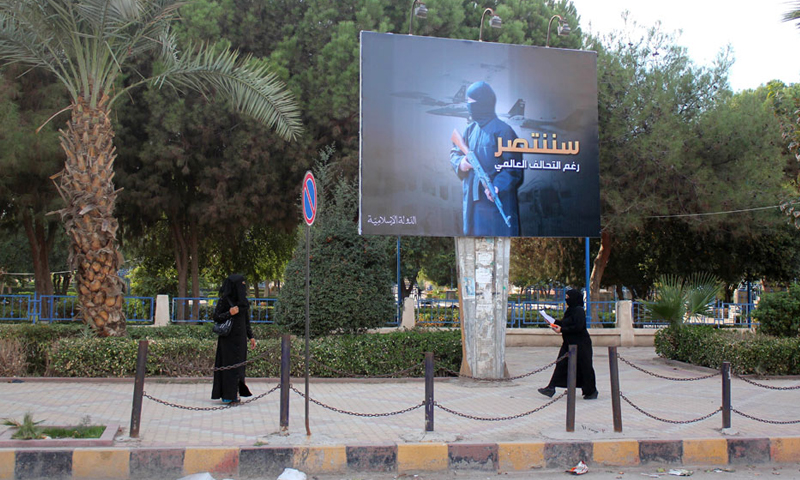 "It is only an outer cover that should not deceive us, Raqqa is still fine and its women have not changed." Those were the words of young Anood, who works as a hair-dresser in her city, seeking a livelihood in a place clouded with darkness.
Anood lives in the "Baddo District" in the city. She told Enab Baladi that she carries her equipment every day and goes around from one house to the other in a continuous search for customers. She added, "The women in here have not lost their love for life, because under those black aba (loose garments), you would find dyed hair dressed with different colors, as well as make-up and various smells of perfume."
Anood, who is 22 years old, refuses to leave her city, which she says she is very fond of. She could never imagine herself living away from her neighbors with whom she spends time, "happy time," as she puts it. The young woman explained that even though Al-Tanzeem (ISIS) has tried many times to kill the life in them, they have failed to do so. This is Raqqa where there is the legend of the Girls' Palace: the story of girls fighting against their society to get their rights and freedom.
She also added that many of the customers who visit her at her house -"in order to beautify their looks and take care of their beauty"- are actually women of Al-Tanzeem.
Secret Trials to Educate Children
Hasna, a woman in her forties, lives next to the electricity company close to Baddo District, and she works as a teacher. She teaches kids writing, reading and some English in exchange for money.
In her interview with Enab Baladi, Hasna expressed that despite her need for money, her main aim is to teach. She described her work as dangerous, as ISIS has banned private tutoring and tightened their grip over teachers. Yet she overstepped that rule by teaching Hadith (the sayings of Prophet Mohammad –Peace Be Upon Him), some basic Tajweed (the way Muslims recite the Quran) and Quran recitation.
Hasna has put up some cards with the alphabet around her house. She has secretly kept materials that help kids understand and memorize, such as drawings and short videos on her personal laptop, as well as a small wooden board, which is the "dearest" as she describes, as it reminds her of her former job as a teacher at Raqqa schools.
Despite all of the harassment that she goes through, Hasna is still determined to continue. She says that members of ISIS have intruded many times, "but they have backed up when I told them that I am teaching Quran. In fact, they have offered me to work with them, but I refused even though I could have used the money, only because I did not want to be part of the crime that ISIS commits against our kids through the underdeveloped concepts and extremist ideas."
Homes Turn Into Educational Workshops
Stories of the women of Raqqa are similar and interrelated, but those who Enab Baladi has spoken to, are the ones who have decided to stay and to resist all circumstances to leave their city. They stay despite the continuous shelling that all the districts experience, and the dangers of living around members of ISIS and their radical rules, as they describe.
Young Nuria is a dressmaker selling women's clothes in the street of Seif Aldawleh. She visits the houses in Raqqa on a daily basis carrying products that she has sewed herself, or some that she has bought in order to sell. She explained, "The need for money was the reason behind sending many of Raqqa women out there to the labor market."
Nuria says that the women and young girls in the city make up a "significant rate" in the labor market inside Raqqa "in many different ways and forms," even if this fact was not visible.
Nuria lost her husband three years ago in the countryside of Deir Al Zoor, and has been living with her four kids. She spoke about turning her house into a workshop to produce hair bands, clothes and second-hand clothes.
"Our resources have tightened and therefore many of our houses have been turned into sewing workshops or into places for cheese, margarine, pickles, jam and other productions that could be produced domestically and then sold," said Nuria.
Nuria's kids call her "Um Ali" to identify the strength of her personality. She expressed, "The idea of the violation that ISIS tries against women does not affect my persistence, as the Eastern women are the pillar of the society, a fact that would not be demolished by idea or ISIS."
Nuria concluded "They have probably succeeded in hiding us inside these black tents (aba) and in imprisoning us inside our houses, but they have failed in crushing our spirits and in getting into our will, we still love life and work."
The women of Raqqa and the young men describe their city as "the extremist, yet still resisting," An opinion that was supported with a video recording recently leaked on March 14th to the "Expression" website. It was taped by two women using a hidden camera, showing life inside the city in an act of defiance against ISIS, knowing that this would put their lives into danger.
The women who communicated with Enab Baladi considered this step a reflection of the challenge that the women of Raqqa face. It shows their desire to live their life even in the shades of ISIS, which has deprived them of many rights in an attempt to eliminate them and change their way of thinking.
if you think the article contain wrong information or you have additional details Send Correction