Corruption and exploitation "rule" over Syrian labor in Urfa, Turkey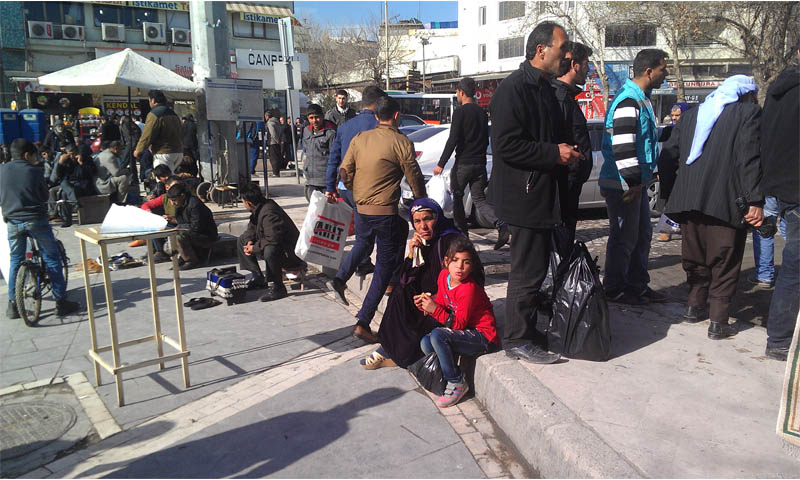 Every day, hundreds of Syrian young men crowd in lines in front of the Syrian Service Office, a civil society organization run by Syrians in the city of Urfa in Turkey. They are searching for work, and experience a kind of suffering only faced by Syrian refugees in Turkey.
And every day, hundreds of them return to knock on the doors of Syrian organizations in Urfa, which can provide them with opportunities for work through connections with employers who need ever-renewing human resources.
Salim, a young man from Deir Ezzour, works in the Danish International Organization. He considers himself the lucky one among his group of friends, because he was able to find a good job that is semi-stable. Speaking in an interview with Enab Baladi, Salim confered that "It's sad to think that most Syrians are looking for jobs here, even though they are extremely rare."
Salim further notes that the current situation "has forced [his friends] to change their specializations and learn new skills. A number of my friends are engineers, lawyers and teachers, but they have become workers, technicians or street vendors in order to make a living."

Corruption and exploitation rule the labor market
The coordinator of the Syrian Service Office in Urfa, Ayman Al-Aqra'a, described the situation for Syrians in the city as "painful." He explained that there are several organizations which currently work in helping Syrians secure jobs.
Many of the young men with whom Enab Baladi met with and interviewed, mentioned that personal relationships, as well as corruption and exploitation, have recently crept into the employment agencies in Turkey. "Work mafias control the workplace for Syrians, and it has become necessary to use these methods to obtain jobs in international organizations, service departments, and educational and health facilities," they said.
Hasan, a young man from the Deir Ezzour countryside, has lived in Urfa for several months. He told Enab Baladi that "Syrians' need for jobs has led to the phenomenon of 'brokers' who will give job opportunities in exchange for money, and often that money disappears into thin air and you get nothing in return."

Degree holders struggle the most
Syrians have helped to rebuild and revive the city of Urfa, according to al-Aqra'a, attributing this phenomenon to "the availability of expertise and skilled labor." However, he added that the increase in their numbers, "has also been a burden, leading to a scarcity of jobs."
Two hundred and fifty thousand Syrians in Urfa (out of the nearly 500,000 throughout the city) do not have jobs, according to al-Aqra'a. He adds, "the labor market has already absorbed almost all the professionals and tradesmen."
Degree-holders and those with scientific talent, who make up about 13% of refugees in Urfa according to the statistics compiled by the Syrian Service Office, are considered to struggle the most from the problem of employment. Al-Aqra'a describes them as "suffering greatly because of the difficulty of finding jobs appropriate for their skills and in line with their scientific abilities and efforts. The majority of jobs require physical ability only."

Syrians criticize Turkish labor laws
Most of the Syrians Enab Baladi met with in Urfa criticized the "ignorance" of the Turkish government in regards to the legal situation of Syrian workers. There is no clear legal grounding for their presence in Turkey, "and thus, we enjoy no human rights protections, including a lack of health insurance, causing us to be at risk of neglect after an injury because we must bear the cost of treatment," according to Hasan.
Syrian young men describe the Syrian employment situation in Turkey as "illegal." They are exposed to widespread exploitation, a negative workplace environment, and low wages. "Syrians work for wages much lower than their Turkish counterparts, and are asked to work longer hours," and many of them face expulsion without payment before completion of their work.
Hammoud, a young Syrian man who works in a glass factory in Urfa, says that "what is happening is servitude in the fullest sense of the word. We are not given any health care or monetary guarantees." The average wage of a Syrian factory worker is between 20 to 30 Turkish Lira per day. Many workers have complained about the absence of security and stability in the workplace, and of mistreatment by employers. This mistreatment goes beyond Urfa, and in fact occurs in all Turkish cities, without exception.
if you think the article contain wrong information or you have additional details Send Correction