Video of Child Under Rubble Incites Syrians' Anger Over Geneva Talks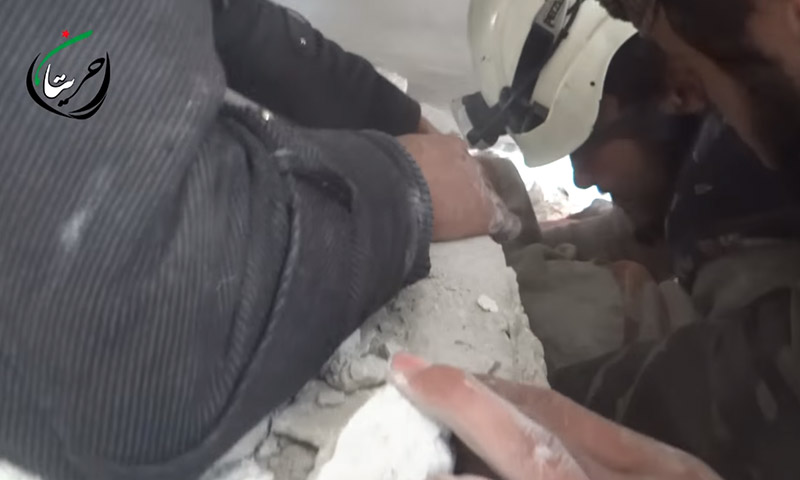 A video showing a child being pulled from under the rubble by Civil Defense workers in the town of Haritan in Aleppo has incited Syrians' anger towards the opposition's negotiating team in Geneva.
The video recording, published by the Haritan coordination council on Tuesday, February 2, after Russian jets bombed several towns and villages in the northern Aleppo countryside, coincided with the advance of Assad's forces in the area.
Osama Abu Zeid, legal consultant to the Free Syrian Army, wrote on his Facebook page: "The real friends of the Syrian people are those who react to these crimes, or give them something they can react with. We will cling to revenge as this child clung to life."
Activists held the opposition delegation in Geneva responsible for "trading in Syrians' blood." One of them wrote: "What's happening in the Aleppo countryside today makes a mockery of all Geneva. The High Committee (for Negotiations) does not need to be a partner in the bloodshed."
Others called for the High Committee to pull out of the talks, "given that Russia intensified its bombardment while (UN envoy Staffan) de Mistura meets with the delegations to no avail."
The Syrian government's chief negotiator, Dr. Bashar al-Jaafari, told reporters after meeting with the UN envoy that the talks were still in the preparatory stage, adding that he is waiting for de Mistura to present him with a list of names of the opposition's negotiating delegation.
Jaafari said that the circumstances were "not suitable" for indirect discussions and that the preparations for the official launch "demand that there be two delegations, and this is something that has not been achieved on the part of the opposition."
During a press conference in Geneva, the High Committee said the attack by the Syrian regime and its advance in the northern Aleppo countryside is "threatening the negotiations in Geneva."
This article was translated and edited by The Syrian Observer. Responsibility for the information and views set out in this article lies entirely with the author.
if you think the article contain wrong information or you have additional details Send Correction