Stop of Dialysis Facility in Eastern Ghouta Puts 17 Patients at Risk of Death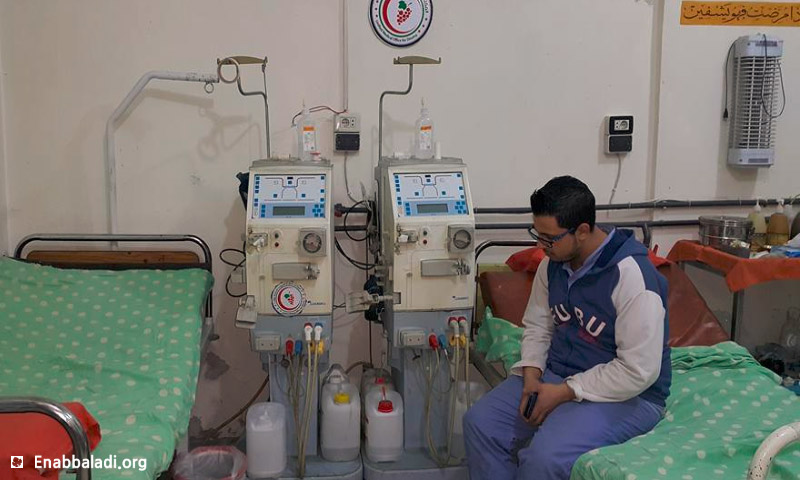 The only dialysis facility in Eastern Ghouta (eastern countryside of Damascus) stopped working on Monday 1 February due to run out of supplies for dialyzer sessions. As a result, 17 patients who use the dialyzer at the facility are at risk of death according to Unified Medical Office in the City of Douma (city in Eastern Ghouta).
The office appealed in a statement published yesterday 1st of February to international humanitarian organizations to provide emergency materials and medications to treat patients with dialysis.
Dr. Anas from the medical office in Douma said to Enab Baladi that this dialysis department is the only one functioning in Eastern Ghouta.
The Unified Medical Office was established independently by doctors in Eastern Ghouta after 'liberation' of Douma from 'Assad forces' to then Assad forces besieging Douma.
Douma State Hospital stopped working on October 2012 due to bombardment and shelling. Dialysis department at the hospital was destroyed according to a doctor who pointed out that the medical staff rushed to transfer the devices in the dialysis department to a safe basement in the city.
Also, medical staff kept the supplies of dialysis and medications to be used later on by the the Unified Medical Office.
Management of resources
A dialyze patient normally needs three sessions a week, but due to lack of substances and limited resources, doctors decided to give two sessions for each patient.
Dr. Anas, a doctor at the facility, clarified that the number of sessions was reduced first to two sessions and later on to one session every 5 days in order to manage resources until beginning of 2015 before resources ran out completely last Monday.
The doctor said the United Nations pushed the Syrian regime to let in materials and substances for dialysis to Eastern Ghouta end of 2014.
However, time was wasted on details of the procedures even though the Red Crescent, in charge of for entering the materials was guaranteed protection from all armed factions in Ghouta.
The supplies coming from United Nations medical aid convoy were supposed to cover for 2000 dialysis sessions in Ghouta.
However, the regime allowed only twice entrance of the supplies for the sessions. The first time during 2015 where 200 sessions could be conducted.
Also, two dialysis devices entered with supplies, but they stopped working after 300 sessions were conducted according to Dr. Anas. The maintenance officer could not identify the damage in the devices.
Unified Medical Office has been calling on international organizations and Red Crescent for more than two months to provide supplies and devices for the dialysis facility.
According to Dr. Anas they were promised aid two weeks ago, but it was delayed 5 times until this point.
if you think the article contain wrong information or you have additional details Send Correction