Segregation of Daraya and Muadamiya Increases Families' Dispersion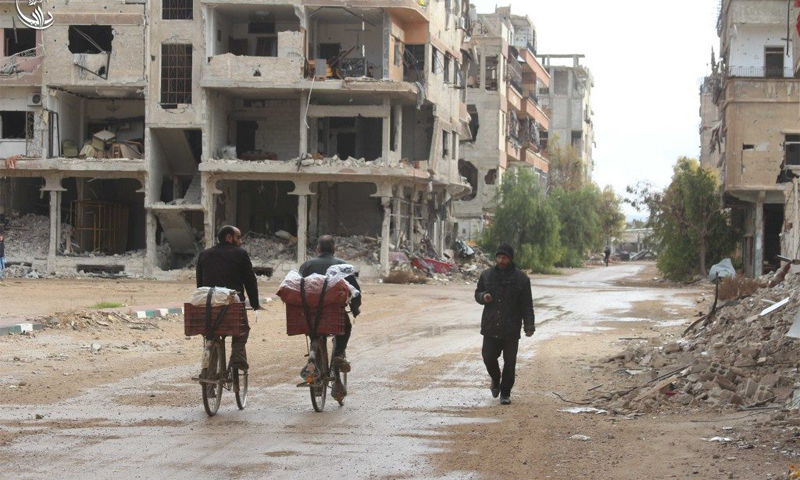 Zain Kanaan- Daraya
Doctor Muhammed Abu al-Walid did not expect he will get stuck in Daraya (a city in the western countryside of Damascus) away from his family, but the advance of Assad forces forced him to stay in Daraya.
His situation is similar to other young men who live apart from their families. His family lives in Muadamiya (a town part of Daraya district). The segregation between Muadamiya and Daraya separated many young men from their families. It is hard to reach Muadamiya now and for Muhammed to reunite with his family. The road connecting the two cities is very dangerous. Many women and children were killed on the road. Syrian regime appointed many snipers on the road.
The segregation between Muadamiya and Daraya does not only include emotional damage, but material ones as well. The segregation means stopping only road of supplies for Daraya.
Daraya and Muadamiya are two sister cities. 'we participated together in the revolution since the outset of the peaceful uprising. We shared good and bad. Freedom and siege and family ties.'
Some families escaped the battles in Daraya and moved to Muadamiya. The emigrated families did not foresee that regime advance in the area means they will not get to see and be with the rest of their families back in Daraya. Many young men had to choose between staying with their family in Muadamiya or remain in Daraya to go on with revolutionary activity.
Dr. Abu al-Waleed works in the field hospital in Daraya. He refused to leave Daraya since the beginning of regime military campaign on the city. He had to leave his family and preferred to stay to treat the injured, 'it was caught in between two difficult choices; my family who did not have any sponsor except me and my city which is calling me to stand beside it.'
Abu al-Waleed tried to bring his wife and kid to Daraya more than once, but the dangers on the road prevented him. The regime advance was not predicted. 'it became impossible to bring them to the city especially after the posintiong of snipers on the road connecting the two cities which was completely closed later on.''
General security centre releases detainees to secure their families
Abu Zafer, judge in General Security Centre in Daraya, issued a decision to halt 'executing verdicts' temporarily to give detainees the opportunity to secure their families before the segregation of the two cities is complete.
Abu Zafer told Enab Baladi, 'the city is undergoing a heinous campaign and the stage is very delicate that's why we need to stand beside each other to get through. Families of detainees live in Muadamiya and they secure their needs from Daraya like wood for heating. We had to take this decision for the detainees to secure their families in Muadamiya before segregation of the two cities is complete subject to that they return after their mission is accomplished.'
Segregating the two cities enhance regime stand in Geneva
Head of Daraya Local Council, Abu Imad al-Kholani said, 'segregating Daraya and Muadamiya was not easy on the two cities especially after the mutual resilience of the two cities and their sharing of good and bad days together.'
Kholani pointed out that segregation of the two cities 'will not affect our resilience, but it will give the opportunity to regime forces to take full hold over the city and end the revolution in the area.'
He asserted Assad regime will enter Geneva Talks 'after he made many victories in many Syrian regions and with direct support from Russia, Iran, and others.'
Kholani attributed the advance the regime realized to 'dispersion of Free Syrian Army factions and their diversion of the revolution they started to which they got armed. Their diversion worsened to reach clashes among factions in the FSA and their renouncing of supporting their brothers in other areas going through violent battles.'
Regarding Geneva Talks launched on 29th of last January, Kholani said he is not optimistic but he hopes it will end with a political solution to end Syrians' plight. He supports High Committee for Negotiations and demanded they stick to their stands and Syrians' demand of them.
Regime forces succeed in segregating Muadamiya and Daraya in preparation to storming the cities. Sources in the field reported that regime forces and pro-regime militias segregated fire lines between Daraya and Muadamiya after two months of severe battles with armed opposition.
if you think the article contain wrong information or you have additional details Send Correction