Rebel-held Aleppo: Protesters Demand Factions Band Together Under 'Army of Aleppo'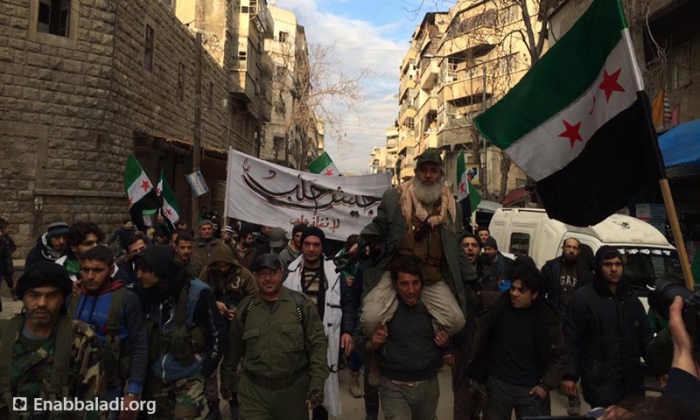 Dozens of civilians and militants took to the streets in protest throughout districts under opposition control in the city of Aleppo on Sunday, demanding that the province's armed factions unite under the "Army of Aleppo".
The demonstrations started at the Jisr al-Haj roundabout in the Kalasa district and Bustan al-Qasr, according to Enab Baladi's correspondent in Aleppo.
The correspondent said that several commanders and fighters from the Syrian Front and the Thuwar al-Sharqiya Brigades participated in the demonstrations, calling for the formation of a single military body for all the province's factions.
The proposed step came a day after activists in the province issued a call giving 15 military factions a deadline of 72 hours to unite and form the "Army of Aleppo".
The escalating mobilization comes as regime forces and its allies advance in the northern Aleppo countryside, in a gradual encirclement of the city which threatens to blockade thousands of civilians living there.
if you think the article contain wrong information or you have additional details Send Correction