Assad Forces Head to besiege Aleppo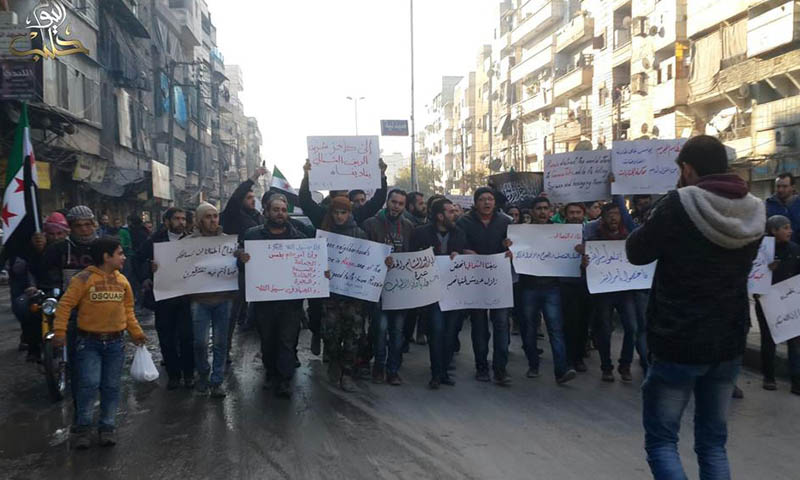 Assad forces captured several towns and villages in northern countryside of Aleppo in less than two days.
Assad forces' recapture of these villages and towns enhanced the hypothesis that Assad forces aim to besiege opposition neighbourhoods in the city and to break armed opposition siege in pro-regime towns; Nubul and al-Zahra.
Assad forces and Iranian, Afghan, Iraqi and Lebanese militias backed by Russian air force started a wide-scale military operation in Aleppo last Monday 1st of February.
Assad forces succeeded so far to control Duwair al-Zeitoun, Tell Jabeen, Hard Taneen.
Pro-regime towns Nubul and Zahra are getting prepared for Assad forces to break opposition siege over them. The siege was imposed by opposition armed factions three years ago. There is only five kilometres between Assad forces and the towns.
For Assad forces to reach the towns of Nubul and al-Zahra, they have to control Maarsa al-Khan, Retayan, Mayer, and Bianoun.
if the regime and its allies succeeded in break of siege over these towns. Assad forces will be able to besiege opposition neighbourhood in Aleppo in addition to besiege of several cities like Adnan, Herytan, and Kafar Hamra.
Assad forces are completely quiet on its front to the right. There are clashes between Assad forces and Islamic state.
Enab Baladi correspondent observed that and according to activists in Aleppo, Assad forces cooperated with Islamic State several times in order to defeat the Free Syrian Army in Aleppo Countryside.
South of Aleppo
Assad forces are trying to expand from Khan Tuman towards al-Zarba area in order to control a significant part of international road of Aleppo-Damascus and to be able to enter Idlib Governorate. If the regime succeeds, it will be able to besiege the armed opposition factions in the north and get close to the Turkish borders.
Assad's plan is net new in Aleppo. Assad forces launched a similar campaign last year and recaptured the same villages, but opposition factions recaptured the villages they lost and foiled regime plans back then.
if you think the article contain wrong information or you have additional details Send Correction