A Syrian success story, after a long journey in Turkey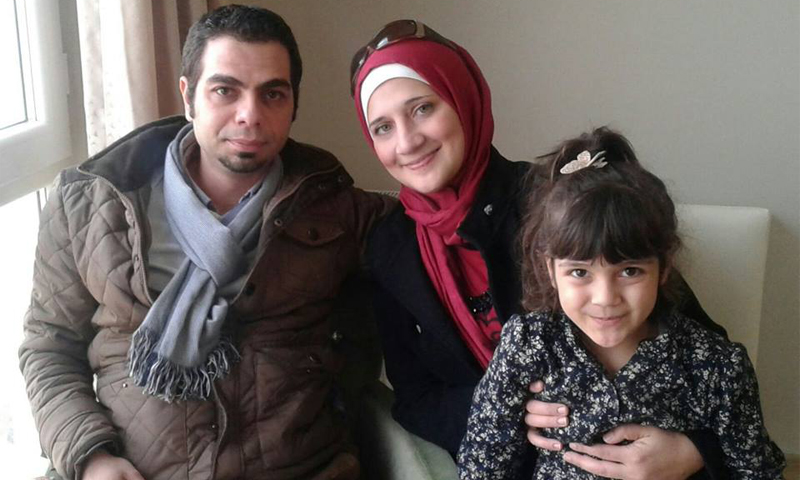 "I have arrived at last! It was my first visit to the huge and frightening city." This is what Aya Wehbeh said when she arrived to Istanbul, coming from Aleppo city. Aya, a 30-year-old pharmacist, did not intend to stay permanently in Istanbul when she first arrived in 2012. Rather, she came for a temporary stay, until her husband, Ghaith Jdeid, an architect, completes the visa arrangements to Erbil for her and her daughter.
Today, the family has started a furniture project in Istanbul, after a long journey of separation and in search of settlement and work.
The couple used to enjoy a stable life in Aleppo. Ghaith had his own office, while Aya was working on having her own pharmacy. When the revolution started, Ghaith's work became difficult due to the dangerous circumstances. Aya's dreams to have her own pharmacy faded away as the area she was planning to open her pharmacy in turned into frontline between the Regime and opposition forces.
Aleppo, Erbil, then Istanbul
The couple were forced to stay jobless for several months in Aleppo. Then Ghaith received a lucrative job offer in Erbil, and his lawyer promised  he could bring his wife and baby girl to Erbil within a short period of time. Aya says: "This was a turning point in my life. We left Aleppo."
Ghaith's life became so difficult in Erbil. All promises to bring his wife and child went with the wind gradually. Aya says: "we were left with only two choices: to either stay in Turkey with no money and no chance to work in our professions, or return back to Aleppo to start from the scratch towards the unknown."
"Cousins being unjust"
The family decided to stay in Istanbul. Aya clarifies: "We sought advice from some Syrians who were living in Turkey, but we received no advice, nor help from anyone. To the contrary, we were subject to fraud in housing prices by some Syrians at the beginning."
She adds: "We were predestined to meet some awesome Turks later on who spoke English. They helped us find schools that were looking for Arab teachers, as well as affordable housing."
Attempts to cope with the host country
Aya and Ghaith started their careers in teaching. Ghaith, however, started learning new engineering and programming skills at the same time. He prepared his CV in Turkish and sent it to job search websites. He says: "We were tired. Our salaries were very low. But Thank God, we learned the language and knew the keys to finding a job in Turkey. We built our new social networks"
During this period (end of 2012), large numbers of Syrians started to arrive in Turkey. Aya said she had gone to the bus stations frequently to help the new comers. "My heart aches when I see the Syrian families crowding there. A father covers his face with his hands, surrounded by his luggage and his children, not knowing where to go or what to do."
Aya's goal was to give advice and information to the refugees regarding the most affordable places to live in, how to send and receive money, how to buy a mobile phone line. She even gave them her phone so they can talk to their families and assure them they are safe, especially since Syrians were not flooding in large numbers to Turkey back then. She says: "I tried helping them as much as I could because I felt their pain, and I know how heart-breaking is it to be a stranger and to be let down by your own people."
Another journey to the East
At the end of 2013, Ghaith accepted an offer to work in a small wood factory, owned by a Turkish man in Erzincan (in the eastern region of Anatolia, Turkey). Aya says that the man treated them as if he were their father. However, the salary was very low and insufficient. Therefore, she was forced to look for another job to support her husband.
She started working on building her artistic skills by attending online courses on decoupage (the art or craft of decorating wood and glass with paper cut-outs). She set for herself a timetable of six months to complete the learning process.
She started by creating several hand-made pieces. Wome were a success and others were a failure! A year later, she decided to go into the field of marketing. She says: "I did a realistic study about the Turkish market, and social media-based studies. I had a clear vision about the most popular pieces and the prices thereof. Then, I started production and selling gradually."
The demand for Aya's pieces increased, creating a burden on her. She hired and trained a girl to help her, and paid her a monthly salary
The project blossoms in Istanbul
Ghaith studied the Turkish market. The family then returned back to Istanbul in 2015 to open a furniture workshop and showroom, in cooperation with a friend and a Turkish young man who helped the family at the very beginning.
Aya feels "comfortable" today after the long journey they had. She says: "we were able during the past four years to achieve what we aspired for. Our business was launched in a great way and we started to have a large number of Syrians working for us. I was always praying to God to help us achieve our ambitions in our work so that we can provide job opportunities for others as well."
She ended her speech by advising "each Syrian who was forced to seek refuge to any country to not listen to any abortive attempts, to trust their own capabilities and the care of God. To knock all doors without despair or fatigue, as happy endings will definitely come true.
if you think the article contain wrong information or you have additional details Send Correction