'A Shoe Shiner, and Proud': Activists in Qamishli Respond to Abdel Rizak Eid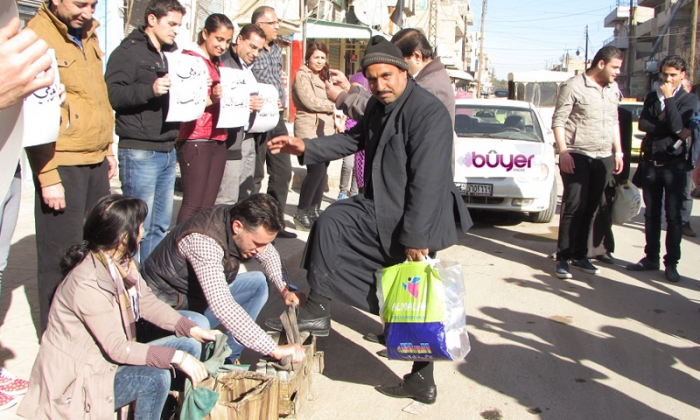 Several activists in the city of Qamishli in the Hassakeh province protested on Thursday in response to an article by a Syrian opposition member published earlier in the week.
Abdel Rizak Eid published an article on the "Civilized Dialogue" website on February 15 concerning "political Alawitism, political Kurdism and ISIS Islamism," in which he described the Kurds as "shoe shiners".
In his article, Eid said: "Political Kurdism… by threatening to break up Syria is blackmailing the national feelings of the Syrian people. The Syrian people would not lose anything by its secession except an army of the unemployed in the service and tourism sectors, whether in restaurants, cafés, parks or shoe-shine salons."
The protest, which was organized by "Mandela House" in Qamishli under the slogan "A proud shoe shiner", began at 2:00 pm on the Amouda road in front of the Qasmou mosque, with the campaigners squatting on the ground with shoe-shine boxes and inviting bystanders to shine their shoes.
The Kurdish "Buyerpress" website said that the protest came "in solidarity with the shoe shiners of the world," and criticized Eid's recent comments and "his accusation that the Kurdish people are shoe shiners and restaurant waiters in an attempt to belittle this people."
Syrian activists accuse the Kurdish self-administration in the Jazira area and their political arm, the Democratic Union Party, of implementing a secessionist agenda in Syria, and of being closely linked with the outlawed Turkish Kurdistan Workers' Party. The party's leaders have denied the accusations, alluding in several places to the possibility of implementing federalism without secession.
if you think the article contain wrong information or you have additional details Send Correction