Legal Report Documents 58 Massacres in Syria in January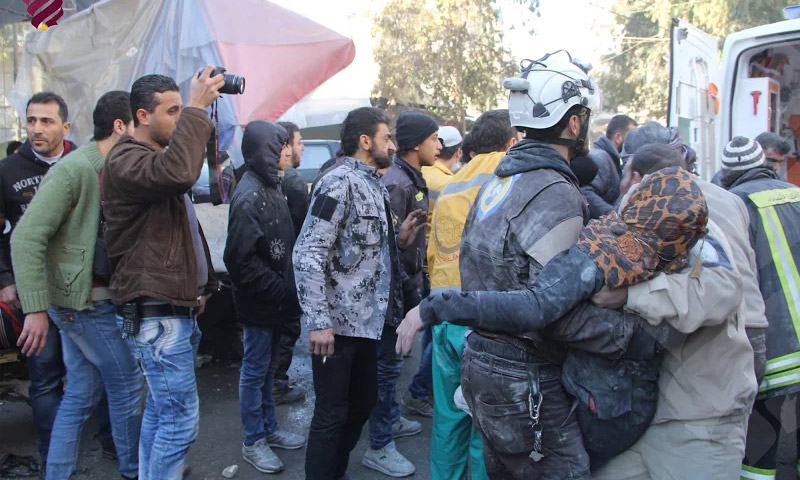 On the 5th of February 2016, the Syrian Network for Human Rights issued its periodical report on massacres committed by all participants in the conflict in Syria. The report showcased the incidents of massacre that occurred in January 2016 documenting 58 incidents in total.Of the incidents mentioned, 22 were perpetrated by the government forces, 33 were the responsibility of Russian forces, and 3 were perpetrated of ISIS. The governmental forces committed 10 massacres in Damascus' suburbs, 6 in Idlib, 3 in Homs, 2 in Hama, and one in Deir ez-Zor. The Russian forces committed 10 massacres in Deir ez-Zor, 5 in Idlib, 12 in Aleppo, 5 in Al-Raqqa, and one in Al-Hasaki. On the other hand, ISIS committed a massacre in each of Homs, Al-Raqqa, and Deir ez-Zor.
According to the report,699 persons were killed in these massacres and amongst the victims were 174 children and 112 women as such 41% of the victims were women and children. The Syrian network considered, "the death toll very high, and indicated that in most of these massacres those targeted were civilian population." The Russian forces killed 492 persons, the regime massacres led to the death of 172 persons, and ISIS killed 35 persons.
The Network confirmed that based on the scale of the massacres, their repetition, the excessive use of force used in their perpetration, the random nature of the bombings and the coordination of attacks, the massacres could only happen with directions from high up in the command, and the massacres are demonstration of the state's politics.
The Network expressed the urgency of listing the militias that are fighting alongside the Syrian regime, and that have perpetrated large scale massacres, such as Hezbollah, other Shia militias, the National Defence Army, and Al-Shabiha (Syrian extra military forces) on the international terrorist list.
The report demanded that the Syrian state be forced to comply to no longer harass aid and rights organization, the international investigation committee, and journalists.
In its conclusion, the report recommended that the situation in Syria be brought to the attention of the International Criminal Court. It also recommended the implementation of the Security Council decisions on the Syrian state. It argued against the halting of the implementation of the decisions: "As that sends the wrong message to all the dictators all over the world, and reinforces the culture of crime."
if you think the article contain wrong information or you have additional details Send Correction