Syrian Politicians Protest Changing Syrian Delegate Ahead of Geneva Talks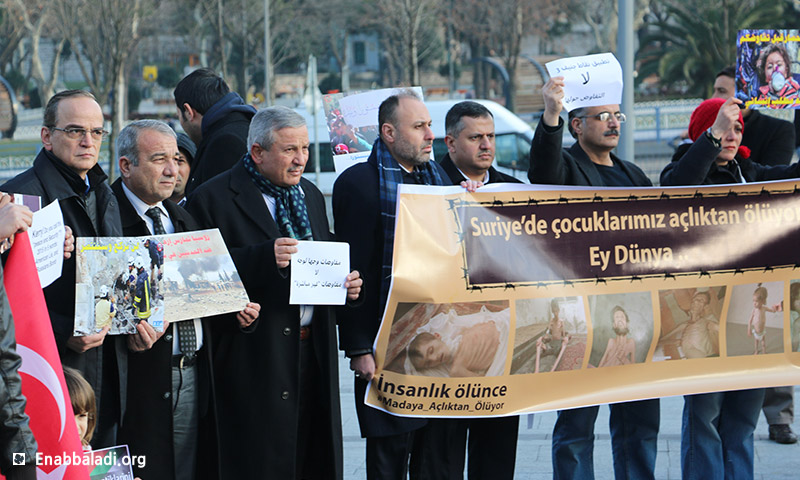 Syrian National Coalition organized a sit-in in Istanbul, Turkey on 25 January.
Politicians and Syrians participated in the set-in that demanded stopping Assad's explosive barrels, stopping Russian intervention in Syria, breaking the siege in the Syrian cities and towns, and releasing detainees.
According to the protesters, these demands are humanitarian demands. They should not be a matter of negotiations. These demands should be realized ahead of negotiations which are to take place in third Geneva Talks.
Enab Baladi attended the sit-in and met with General Secretary of Syrian National Coalition, Yahiya Maktabi.
'The message of the sit-in is that we as revolution and opposition force, are serious when we say we want to stop the spill of Syrian blood and move forward for a new future for Syrians,' Maktabi said.
Maktabi rejected what he described as 'the submission to the criminal regime in Damascus' pointing that there should be a positive atmosphere ahead of negotiations Our goal is not to be part of the negotiations' table and take photos to remember,' he added.
Maktabi explained that Staffan De Mistura, U.N. mediator, 'is submitting to the Russian pressure', confirming that Syrian opposition's message will not change.
The opposition refuses any side intervening to change its delegation. This is entirely 'a Syrian matter. High Negotiation Committee is the decision-maker in adding and replacing names of the Syrian opposition delegate.'
Coalition Ex-president, Hadi al-Bahra, agrees with Maktabi.
Coalition members stand together and support the High Negotiation Committee and its delegate. They reject any foreign intervention to change the Syrian delegation and they reject changing and replacing the Syrian delegate or forming other delegates to negotiate with Assad, al-Bahra told Enab Baladi.
Member in the General Board of the Syrian National Coalition, Yaser Farhat, described the International Community as 'defeatist.'
The International Community does not stand to its commitments and this will not reflect positively.
Farhat explained that failure of negotiations 'will make all politicians get involved in popular resistance.'
Activists and political figures participated in the sit-in such as member of opposition delegate participating in Geneva, Nazeer al-Hakim, head of Legal Department in the Coalition, member in the negotiation delegate to Geneva, Haitham al-Maleh, the General Secretary of Syrian National Coalition, Yahya Maktabi, in addition to deputy president of the Coalition, Naghm al-Ghadiri, and coalition former president Hadi al-Bahra and Yaser Farhat and others.
if you think the article contain wrong information or you have additional details Send Correction