Shelling and Explosive Barrels force Daraya residents to live in Basements and Deep Digs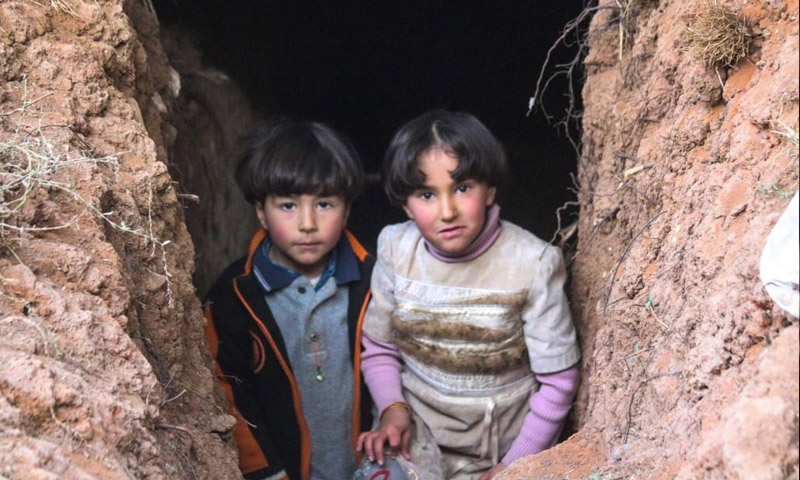 Zain Kanaan-Daraya (a suburb of Damascus)
Daraya residents who did not flee the city, take refuge from regime shelling in basements and digs in agricultural land. The new housing can be hardly described as fit for living, but safer than once fitting regular buildings.
Daraya suffered from vehement shelling be it mortars or explosive barrels for months. The later has been particularly the main destroyer of housing buildings in the city.
First-aid man in the field hospital in Daraya, Shadi Abu Samer, told Enab Baladi his house was shelled, he was forced to change his residence nine times since Assad regime launched a military campaign on Daraya at the end of 2012.
He took out his family from their house a day before a mortar shell struck their house. He had to look for another place to live.
'Things became complicated after I got married. Assad regime escalated its military campaign and it became a systematic destruction of Daraya. It became very hard to find a safe place. The standards are different now regarding nature of housing and the priorities when looking for one,' he said.
Shadi is repairing his basement now and dividing it into rooms and will allocate each room for a neighbour in his district.
'we will live in the basement because it is safer. Helicopters continues to drop explosive barrels on civil neighbourhoods,' he added.
Member in the Documentation Department in Daraya Local Council, Muhammed Abu Amro, said that the destruction in the 'liberated' region reached approximately 90% whereas it reached 50% in area under regime control.
Abu Amro indicated that the regime deliberately 'worked on a systematic destruction of al-Khalij area and Damascus road because it is close to Mazzeh Military Airport.'
Abu Amro revealed the numbers of the explosive barrels dropped on the city, 'the numbers of explosive barrels approximately reached 3500 barrels and thousands of artillery shells and missiles.'
'Most of the mosques, schools and public services in 'liberated area' of Daraya underwent destruction by explosive barrels which continues to be dropped until this point,' he added.
Abu Amro pointed that people in Daraya started to live in basements and deep digs in agricultural lands. There are tens of buildings which might collapse. 'last year more than ten buildings suddenly collapsed.'
Imad Abu Suleiman, Syria Civil Defence Director in Daraya, talked about a plan to equip first-aid shelters for families who lost their houses in addition there is a plan to make deep digs in agricultural.
According to Abu Suleiman, Daraya suffers from shortage in building equipment and cement as a result of the siege on the city. Hence, it is hard to clad the basements and or repair damaged houses.
He continued that 'Daraya people use wood especially that Daraya is famous in wood industries so now we see wooden walls rather than cement walls in damaged houses.'
Daraya underwent destruction and many buildings in the city might collapse at any moment. According to Dr. Diaa Abu Muhammed, Last year, the field hospital in the city documented one death and two casualties by a wall collapse in their building. He warned against coming close to these collapsing cement buildings especially when there is wind.
if you think the article contain wrong information or you have additional details Send Correction