'Sham Revolutionaries' Merge with 'al-Jabha al-Shamiya' in Aleppo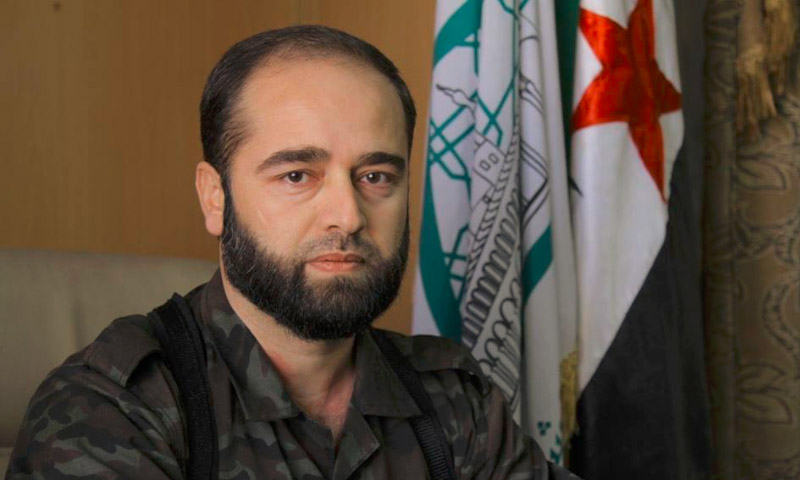 'Al-Sham Revolutionaries'(Levant revolutionaries) Brigades and 'al-Jabha al-Shamiya' (The Levant Front) issued a mutual statement announcing their merge in a new body under the name of Levant Front on 27 January.
According to the statement, the merge includes all levels; political, military and administrative and came as 'a belief in the necessity to unify and join forces especially at this stage.'
It aims to take into consideration reasons for victory and a realization of the threats and challenges ahead in order to recapture the revolution.'
The statement confirms that the two factions are committed to the principles and objectives of the revolution.
It is committed to urge the rest of the factions 'to unify and join forces to confront the increasing dangers and enemies.'
Member of the Levant Front media office, Aseed Shamiya told Enab Baladi that Muhammed Ali al-Harkush is the new leader of the new merged body.
Al-Sham Revolutionaries had separated from The Levant Front in the last period along with a number of armed factions.
The Levant Front was formed end of 2014 and it included a larger number of armed factions in Aleppo Governorate like Jaysh al-Mujahidin and the group 'Fastakim Kama Umirta' (be upright as ordered); however, the two factions separated with other several ones mid last year.
Aleppo large armed factions are trying to unify in the current period. Activists talk of a future project that includes a number of fighting factions. Most prominent of these are al-Jabha al-Shamiya (Levant Front), Jaysh al-Mujahideen (Army of Mujahideen), Gathering of 'Fastaqim' and Nur al-Din al-Zinki brigades.
if you think the article contain wrong information or you have additional details Send Correction