Islamic State Divides Raqqa Society into Three Social Classes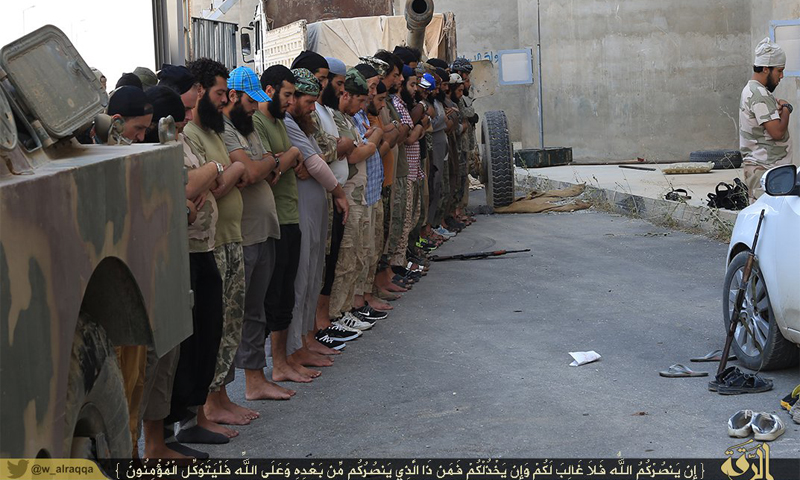 Sereen Abdul Nur-Raqqa
Islamic State (ISIS) controlled huge areas in Syria since it intervened two years ago.
ISIS created apparent inequalities in societies under their control in economic, social, judicial and administrative sectors.
Enab Baladi contacted several people in Raqqa. (headquarters of ISIS in Syria, a city in northern Syria), According to them, ISIS creation of these inequalities within Raqqa society aimed to subjugate the local communities and to lead the locals of Raqqa to accept and nurture ISIS fighters and ideology in their communities.
However, ISIS's objective was not realized since the locals of Raqqa feel oppressed and disadvantaged when they compare privileges of ISIS fighters to those of theirs. ISIS could have made them feel included and hence could have realized its objective.
Three social classes in Raqqa
People in Raqqa distinguish three social classes in the city. In this social hierarchy, ISIS fighters range in rank on the social ladder according to their missions in the organization and the countries which they came from. Second comes the supporters of ISIS like traders and locals. Thirdly, there are the locals who constitute the largest segment and who get to be punished by ISIS more than others.
Abu Muhammed (50, a virtual name), is a retired teacher from Raqqa. He complained about the conditions in this city which have changed greatly saying 'my life was not perfect before, but it was good. The younger generations are suffering here more than we did.'
Abu Muhammed described ISIS as 'a new Baath but in a different form. ISIS could establish during two years its own circles and divide society in Raqqa, again.'
Other people in Raqqa who talked to Enab Baladi confirmed that ISIS is trying to redraft the social, administrative and economic laws in areas under their control.
According to Abu Muhammed, ISIS control of all aspects of life over the locals left a very negative effect on large segments in society after ISIS excluded them.
Discrimination against locals
Basheer, from Mashlab neighbourhood in Raqqa, said ISIS oppression of the locals did not stop them from complaining about discriminating between them and their fighters. Population feels like 'they are discriminated against and it is not fair and they are treated as inferiors to ISIS fighters and their supporters from local populations.'
According to Basheer, ISIS succeeded in creating a class of beneficiaries which holds mutual economic interests to facilitate trade and selling and buying or security interests to gain favour of ISIS through reporting enemies or those opposing ISIS.
Raqqa unprivileged people felt discriminated against by ISIS. They circulate expressions of condemnation of ISIS like 'the true ISIS fighter or supporter is right even if he does wrong. ISIS fighters are the model.'
Supporters of ISIS adopt these expressions to voice their support, but are not willing to voice the oppression of ISIS to locals, according to Basheer.
Umm Ali, (virtual name) lives in Bedouin neighbourhoods in the city, explained 'ISIS fighters take the priority in everything be it in food baskets distribution or aid and even on bread queues.'
Umm Ali told Enab Baladi that ISIS fighters get monthly aid in addition to allocations for fuel and gas in addition to their salaries, 'they order people to pray when they spend prayer times in coffee and internet shops and restaurants.'
Supporters of ISIS pass through checkpoints without inspection and laws of 'Islamic Police' are rarely implemented on them where locals need a lot of paperwork and suffer from 'violations,' according to people in Raqqa.
if you think the article contain wrong information or you have additional details Send Correction