People of Bustan al-Qasr Recall 'the River Massacre' in Aleppo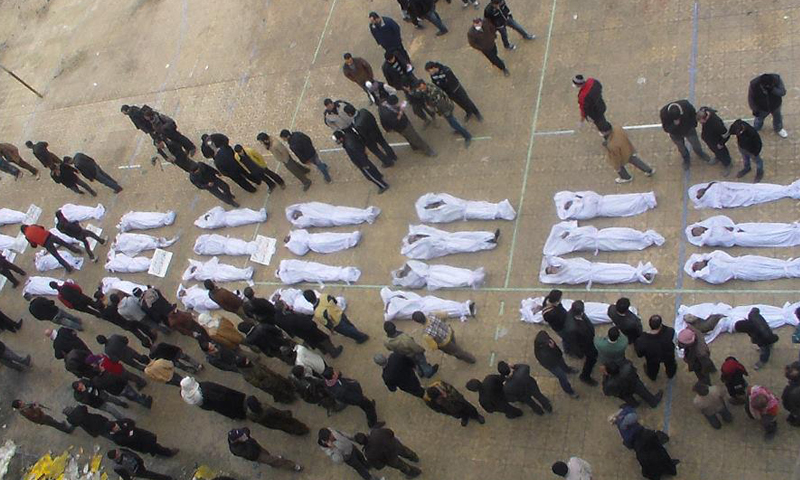 Abdul Razaq Zaqzooq- Aleppo
'I woke up the morning of that horrible day to shattering voices in the street. I tried to figure out what is happening. I heard people talking about corpses in the river. I went with a group of my friends to the river and we were utterly shocked!'
Nihad Muhammed woke up to the traumatic scene along with the people of Bustan al-Qasr neighbourhood in the city of Aleppo in 29 January 2013.
Tens of corpses were floating on waters of Quaik River which runs from areas under regime control and passes through the neighbourhood.
Back then, activists and media activists agreed Assad regime was responsible for the heinous crime since many families of the victims said their sons were detained in security branches of Assad regime.
That day, people found 94 corpses, but corpses influx in the river continued until 14 March and victims' number increased to reach 221 victims.
Nuhad said it was 'the bloodies scene in my life'. He pulled two corpses from the river; one was for a young man in his thirties and the other for a child who was probably 15 years old. He explained he had to leave the place because he felt very sick.
Medical activist Huzaifa Dahman recalls the day of the massacre.
'The corpses' hands were handcuffed. Most of the victims were killed by a bullet in the head. we washed the corpses and placed them in shrouds and moved them to Yarmouk School. There, we took hair samples of about 100 corpses for medical tests,' he explained.
Dahman recalled feeling utter deficit that he was not able to speak 'I was working silently with the pain squeezing my heart. We helped the relatives of the victims to identify some corpses. It was a horrifying day.'
Last Friday was the third memorial of the 'River Massacre' which Aleppo activists consider one of the most heinous massacres in Aleppo since outbreak of the Syrian Revolution.
if you think the article contain wrong information or you have additional details Send Correction