Death Creeps into Children's Lives in Syria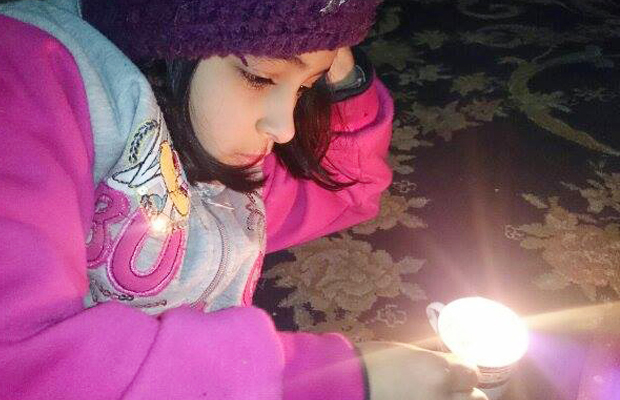 Youmna, 10, wrote her will following her friend's death.
Hanin al-Naqari- Enab Baladi
"Today was very normal. While I was walking home, I heard alert sounds. I started running hysterically. When I got home, I heard a terrifying loud sound. I knew this terrifying sound is the sound of the aggressive Mig (warplane). It was close to our place. I went down to the basement fearfully. Time elapsed until my uncle's wife came hurriedly to the basement and was extremely terrified," Youmna says.
"My uncle's wife informs me, 'a girl was martyred from Anjeleh family and her father from al-Medawar family.' I instantly imagined my friend Loujain. I prayed it is not herself. After a few moments, my mother came and got us to our place. I heard the prayer announcer saying from the mosque that a girl died and I started crying. I did not hear the name. I only heard myself crying.
Yesterday, she was here. Now she is gone forever. I have been thinking about her the whole day. I was sad, but I remembered she is a martyr. We all will die, but her death is more beautiful. She is in heaven," Youmna adds.
Youmna continues, "Rain started falling. I told my family the sky is crying today's martyrs, too. Then a rainbow appeared. I told family it is a gift that every dead child has innocently meet his/her mother's requests. The rainbow reminded me of the colors of happiness we used to draw together. I will never forget what she brought to my life. She was a very good girl. May her soul rest in peace and may we meet in heaven where there is neither an end nor sadness."
Youmna's Death Will
Amel (Youmna's sister), 21, said "the family tried to reduce the shock of Loujain's death on Youmna. She saw Loujain minutes before the shelling happened. When Youmna reached the basement, the warplane shelled and Lulu died. We tried to calm her and distract her using mobile games, but she was quite affected. She still is. Following Loujain's death, she wrote and hid her will. "
"Youmna does not want to share her will with us. 'It is private.' She says. However, when we asked her why she wrote it, she responded, 'Loujain had died and I wish she had written a will. That way, I would have fulfilled her wishes. I wrote my will for the people who love me.'
Youmna tells us, 'I am proud I was her friend. She was a great person. She deserved martyrdom. She obtained a great position in heaven and near God.' Children have always repeated the song, When we die, we go to heaven. The song became a lived reality," Amel adds.
Youmna seems older than her peers. She expresses herself better . she tells her friends' untold stories because they cannot articulate their stories like she does.
Death has creeped into children's lives. Their beautiful colors turned into black. Innocence disappeared along with their friends. Death has become one of the repeated words in children's lives.
Huzayfa: I Hate Heaven!
Huzayfa, 9, told his family he hates heaven. They told him it's wrong. He repeated loudly, "I hate heaven! Everyone is going there."
Huzayfa and his siblings were removed from the pile of their house after the house was shelled. Huzayafa lost his oldest brother who was critically wounded by the shelling.
Hiba, 25, said, "my oldest brother was critically wounded. We did not know how to deal with Huzayfa. We lost our home and our brother. Everyone was busy with his/her wounds. Hence, Huzayfa did not have enough time to understand what happened and we did not have time to explain to him."
Every time Huzayfa asks about his brother, they answer, "he left to heaven. He is a martyr and so went to heaven." Huzayfa does not consider heaven a nice place. He neither saw it nor experienced its delicacies which his family keeps telling him about. He thinks heaven took his brother. He fears it will take another family in a unexpected way.
"I do not know how to change his concept of heaven or how to deal with his trauma . I only know he is psychologically harmed," Hiba adds.
The Martyr is God's Beloved
Mrs. Maha, 40, lost her husband two years ago. She told us she heard her two sons whispering in the other room. They usually whisper to each other when they have done something wrong. She stopped lighting the firewood and went to see them. She found one sleeping motionless and the other praying on his supposedly dead body. Their mother screamed for them to stop, but they did not listen.
They redo the scene every day in different forms. Be it when they play with other children in the neighborhood or when a new martyr is announced. Maha told us she found a paper hidden in her son's wardrobe . The paper is an obituary of himself.
"There were many times when I heard them imitating the voice of the prayer announcer. They announce their own martyrdom," she adds.
Maha explains how her two sons' lives have changed immensely after their father's death. They were extremely attached to him.
Their crying and delusions over their father's absence turned into a desire to follow him. "Death became a very recurrent subject in their conversations. My older son, 13, keeps saying he wants to die so he can see his father. When I stop him from saying that, he responds, 'in heaven he will not suffer from being besieged like he suffers from it in Ghouta," she painfully explains.
What does Psychology Say?
Psychologist Asmaa Rushdi wrote in a newspaper article published in Enab Baladi about the child different realizations of death.
"Pre-school children find it difficult to understand a person's permanent absence. On the other hand, older children are more comprehensive of the concept of death; however, some of older children behavior and reactions are similar to younger children," she says.
Rushdi recommends responding to the child's questions and listening to him/her when they want to talk. Also, she recommends talking about the experiences the child went through when there is a death. Also, she mentions encouraging the child to remember events. Nonetheless, it is preferred not to go into painful details.
Haras Network published guiding pamphlets for psycho-support post-traumatic experiences. It states that it is important to be aware of the child's surrounding to be able to deal with him. Family should respond carefully during these experiences. The child's response to a trauma might be an imitation of what adults do. Hence, they should behave in a calm and quiet way in front of the child. They should inform the child in a way that meets his/her understanding and age. Too much information might confuse the child and cause him/her more fear and lack of assurance.
Hanadi Shawa , a psychiatrist and an expert in psycho-analysis, writes in the 6th issue of Practical Guide for Trauma Victims (published in 2012) that therapy using drawing, dancing, expression,, and acting is one of the most creative and effective therapies. It helps the children to vent out, and overcome painful experiences. Also, it helps them to build a new habit to respond to a similar situation.
In the following, we have a dialogue between three children from Eastern Ghouta near Damascus. Their mother provided us with the dialogue . The children are Falak, 12, Nour , 11, and Muhammed , 7.
Falak: If they sorted out a truce for 15 days, I am sure they will kills us after truce is over.
Nour: It is said they might turn on state electricity during the truce time.
Muhammed: So the electricity will come? And we will get to watch cartoons?
Falak: If we die after the truce, I hope they kills us with nuclears. That way we die all together and finish with this.
Muhammed: No!! I do not want to die! I want to watch cartoons.
Nour: If you die, you will go to heaven. It is better there, you smarty!
This is how death has creeped into children's lives in Syria. It changed their language. Death will take life from some children and take the innocence out of the rest.
if you think the article contain wrong information or you have additional details Send Correction