Homs: Assad Supporters Celebrate Anniversary of Rebels' Withdrawal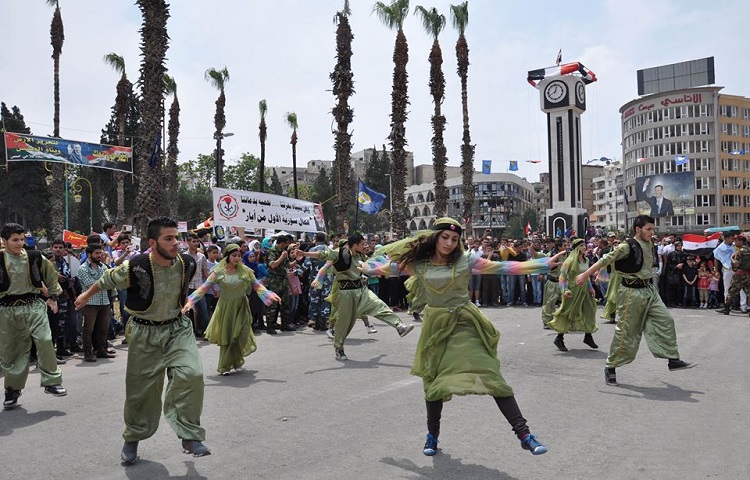 Pro-Assad residents of Homs celebrate the withdrawal of opposition forces from the city's old neighborhoods in a nationally televised event.
Regime supporters celebrated the anniversary of the departure of opposition forces from Homs' old neighborhoods, with the unveiling of the newly-restored old clock in the city center, previously damaged following two years of fighting and shelling.
In a video broadcast of the celebration, National Defense Militias and army soldiers are seen commemorating the occasion alongside students from the Revolutionary Youth and Baath Vanguards movements.
Syria's official news agency, SANA, reported from Homs Governor Talal al-Brazil: "Today, Homs celebrates the anniversary of the return of safety and stability to the city by the brave Syrian army. The people of Homs are faithful and strong in facing past challenges, and they stress that the great victory will be ours".
Barazi also hinted to the Assad regime's reconciliation efforts in the al-Waer neighborhood – the last remaining opposition-controlled neighborhood inside the city. "Homs gathers today, shoulder to shoulder, interdependently and cooperatively to reconstruct the city and achieve more national reconciliations that preserve the security, safety and stability of Syrian people, while eradicating those who came to Syria to accomplish Zionist agendas".

Homs' activists commemorated their departure from the city with sadness, emphasizing their ongoing work in order to return to liberate Homs from Assad's grip. Activists claim the regime has turned the city into a sectarian settlement, while most of its original people are still denied permission to return.

The Square that witnessed today's celebrations is also remembered as "the capital of the revolution", as it embraced Homs' peaceful demonstrations and sit-ins prior to the emergence of an armed struggle in early 2011.
Translated and Edited by The Syrian Observer
if you think the article contain wrong information or you have additional details Send Correction