Graduates of Damascus University; Semi-incapacitating Terms and Overboard Influences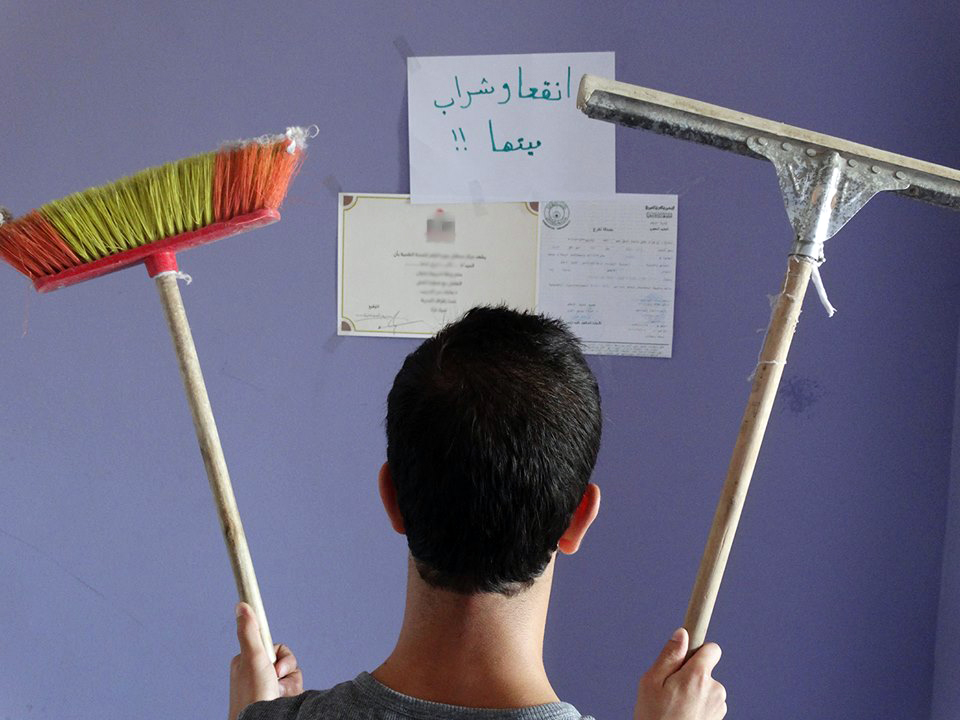 Enab Baladi Issue # 130 – Sun, August 17 , 2014
Tammam Muhammad- Beirut
Graduates of Damascus University suffer from the fact that their certificates are getting rejected when applying to government jobs, while influences are spreading out openly in recruitment committees. Consequently, they found themselves working in different fields from their specializations or traveling to search for appropriate jobs.
Nuha, a design engineer, who graduated last year from Damascus University, reported to Enab Baladi that offices of government's engineering institutions have set semi-incapacitating requirements that cannot be afforded by the new graduates, and that is because of "the large number of the graduate applicants for the vacancy" after "holders of engineering certificates have fled out to Damascus due to the clashes taking place in their towns".
Applicants are required to enclose their application forms with other documents that are difficult to obtain, such as "quietus, non-employed paper, no previous convictions approval, baccalaureate certificate, BA certificate, and ICDL and English language certificates certified by one of the government's institutions".
Nuha had applied to several institutions of her field of expertise, but always got rejected. Thus, she started to work in writing reports at a government educational place (she refused to give the name), where "a great deal of institutional and educational corruption" takes place, referring to the many years she wasted on her study, and to the pointless certificate she obtained.
On the other hand, some of those who work for the employment committees within other departments select their acquaintances or associates of al-Assad after carrying out "fake" employment competitions, according to the statement of "Wafaa" who graduated in the Medical Technical Institute two years ago. Wafaa and her three friends had succeeded both the theoretical and practical part of "Amuwasat" hospital competition. Yet, the responsible committee has offered apologies for not being able to hire them under a pretext of "vacancies depletion".  However, Wafaa has confirmed that the Commission has given priority of employment to applicants of the "Alawite" sect, or to the "Palestinian" citizens, although they got lower grades than other applicants "at the sight of all the applicants."She continued, "I and two of my friends remained waiting for any vacancy at one of the hospitals, while our colleague left looking for a job in the medical sector and started private tutoring for students at their houses, adding that the university degree "has become only for decoration".
Amongst the incapacitating conditions and the corruption of employment committees, certificates' holders find themselves compelled to travel outside the country, hoping to find a job that fits their experience gained during their study or previous work. Nonetheless, they still face a difficult reality with very few job opportunities.
Majd is an electrical engineer; he left Syria with his family two years ago because of the destruction of the infrastructure of his city and the institution of electricity over there. Prior to the crisis, Majd used to be "the head of the electricity institution of his city, which was ruined after the building was bombed by Al-Assad's forces. "Since he arrived to Egypt, Majd has been seeking to find an appropriate job that yields good returns to afford his family's living expenses. "I go out of a company to go in to another, applying for a job within the field of my expertise. Yet, the rejection always comes with reasons like' we have no vacancy' or 'we don't accept the Syrian certificate".
Since he arrived to Egypt, Majd started working in a sewing workshop although he has not practiced it before, for a little payoff that does not exceed $200 leaving his BA certificate in his travel suitcase, that "no longer works for him".
Activists and students have referred that due to the excesses of obtaining fake certificates and getting them ratified, the ranking of Damascus University has globally declined from 3400 mid-year 2012, to 5070, according to the global ranking of universities prepared by the Spanish site "Webometrics".
Translated by: Rahaf Alabar
if you think the article contain wrong information or you have additional details Send Correction