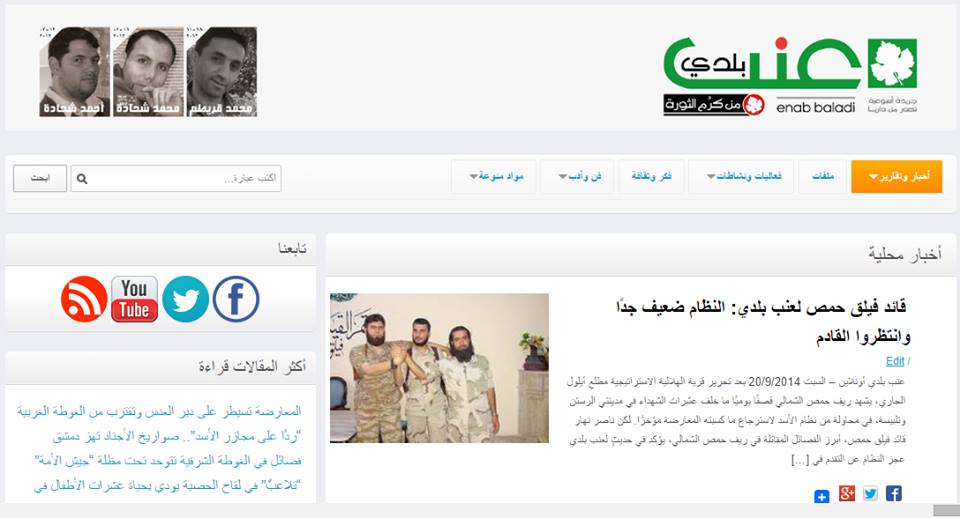 Enab Baladi Issue # 135 – Sun, September 21 , 2014
On September 15th, Enab Baladi launched its news section "Enab Baladi Online" on its official website: www.enabbaladi.org; the section includes daily coverages of the prominent developments in Syria and other related local and international issues. The launching of the news section was a part of the plan that EnabBaladi's board of directors has set for the way forward.
Through providing the news section, which is run by two main editors who report directly to the editorial board, EnabBaladi aims at widening its coverage and shortening its news cycle in order to follow the daily developments concerning the Syrian affairs on various levels (political and field situation, social…etc.), benefiting from the network of journalists and correspondents that has became broader and more widespread.
The outcome of the new step includes an average of 5 press materials per day through communicating with sources active in or close to the events being covered, thus revealing facts and enriching the materials with exclusive statements and information as accurate as possible.
Thus, Enab Baladi's total production of press materials reaches about 70, including both the online and the printed sections of the newspaper. The printed materials include a variety of political and field reports in addition to a number of investigative reports on economic and social issues.
The new step taken by Enab Baladi is an attempt to proceed forward in the path of professional journalism.
The flow of visitors and interaction of online followers witnessed a notable and satisfactory increase throughout the first week after launching the "Enab Baldi Online"; the increase was clear in number of visits and the amount of interaction on social media; Enab Baladi's website popularity has made a good progress according to Alexa ranking as well.
Enab Baladi's website was launched in March 2012, and it was voluntary designed and programmed by Almundassa Alsouriya (the-syrian.com). So far, the website contains over 4100 press materials.
if you think the article contain wrong information or you have additional details Send Correction