Bannesh restores the spirit of civic activities in Idlib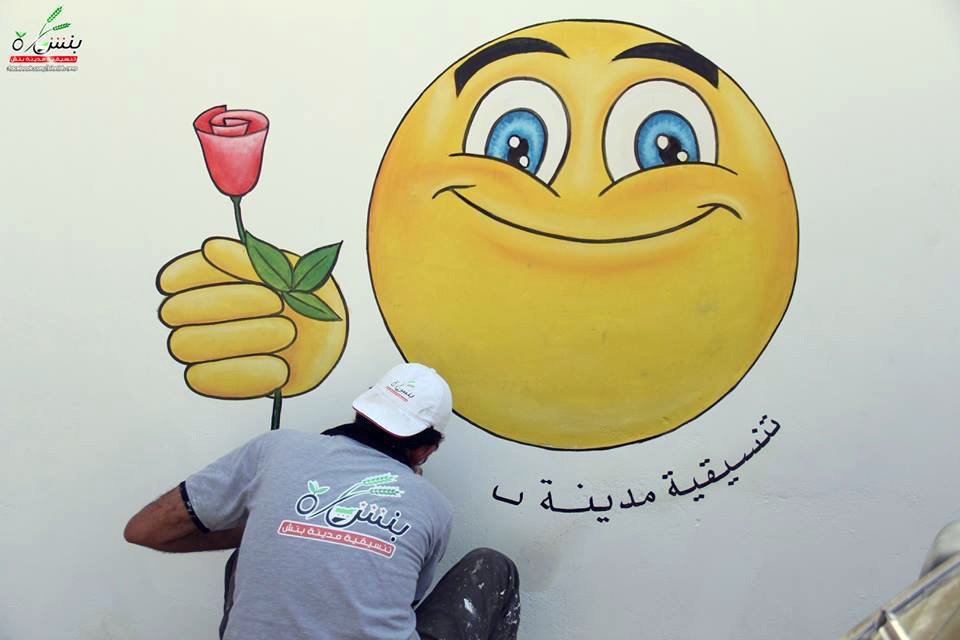 Enab Baladi Issue # 126 – Sun, July. 20 , 2014
A number of organizations and associations have been recently seeking to reconsider and examine the feasibility of their revolutionary activities in cities and towns where they are prevalent. While the work of these organizations was limited to both relief and media sides, some others have moved towards consolidating civil work in an integrated manner, which commensurate with the current situation of the country. The coordination of Bannesh is one of these institutions, which completed various civic activities during the last two months and left people with positive impressions, according to those who made it.
The coordination of Bannesh is considered the first revolutionary organization in the city, and was launched to include all peaceful revolutionary activities, but soon after the militarization of the revolution, its role has automatically been confined to the media side only.
According to its coordinators, Bannesh coordination is returning today with a variety of activities, based on a policy of "accommodating all ideas, working and cooperating with everyone, where no one is excluded in order to restore the civil identification of Bannesh city" as reported to Enab Baladi by an activist named "Omar Haj Qaddour".
A cadre of 25 young people operates the coordination (most of them are in Bannesh and some others are abroad). Those who live outside Syria work on providing the necessary support for civil projects, in addition to the technical and media work. In his talk to Enab Baladi, the activist Qaddour, one of the coordination's members, explained the activities organized by the coordination. He stated, "we have not only provided media coverage of bombardments and battles witnessed in the city, but we have also planted 500 trees in Bannesh streets, and run a painting campaign on Bannesh walls for the purpose of raising awareness of the revolution's martyrs who sacrificed their souls for the country's soil, which had a positive influence on people and rebels alike. He added, "one of these campaigns was meant for children of all aging groups. The purpose is distributing a small book that describes and explains the shapes of shells and bombes and all things might be observed by children in a state of war, in addition to educating them on how to avoid such bombs in a smooth and streamlined manner".
He continued "we have also prepared a similar campaign involving adults by distributing leaflets warning of the chlorine gas and how to deal with it and avoid it in case of the exposure to chemical weapons. Other leaflets distributed were also to explain how to rescue the wounded during shelling. We expanded our campaigns to include cities and nearby villages such as taftanaz, and sarakeb."
Observers believe that the continuing war in Syria made it a host of pointless conflicts where no space for humanitarian content or civic activities could pave the way for a better future in such bitter reality. Haj Qaddour concluded, "we will not stop such campaigns, and the next one would be devoted for cleaning the city and its streets. I hope all revolutionary groups follow the way we adopt to give more attention to the importance of civil work and take care of Syria's children who got fatigued of war and destruction for more than three years now. They also need to create projects that return the civil status to our liberated villages and cities".
It's worth noting that Bannesh was one of the first cities in north Syria, which came out in "carnival" demonstrations against the Syrian regime, as described by activists. It has also seen arrests and major military operations, which have led to dozens of deaths of its children and arrests of hundreds of its youths. It was taken over by the opposition army more than two years ago, and consequently witnessed daily bombardment, which has led to a large destruction and displaced thousands of its inhabitants.
Translated by: Rahaf Alabarr
if you think the article contain wrong information or you have additional details Send Correction