Water interruption in Aleppo, Reciprocal Accusations and Ongoing Suffering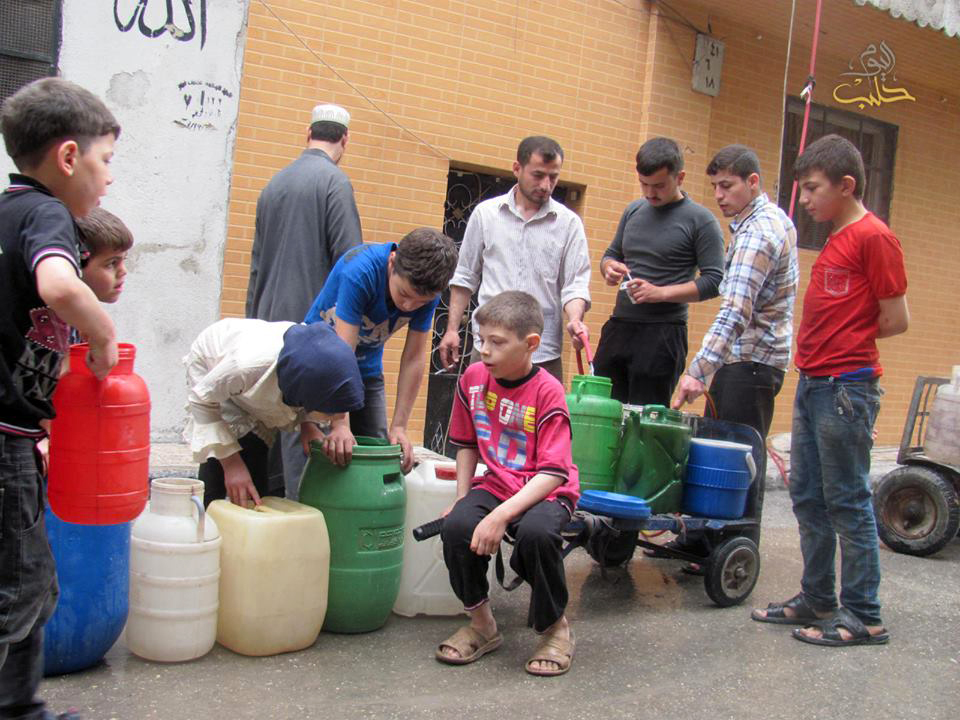 Enab Baladi Issue # 125 – Sun, July. 13, 2014 
Hanaa Alhalabi- Aleppo
As lived under siege last Ramadan with no fuel or food stuff, this Ramadan Aleppo's neighborhoods live under bad conditions of complete water interruption, while accusations are being exchanged of who is the responsible for that.
In this report, Enab Baladi reviews the events that have affected water status in the neighborhoods where it becomes common that tens of young people, children, and women gather in front of mosques or home wells sweating during the day in Ramadan for a mere potential of filling a gallon with 25 liters of water.
Late last May, some pro-Assad media resources including "news of Aleppo water" page on Facebook affiliated to the water institution in the city, have clarified that the "Turkish government had completely stopped pumping Alfurat's water, that resulted in a drop of water levels by 6 meters in Alassad Lake, which spells unprecedented disaster that threatens both Iraq and Syria". They also added, "Continuous water pumping from the dam will make it out of service, therefore we need to stop it until the Turkish government pumps water again". Yet, so soon the television host; Faisal Alqasem has denied this accusation and said on his official page "the regime is starting a new war of its kind against people in North Syria, which is water war".
Quoting his own sources, Alqasem has accused "the Syrian regime of generating electricity from Alfurat Dam deliberately, increasing the amount to 4 times of what was previously produced" for the sake of wasting water.
Two weeks later, retracted the initial declarations and published a statement by the Minister of Water Resources, Bassam Hanna, condemning this "exaggerated talk about the reduction in water levels at Alfurat Dam" noting that there is "a slight decrease in the level of the river, which is a natural problem that happens repeatedly annually, and so shouldn't be disturbing". In the meantime, on June 2nd specifically, a huge explosion took place in Amidan highway, near the building of the water institution, as explained by a lawyer named Mr. Alaa.
Alassad's regime has accused " terrorists" of the bombing, which resulted in destroying three out of the four main water pipes that transfer water to all of Aleppo, in addition to devastating all sanitation pipes installed at that area. Also, the main electrical cable lines that feed water pumps at the station of Suleiman al-Halabi., were hit.
As a result of bombing sanitation pipes, undrinkable water leaked to a number of neighborhoods, which has been declared too late by Wahid Akkad, the governor of Aleppo. He justified his delayed statement by "the difficulty in entering the bombing area", and warned several neighborhoods in Aleppo from drinking this water until this problem is sorted out. In fact, a number of poisoning cases were documented as a result of drinking this water.
On June 12th "news of Aleppo water" page declared, "water has become drinkable after isolating the affected pipes". Yet, pumping water remains too little so far, despite many promises given by the Water Corporation to fix this problem and use fuel as an alternative until the electricity cables get repaired. However, the promises have not been implemented yet, and therefore the water does reach Aleppo neighborhoods only one day a week with a very weak pumping capacity.
The lawyer, AlaaAlsayed has explained that the reason for this is "the absence of any genuine attempts to reform, and so the area of damage was neither approached by any repairing workshop nor hit by any pick". Mr. Ahmad's words matched Enab Baladi's resource of information who confirmed that "the Red Crescent was not allowed to enter that area whether in coordination with the regime located at one side of that area, or with the brigade of the messengers' descendants at the opposite side" due to the facts that "both parties dictated impossible conditions" as the source said.
While some Aleppo neighborhoods are suffering from water scarcity, some others have not seen water for two months under a pretext of existing faults. While for some neighborhoods, water interrupts for weeks and then come back, and that depends on "who controls the pipes' keys, if not encountered by disruptions or severe water shortages, according to these neighborhoods' residents. They also pointed out that this issue is in the box of "tanks' trade that serves particular people and ignores the others".
Translated by: Rahaf Alabar
if you think the article contain wrong information or you have additional details Send Correction