Syrians and the road to Jordan Suffering on the way to displacement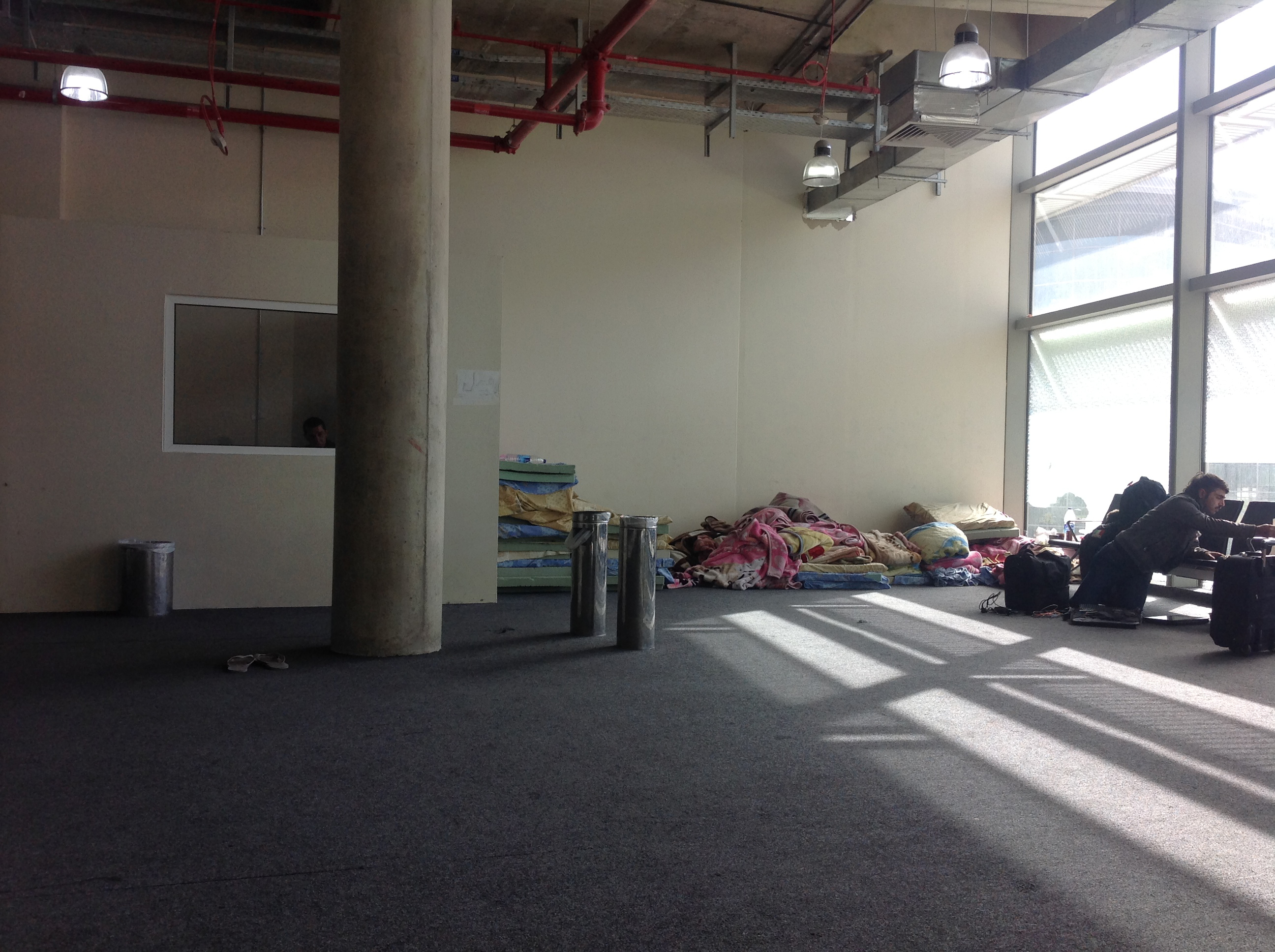 Enab Baladi Issue # 123 – Sun, June. 22, 2014
Bilal Al-Ali – Amman
With the passing of each day, the suffering of the Syrian people grows and the complications of their daily lives inside Syria outgrow with it. From killing, detention, siege and displacement inside Syria, to injustice and humiliation in the nearby countries. This is the case of the Syrians who flee to Jordan away from the oppression of their government, to the injustice of their neighbours. Since the situation in Syria got worse, not a day goes by, without a human tragedy in Amman Airport.
A man came to see his family after a long time of absence, a woman came to see her children before she passes away, another man came to get his family after they got separated because of the current situation, all those dreams and hopes fade the moment they reach the desk of the entry stamp at Queen Alia airport in Amman.
Enab baladi has seen a lot of these cases in this report.
Hanan, 35, lived in Jordan for a year, left Jordan recently to the UAE for a month. She tells us the story of her returning to Jordan and being deported to Syria after being detained for 24 hours in Amman Airport. "We got to the entry stamp employee, and because I'm Syrian I must wait till they decide if they will let me enter Jordan or not. The security officer came and accompanied me along a long passageway until we reached a big iron door locked with an electrical lock. The door opened and I saw a lot of people sitting on chairs and others on mats on the floor. There, the officer on duty told me: "You are going back to where you came from, or to Syria". And when I wanted to know the reason of this decision his only answer was: "orders from above". All of Hanan's attempts to convince the security officer to let her enter temporarily and know the reasons for their actions failed even though she told them that her returning to Syria exposes her to a lot of danger.
She continues "I lost one of my bags, and they did not help me, on the contrary, he considered that he did me a favor, he said 'Didn't we help you enough?' " She told us that the detained Syrians were guarded by Airport security, even the bus that took them to the plane was dedicated for them only, unlike the other passengers who were transferred on another bus. That made them feel as if they were terrorists" according to Hanan, and her passport was given to the security forces of the Syrian plane, she was transported to.
Hanan tells us what she saw during her detention time "In the room with us, there was an old man in his eighties, they brought him on a wheelchair and he slept all the time. In the morning they decided to deport him with his two daughters and there was a delay on the flight, he was very sick and had a heart attack and they transferred him to a hospital without his daughters, who began to cry and said: "We don't want to stay in Jordan we just want to make sure he's ok, but no one listened to them".
Amjad, 28, has another story while re-entering Jordan, "He entered Jordan and stayed about 6 months before leaving to an African country, to return later to see his parents and take his wife with him, but it did not go as planned. After arriving from Algeria, my second station after Mali, and after I was asked to show my passport, the employee saw that I was Syrian he asked me to stand away and wait. After about two hours, I was shown into an office and the interrogation started. They asked where I came from, I answered Algeria, and I have a residence permit in Mali and I came to get my wife. They asked why she didn't she travel without me coming to Jordan, and my answer was that I wanted to visit my parents. The officer said: "You should've said that from the beginning". After the interrogation he was asked to wait again, and after 4 hours he was told that he must return to where he came from and he was led to the detention room where he found many Syrians with the same story.
Khouloud, 22, told us a story that happened to a family she knows, an old couple who came to see their son after two years. They reached the airport in the evening and their son had made all the arrangements to ensure that they enter Jordan, he even offered to pay for them to enter the country. But all his attempts failed and they were returned to Syria after 12 hours of detention without showing  any mercy or consideration to their feelings. What stands out is the fact that their son was able to see them for 5 minutes after he paid $100 to a security officer. This meeting and all the emotions were not enough to change the cruel laws and did not let this family and other families to enter the country, as Khouloud expressed.
Jihad, 33, has another story, he arrived to Jordan after receiving an official invitation to attend a cultural conference held by a local Jordanian institution, but he did not get out of the airport. He assured us that entering the country depends on the mood of the employees and not on clear decisions because he was given his passport and was about to enter when another employee came by chance and asked why he came to Jordan, to stop him after hearing the word "convention"  to re-interrogate him. Jihad said, "the interrogation lasted for half an hour, during which I was asked many questions about my work, why I'm visiting Jordan, and who invited me to Jordan. I filled a security form containing a lot of questions about my military service time and information about my relatives in Jordan. It was obvious that the employees did not understand the invitation and the Hotel reservation papers I had with me because they were written in English, which led to their reluctance to understand the importance of me entering Jordan and attending this conference". After that, he was asked to wait, and after an hour he was led to the detention room in the airport and was forced after five hours to return to Beirut. "My story is not the worst", Jihad continues, "In the room, I met Syrians who were detained for several days, one of them, a young man was stuck between the Airports of Amman and Algeria, as both countries refused to let him in. Another one came to visit his parents; he has a residence permit in the UAE which was not acknowledged, along with a lot of women and men whose passports were taken from them and were waiting to be sent back to where they came from". Jihad finished by saying "Only one line was repeated by the airport security when asked about the reasons "If you don't have someone to intermediate don't try with us".
It should be mentioned that after the escalations in Syria, Jordan started to tighten the procedures for Syrians who wish to enter the country by land or airport.
A lot of new laws were issued; the latest was a few days ago. The Jordanian authorities issued a list of the groups who are allowed to enter Jordan; all the others are forbidden except with permission from the Jordanian Ministry of Internal Affairs.
if you think the article contain wrong information or you have additional details Send Correction