"Spring and Book": Hope in a World of Pain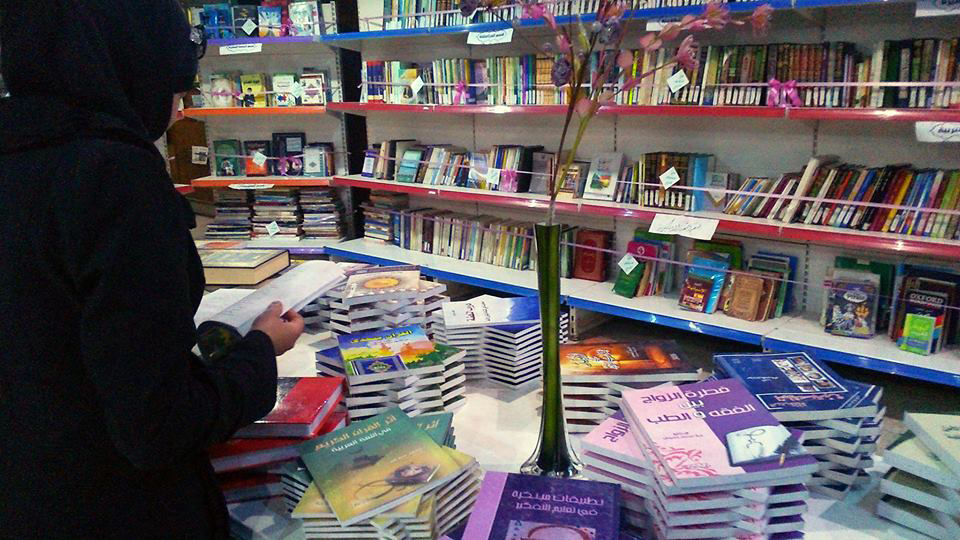 Eastern Ghouta– On June 4, the first season of a new book fair called "spring and Book" had been launched in a library named Bytul-Hikma [House of wisdom] in cooperation with "Youth towards Islamic Society" team; the fair was until Friday, June 20.
The book fair is the first of its kind in the besieged Ghouta. Perhaps, for some, its launching time and the idea behind it may be surprising at a time when food is hard to get. Enab Baladi met the Fair's organizers and discussed the idea of organizing it at a time while Ghouta is under tight siege.
Ms. Sana, a member of Bytul-Hikma team and one of the Fair's organizers, described it as a dream that came true. She said "since we established the library, our top objective was a book fair. Today our need to such an event is desperate and more urgent than ever". Sana stated that selling books was not the main aim for such a fair; she said, "Our primary objective was basically spreading hope in a world of pain after losing our loved ones due to all kinds of crime and murder the Syrian regime committed. Our goal was helping individuals find new lives through books; where these lives are impossible to be ended or killed by any weapon".
The great effort made by the organizers did not affect the books' prices, which remained cheap and affordable by the afflicted besieged people in Ghouta. On this matter, Ms. Reem, one of the organizers stated, "The unique thing about this book fair that it sells used books, in addition to a number of unused ones". She added, "For further clarification, I should mention here that hunger and poverty made people sell their books on roads very cheaply". She noted, "We discussed the idea of organizing a book fair with a bookseller of used books, and so we organized this fair in cooperation with him as well as with Youth towards Islamic Society team". According to Ms. Reem, the fact that the books are used means therefore, that their selling prices are significantly lower than their real prices.
Ornamentals had also a very nice presence in the exhibition. Ms. Amal is responsible for arranging flowers brought from a long distance especially for this exhibition. She said, "Flowers can deliver a message that is as important as the message of books. Since we made the initial plan for this exhibition, our purpose was made clear, it is to provide visitors with an opportunity to leave the siege behind him and live in an atmosphere that is empty of murder, bombing and fear".
Ms. Amal also referred to the risks the team encountered while bringing the flowers. In this regard, she said, "after a bitter day in Ghouta, the day of blood elections on the 3rd of June, when we lost more than 30 martyrs, the guys' team took the risk and insisted on bringing the flowers to complete the message of the exhibition. The flowers had a great influence on the psychological comfort we felt in addition to the nice fragrance we smelled all the time".
The exhibition had a remarkable attraction, where visitors in all days were more than 1200 of different ages, from several areas of the Eastern Ghouta, according to Sana; one of the organizers. As for the sale rate, Sana said; "it was very good, our customers were basically students of intermediate institutes from various disciplines".
Enab Baladi also spotted some visitors' views on the exhibition, where Walaa, a graduate student of English language and literature, said, "We are desperately in need of such events alongside the necessity for a place to display and sell books under these circumstances of road closures and siege. This fair has been able to achieve this brilliantly".
Afaf, a student of dentistry commended the diversity of the displayed books from different disciplines. She commented, "I liked the medical books which were really important for me to continue my studying by myself after I was forced to leave it" while "the musical background added a magical atmosphere, and turned up the place to a comfortable zone were negative feelings were completely excluded. The exhibition was reminiscent of our beautiful days".
Some visitors have noted the high prices and stated their preference for reading electronic books since they are cheaper. Yet, Khawla, a student of Arabic Language and Literature said the "prices are dramatically cheap, but people's purchasing capacity has become very low". She added, "The thrill in reading paper books is unmatched and incomparable to reading online. I have chosen to spend all my salary to buy books; this fair has given me the chance to start my own small library which will grow slowly".
Translated by: Rahaf Alabar
if you think the article contain wrong information or you have additional details Send Correction