Syrian Students in Egypt, A Year of Challenges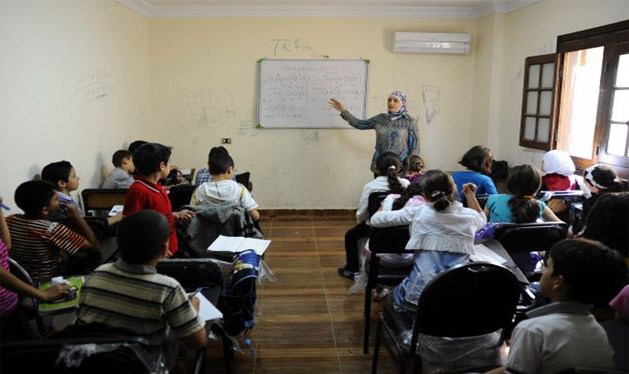 Enab Baladi Issue # 117– Sun, May. 18, 2014
Hanan Shamashan – Enab Baladi
"One Arab Nation, with an eternal mission", an acclaim to which children of Syria were accustomed to recite at a daily basis at their home schools. Today, given the war circumstances, same children were forced to leave their home country and resort to Egypt, and found themselves chanting "Long Live the Arab Republic of Egypt" in a strange and different dialect from the Syrian one they used to utter
Egypt's government has provided Syrians with many services, especially in the field of Education, where Syrian students have been given the right of free education in schools and universities. Yet, over the past year, they have encountered a number of difficulties, most notably curriculum and environment differences.
These difficulties start from getting students' documents and identifications certified by the Syrian ministry of foreign affairs in Damascus prior to the enrolment at universities and schools. This means long time waiting due to the small number of people going back and forth between Egypt and Syria. Diaa, one of the Syrian students at the university of Alexandria has described how complicated this ratification process is, and how she got financially exploited by the employee who issues such transactions and had to pay a big amount of money to him.  In addition to that, students have faced an issue of the poor teaching staff, and the failure of the educational cadres in most schools. According to Muhammad, a student at an elementary school in Cairo, "teachers do not explain much and private tuition is so expensive". He added, "it was surprising to him that teachers refrain from illustrating lessons, and explain only headlines" any detailed explanations are limited to "paid tuitions outside working hours".
Sarah, a fourth grade student, has suffered from a different issue over the past year. She has not been welcomed amongst her classmates, but rather harassed by her teachers. Yet, Sarah has surpassed her classmates and succeeded with a distinction, but that was not "easy" as stated by her father. He also pointed to the great deal of interest and care demanded at this learning stage "Sarah was in need of a great emotional support, with which I've been eager to provide her, which then prompted her to excel despite the troubles she faced".
Young children namely those at the primary stage suffer from the difficulty in understanding the Egyptian dialect. Yamen, for example, a 10 year old child, had complained to his parents his inability to understand what teachers and classmates say at the beginning of the academic year. Yet, later on, he mastered the Egyptian dialect that he even stopped using the Levantine with his parents and brothers.
Ms. Ameera has stated; "it is decent to offer thanks to the Republic of Egypt, which treated Syrian students as they were Egyptians, and opened its schools' doors to the children of Syria".
Aya, a student at a secondary school, also said "I say thank you Egypt with all gratitude for giving us the opportunity to continue our education, so that we will be able to create a future for Syria".
Translated by: Rahaf Alabar
if you think the article contain wrong information or you have additional details Send Correction